BARCELONA—The problem with smartwatches that notify you of incoming texts, emails, and phone calls is that you typically need to pull your smartphone out to do anything about them. And if a smartwatch lets you answer calls directly (think Samsung's Gear), you have to holler into your wrist like a modern-day Dick Tracy. The most elegant way to take calls hands-free remains the Bluetooth headset, but no one likes wearing one all the time, no matter how discrete or stylish they might be.
But Huawei's TalkBand, launched at Mobile World Congress on Sunday, absolutely nails a solution. The rubbery wristband has a 1.4-inch curved OLED display that shows your daily steps, calories burned, the time of day, a timer, and notifications from your Android or iOS smartphone. And when you get a call, just press a button below the screen, and the entire screen pops right out of the band, ready to stick in your ear.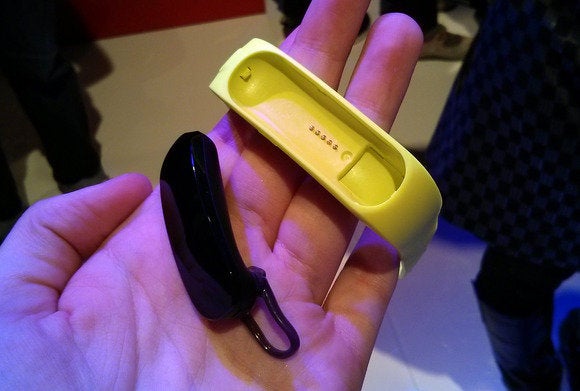 That's right: The screen is also a Bluetooth headset. I'm not embarrassed—well, maybe a little—to admit I squealed like a little girl the first time it popped into my hand. It's simply a great idea.
Another pain point of fitness trackers is keeping them charged. Your Fitbits, Basis bands, Fitbugs, and the like often require proprietary bits and bobs in order to connect to a USB port for charging. Not having those pieces when your device needs charging is a major bummer. In fact, during my first day in Barcelona, hours upon hours of sightseeing on foot were never registered—because my Fitbit Flex died 589 steps into my journey. I had a USB battery with me, so I could have topped it off, but naturally the piece that connects to my Fitbit was back at the hotel.
Huawei's TalkBand is having none of that nonsense. A small rubber flap on the end of the band simply peels back to reveal a standard USB plug you can charge off any computer or USB power adapter. It's an incredibly smart move. And yes, I squealed again.
The TalkBand will retail for 99 Euros at launch.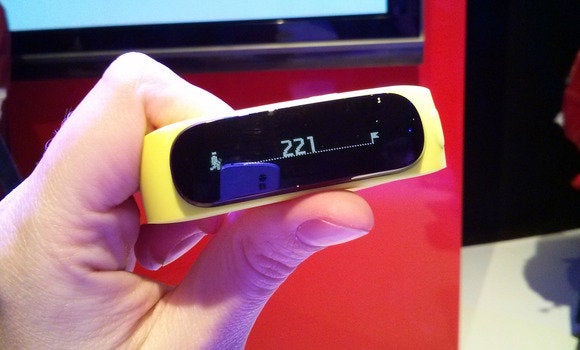 Fab phablet
Huawei launched four other devices at its press conference Sunday, but wouldn't say if or when any of them (including the TalkBand) are coming to the US. Spokespeople told us the products would launch in China in Q1 and Latin America, Asia, and Europe in Q2. Beyond that we'll have to stay tuned for more announcements. I hope they do hit US shores, because what Huawei showed off looks intriguing.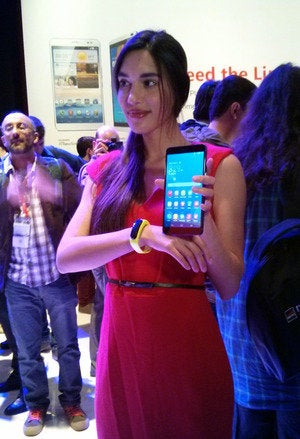 Other than the TalkBand, the coolest device by far is the company's new phlagship phablet (sorry), the MediaPad X1. This is a 7-inch, Android 4.3 tablet that's smaller, thinner and lighter than both the iPad mini and second-gen Nexus 7. Huawei Consumer Business Group CEO Richard Yu was able to slide it into both his suit jacket pocket and pants pocket on stage.
It's got a 7-inch, 1920x1200-pixel display with 323 ppi density. The bezel is impossibly thin, but the screen can intelligently ignore your grip and focus on the touch input that's moving. It worked really well in my brief hands-on time.
It's also got a huge 5000mAh battery with reverse charging, so you can use your tablet to charge other USB devices. It's got superfast LTE Cat4 for top speeds of 150Mbps, and you can use it as a hotspot for your other devices too. The MediaPad X1 will cost 399 Euro when it launches. 
But wait, there's more
Well, there's more, but since Huawei hasn't made public any American prices or release dates, there isn't more you can buy. But the company also announced a mobile hotspot called the E5786 that's notable for including LTE Cat6 for top download speeds of 300Mbps—fast enough to download an HD movie in 30 seconds.
The Ascend G6 replaces Huawei's Ascend P6 Android smartphone, packed with camera features for creating better content to share. Its 5-megapixel front camera has a 88-degree wide angle lens for "group selfies," for example. And the MediaPad M1 is an affordable (299 Euros) mass-market Android 4.3 tablet with an 8-inch screen, dual speakers, and Huawei's proprietary Super Wide Sound technology.
Both the MediaPad M1 and the MediaPad X1 impressed us with their build quality, featuring handsome aluminum bodies, attractive curves, and elegantly thin bezels. Either device could give Samsung and Google's tablets a run for their money—if Huawei decides to take our American money, that is.
This story, "Huawei's TalkBand mashes a smartwatch with a Bluetooth headset" was originally published by TechHive.