Brand by Brand
Below are brief discussions of how to tweak six of the latest high-end small-office/home-office routers. All function (and are configured) as described on the previous page. Chances are good that the firmware for older and less-expensive models is similar, if not identical.
Beside each router name is its default IP address, username, and password. If the item is expressed in quote marks, type the characters in between. You perform all of the tweaks here in the router's firmware by way of a Web interface, which you can access by browsing to the router's IP address.
2-Wire 2701HGV-B (AT&T)
Default IP address: 192.168.1.254
Default username: None
Default password: Printed on the bottom of the modem
Unfortunately, the 2Wire home broadband modem/routers that are common to so many AT&T DSL and U-verse installations had no general QoS settings at the time of this writing. However, you can forward ports to devices. Under Firewall, Firewall Settings, you'll find a list of applications whose traffic you may forward to a single computer, and you may place a single computer outside of the firewall in the DMZ. To prioritize traffic by protocol, you'll need to put the 2Wire into bridge mode, where it acts strictly as a modem, and let another router handle the QoS.
VoIP settings are limited to the phones that AT&T provides, so you'll have to forward ports to optimize traffic for your IP phone.
Belkin N600 HD
Default IP address: 192.168.1.1
Default username and password: None
QoS, located under Play Features, is very easy to use, with general adjustments for voice, online games, video, and general traffic. Port forwarding, referred to as Virtual Servers, is available under the Firewall heading. In the drop-down menu is a long list of applications that saves you from having to look up specific port numbers.
A DMZ is located under the Firewall heading, and the N600 HD offers simultaneous wireless, too. WMM is enabled by default under Wireless, Channel and SSID for both the 2.4GHz and 5GHz networks.
Buffalo NFiniti WZR-HP-G300NH
Default IP address: 192.168.11.1
Username and password: Set on first access
Although the NFiniti has a very granular approach to QoS (which you access from the main router page under NAT/QoS), it's dauntingly technical in appearance. You'll see a drop-down list of applications under Services Priority that's lengthy but rather hard to read due to underscores and tilde characters. Fortunately, the help is informative.
It offers no entry for VoIP, so you'll need to set the bandwidth for your IP phone in the MAC Priority box. You can do the same for any device on the network. You'll find a DMZ and port forwarding on other pages under the same NAT/QoS heading.
The G300NH is single-band wireless, but WMM isn't implemented. Buffalo's MovieEngine is in place to prioritize multimedia traffic, however.
Cisco Linksys e3000 High Performance Wireless-N Router
Default IP address: 192.168.1.1
Default username: Blank
Default password: "admin"
For this Cisco Linksys router, QoS is found under Applications & Gaming, then QoS, but is not enabled by default. WMM is enabled by default and on both the 2.4GHz and 5GHz channels, which operate concurrently.
For VoIP, enable Internet Access Priority, select Voice Device from the category drop-down menu, enter a name for the device (this is for ID only, it's not the real device name), and enter its MAC address. The default priority should be high, but if it isn't, set it to that.
You won't find a specific optimization for video, but you can increase the bandwidth to any device and a number of applications--including Windows Media Player, iTunes, and the like. Port forwarding is also under Applications & Gaming, but you'll get no help with the ports for specific applications, only the basic protocols such as HTTP, SNMP, POP3, and so on.
D-Link DIR-655 Xtreme N Gigabit Router
Default IP address: 192.168.0.1
Default username: "admin"
Default password: Blank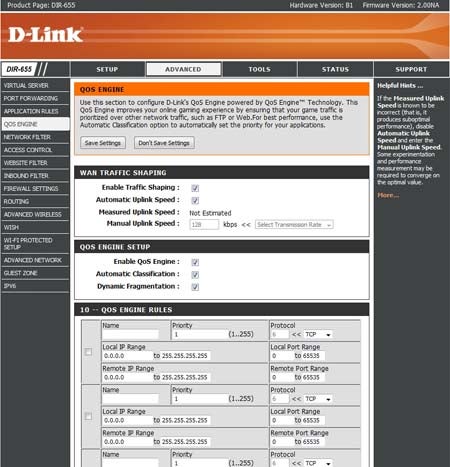 The DIR-655 has more QoS and port-assignment features than you can shake a stick at under the Advanced tab. QoS Engine has an Automatic Classification feature, which is essentially a hands-off QoS; leave this enabled. You can tweak it by setting priority for specific ports. Like Belkin, D-Link refers to port forwarding as Virtual Servers, and port triggering as Application Rules.
For wireless, WMM is enabled by default under Advanced, Advanced Wireless, and a separate configuration page for WISH is available.
Netgear WNDR3700 Dual Band Wireless-N Gigabit Router
Default IP address: 192.168.1.1
Default username: "admin"
Default password: "password"
QoS for this router is available in the right-hand pane under QoS setup. It's a bit difficult to navigate, but keep the WMM enabled for both the 2.4GHz and 5GHz bands, and then enable Internet QoS. Click Setup QoS Rule, and you'll see a list of applications, including IP Phone, Google Talk, and Vonage. Set these to Highest, and tweak the rest as necessary.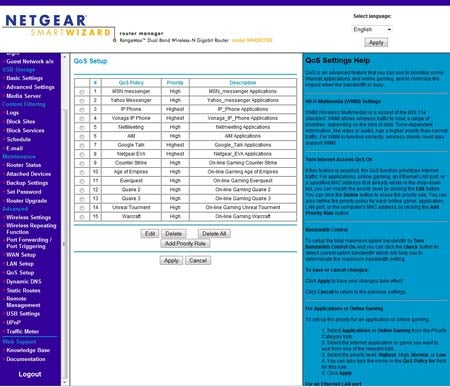 Under Wireless Settings and Guest Network a/n (5GHz), you'll find a little gem called Enable Video Network, which the company claims will provide smoother video delivery on the 5GHz channels (the unit offers concurrent dual-band wireless). Enable this setting for either network that will be streaming video.
When to Upgrade
You should be able to get just about any device or application to operate correctly using QoS or port forwarding. However, if your router is so old that it can't handle the traffic--which is most likely to happen with wireless--then throw in the towel and get a new one.
All of the routers above, except the 2Wire 2701, are top-of-the-line models and offer QoS and gigabit. While gigabit's extra bandwidth isn't strictly necessary for any one task, it does allow for successfully running more concurrent applications, such as talking on your VoIP phone while streaming a HD movie to the living room. All the routers here, aside from the 2701 and the Buffalo NFiniti WZR-HP-G300NH, offer simultaneous (concurrent) 2.4GHz and 5GHz wireless. I'm not necessarily a cutting-edge guy, but in this case, if you're truly serious about streaming multimedia, especially wirelessly, don't skimp.