SLIDESHOW
Have a Geeky Holiday
Behold the techiest holiday decorations of them all.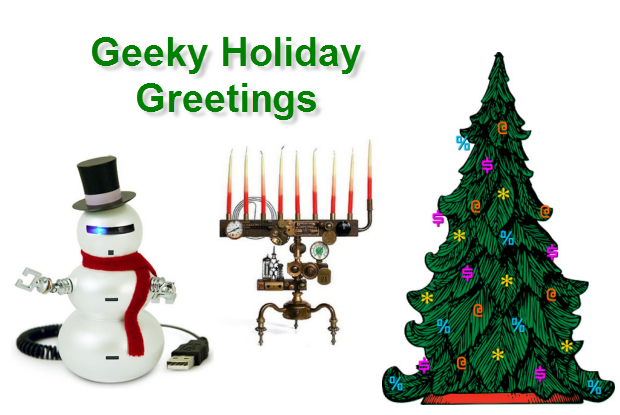 Creative Computing
The holiday season is upon us. Online shoppers are clicking away, snickering at the thought of having to go to a "mall." Santa is fitting his reindeer with new GPS trackers. Rudolph's nose is now LED. There's no question that technology has infiltrated the yuletide. Geeks are Santa's elves, and they're creating lots of fun decorations.
Read on to see some terrific geek holiday decorations.
Perl Advent Calendar
Advent Calendars are a fun little way to count down the days til Christmas. Usually these calendars have a little flap that you lift each day to view a heartwarming picture. Or eat a confection. Or put in quarters that will be donated to charity. Coders, however, will love this Perl Advent Calendar created by Mark Fowler. Each day you click open a box and receive a new Perl module. On Christmas Day, you get an extra one.
Motherboard Tree Decorations
So you have a large volume of old computer motherboards. What to do, what to do. Well, if you're creative, you could turn them into minature works of art. Over at ThinkGeek, they sell 3.5 inch Christmas Tree decorations which are motherboards cut into festive shapes and painted lovingly. Green trees, red bells and blue stars.
Add some green clovers and you could theme your tree decorations as "Lucky Charms" cereal.
Steampunk Menorah
Check out this amazing creation. Steampunk is a sub-genre of art meeting science fiction (in an alternate reality where machines of the day are powered by steam, everything is made to effectively harness that power). The end result is a work of mechanical beauty and, if nothing else, a tremendous conversation piece. Sadly, this is not widely available for sale, but just knowing that somewhere in the world this exists is a good thing.
The Emperor Commands Snow
In what probably could be termed as "negative space origami" (okay, I just made that up), folding a paper and cutting little shapes out of it to create a homemade snowflake is a time-honored tradition. I still break out the paper and scissors every holiday season. Admittedly, I'm not talented at this craft: most of my snowflakes either fall apart once opened or they simply look, well, wrong.
For these reasons, I show you this very clever bit of snowflake mastery. No, your eyes do not deceive you...it's a Darth Vader snowflake! I love Star Wars, and I love to make snowflakes. A perfect world, aside from my inherent clumsiness with scissors. Fortunately, the creator of this marvel has also included instructions to create your own. Check out the Boba Fett version, too.
Bring the Force to Your Tree
O Christmas tree, O Christmas tree, may the force be with yoooooou. These droplet Star Wars ornaments are a little step up from the snowflakes, and even offer a Millenium Falcon. They are, however, not exactly hip. Of course, you say. It's Star Wars. Hmm, yes, you've got a point. But let's face it: these ornaments could have been created for the Star Wars Holiday Special. And I'm not implying that these are timeless.
Tis the Season of Love(Craft)
Sometimes the Great Old Ones just need to feel the love. And the power...yes...the POWER! You can give them this power by giving mighty Cthulu a high perch on top of your tree. He may rain down destruction upon your home and gifts, but maybe he will favor you with blessings and watch over you. Who can tell with Cthulu? He's just wacky like that.
This felt Cthulu tree ornament is the perfect gift for those fans of H.P. Lovecraft, science fiction or those who just think this green, felt...thing...is too darned cute not to hang on their tree.
Flying Spaghetti Monster
Fear not, all you Pastafarians. The FSM will bless you with his noodly goodness if you hang his likeness on your tree. Even though you don't recognize Christmas, Hannukah or Kwanzaa, you do celebrate "Holiday". And since "Holiday" has no real specific date...why not now? And why not have a tree in your home? FSM created trees after a night of drinking. Seems only appropriate.
The . . . Um . . . Computer Wreath
Yes, well. Here it is. The nerdiest decoration of them all (disagree? Please complain below). This is a wreath put together with old computer parts. SATA cables, hard disk pieces, memory, fans, motherboards...all attached to a plastic wreath. Mind you, this appears to be a one-off and has not hit mass production. There's probably a very good reason for that: who on this green earth would hang such a blantantly nerdy (not geeky...nerdy) piece like this on their door to advertise to the world that they played D&D and never went to the prom? That they could name all guest stars on ST:TOS? That they have comic books in mylar and categorized chronologically?
Other than me, that is.
Frosty the Snowman IS a Cylon. Told Ya.
So tell me, Mr. Wizard: how does a man -- made of SNOW -- come to life simply by donning a "magic" hat? I'll tell you: Cylon technology. That's right, they're here and they want to help you celebrate the sledding of the season. This replica of the REAL Frosty shows it's Cylon side more obviously with a single electronic eye that slides back and forth. A side benefit is that this is also a USB hub. Use the power...wisely.
Also see:
Next Up: Check out these related slideshows
Today's Best Tech Deals
Picked by PCWorld's Editors