SLIDESHOW
10 Chrome apps that make Google Drive more powerful
These Chrome Web Store gems leverage Google Drive for better collaboration, brainstorming, project management and more.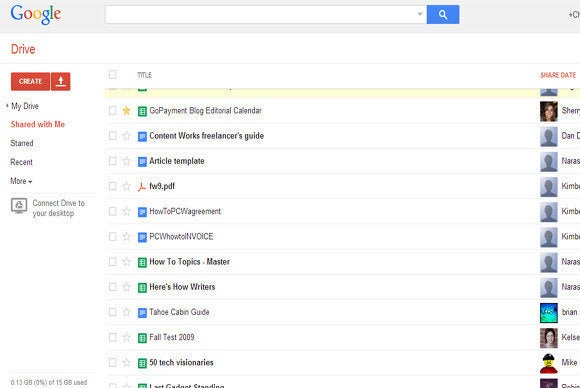 Throw Google Drive into high gear
Google Drive is the the engine that, well, drives Chrome. And with its free 15GB of storage and built-in word processing, spreadsheet, presentation, and drawing support, a powerful engine it is. But you can take Google Drive further with an array of Chrome apps that integrate with it and give you all kinds of options for working with the files you have stored there.
We dove into the Chrome Web Store and uncovered 10 apps that work with Google Drive to improve collaboration, project management, graphic design, brainstorming, and more. Not a Google Drive user? Read on, anyway—many of the apps here work with other cloud services as well.
CloudConvert
A veritable Swiss army knife, CloudConvert promises to "convert anything to anything." While that's not strictly true, it can convert a head-spinning 184 audio, video, archive, document, CAD, ebook, image, presentation, spreadsheet, and vector formats.
To perform a conversion, select a file from your Google Drive or Dropbox account using the app drop-down menu or drag a file onto the CloudConvert page, then select the format to which you'd like it converted. Choose whether you'd like the new file emailed to you or saved back to your cloud account, then start the conversion—presto!
Smartsheet Project Management
Smartsheet Project Management is a tool for those projects that require more than a cocktail napkin but less than Microsoft Project to plot. It leverages the familiarity of the spreadsheet but makes it "smarter" with the addition of collaboration tools; file sharing; and Gantt charts, tasks and dependencies. It's also deeply integrated with your Google workflow: You can share files from Google Drive, sync project dates to your Google Calendar, and update project info from Gmail.
HelloFax
Despite its reputation as a relic of the pre-Internet age, the fax remains an active part the working world. HelloFax takes some of the pain out of this necessary evil by assuring you never have to go near an actual fax machine.
Just drag files onto the HelloFax interface or upload them right from your Google Drive, Dropbox, Box, OneNote, or Evernote account. You can even add signatures (yours and/or others) to the document before sending. HelloFax will also route any incoming faxes to your email inbox. Still not sure? HelloFax is currently offering 50 free fax pages each month, for 6 months for new accounts.
RealTimeBoard
Whiteboards are an indispensable collaborative tool, but they have spatial restrictions, and you can't save or share them. RealTimeBoard eliminates those drawbacks by putting the whiteboard in your browser.
You can add text, sticky notes, PDFs, images and videos, and even share documents directly from your Google Drive account. Built-in libraries of vector images help you visualize your ideas. Best of all, you can collaborate with project team members in real time, no conference room required.
MindMup
Mind maps have become a preferred way to capture ideas and concepts because their structure—a series of associations and connections radiating out from a central trigger—works a lot more like your brain than linear note-taking.
MindMup is a web service that lets you create simple mind maps individually and collaboratively. The interface is clean so you have nothing to distract you from developing your ideas. You can store your mind map data on Google Drive, Dropbox, GitHub or MindMup's own servers. When your map is finished, you can export it or share its link.
Lucidchart Diagrams
Diagrams are frequently the best way to express ideas and processes, but Microsoft Visio, the go-to flowchart software, will set you back nearly $600. Lucidchart is a cheaper and simpler alternative.
Use this web-based tool to create basic diagrams with a simple drag-and-drop interface, or choose from hundreds of templates for for wireframes, org charts, mind maps, and more. Lucidchart supports real-time collaboration with group chat and commenting features. Its integration with Google Drive makes it easy to store, back up, and distribute your finished diagrams.
Google Forms
There are many online survey tools to help you capture data, but they can be costly and cumbersome to use. An alternative is Google's simple polling tool, Google Forms.
The Forms template library gives you a jumpstart on your survey, work order, or other questionnaire, and you just customize the text. Answers can be essay, multiple-choice, scale, or one of several other options. Once your form is complete, you can solicit responses via email or by embedding the form on your website. All the data you collect is automatically organized in a spreadsheet for easy analysis and stored on Google Drive for access from any device.
Lucidpress
What are the design-challenged to do when charged with creating professional-looking newsletters, brochures, or reports? Adobe's Creative Suite products will get the job done, but their price is high, and their learning curve steep.
Lucidpress makes it easy for anyone to create stunning print and digital documents by eliminating traditional layout tools. Instead, you simply drag and drop images, text, and video into one of Lucidpress' variety of templates. The app includes chat and commenting features for real-time collaboration, and it's integrated with Google Drive, YouTube, Dropbox, Flickr, and Facebook.
Concept Inbox
The road to getting design approvals is fraught with client miscommunications, delayed responses, and last-minute changes. Concept Inbox goes a long way toward remedying that by providing a visual collaborative platform where designers can work with clients and get real-time feedback.
Just email your designs to Concept Inbox, and it will automatically generate a distraction-free common workspace where you and your client can review them. The app provides a host of visual communication tools, including graphic annotations on images, reducing misunderstandings and speeding up the approval process.
Hojoki
Storing files in the cloud has a lot of upside, but it can be tough to organize a workflow around them. Hojoki wrangles all your cloud accounts into a private social network so you and your team can keep track of activity and collaborate more easily.
Once you connect Hojoki with your various cloud services—it currently supports Google Drive, Google Calendar, Dropbox, Evernote, Box, OneDrive, CloudApp, Delicious, GitHub, Trello, and RSS—it will aggregate all the metadata into a chronological stream. You and invited colleagues or clients can comment on stream items and attach and assign tasks. Real-time updates via email and browser and mobile push notification assure you never miss any important project developments.
Next Up: Check out these related slideshows
Today's Best Tech Deals
Picked by PCWorld's Editors