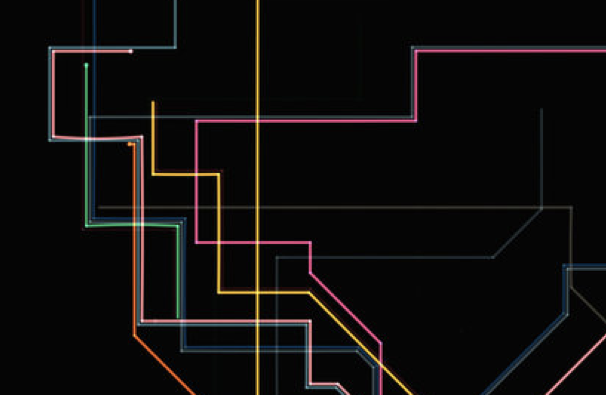 Alexander Chen thought that the NY subway could use some more colorful sounds, so he built Conductor. Conductor is a Web app built using HTML5 and Javascript that draws lines (representing train paths), and very time a train intercepts another train's path it "plucks" the train path of the other train and it makes a sound. The longer the train path, the lower the pitch, just like the strings on a real string instrument. The sounds come from freesound.org and are in the C major scale.
The Web app pulls MTA's schedule every minute to check for new trains. The train then goes toward its end destination at a speed determined by MTA's estimated trip duration. Over time, train paths fade over time and there is a limited number of concurrent trains, among other things, all for musical, aesthetic, and technical reasons.
It's really too bad that train stations don't sound like this app. I take the Amtrak fairly often and it's everything but pleasant. Perhaps the train companies should take a hint from this guy and add some girly colors and colorful sounds to cheer up the passengers.
Also, check out solarbeat which shows the planets orbiting the sun and every time they hit zero degrees on the 360-degree plane they make a colorful beat.
[Alexander Chen via Gawker]
Be very, very quiet; James Mulroy is hunting wabbits ...
Like this? You might also enjoy...
Get your GeekTech on: Twitter - Facebook - RSS | Tip us off