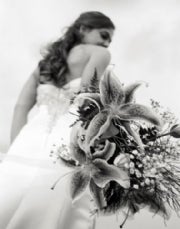 They say there's a lid for every pot. And when a geek has found his lid, there comes a time when he wants to take a soldering iron to it and make sure it's not going anywhere. But a true geek can't just hide a ring in the dessert and get down on one knee. Oh, no. He must pop the question with creativity and flair, to make it as memorable as possible for his geek princess in the only ways a geek knows how. And these days, that means he might just have to do a bit of coding. Read on for some of the geekiest marriage proposals ever.
1. Some guys use a diamond, others use Perl
I told you there might be coding involved. Our first geek proposal comes to us via PerlMonks, a site designed as "a cool Internet hangout for Perl gurus and semi-advanced users." User Falkkin wrote a Perl script called "propose" in the shape of a heart and posted it on the site. Naturally, there was only one way for Vortacist to respond:$propose++;
2. Or maybe a Rube-y
There are those who come up with overly convoluted plans to spring their marriage proposals, and then there's this guy, who came up with an actual Rube Goldberg machine. The nearly 8-minute video explains the machine in a depth only a geek could appreciate.
3. I CAN HAS HUSBIND?
Ground zero of the LOLCAT meme, the "I Can Has Cheezburger" site had "a very speshul valentines" in 2008, when a geek proposed to "Loretta" by means of a series of LOLCAT images, in "teh very furst lolproposal." Despite the shocking grammatical errors, she still said yes.
4. The ring says it all - literally
Artist Luke Jerram worked with a jeweler and vinyl record manufacturer Dubstudios to etch his 20-second proposal as a recorded message on an engagement ring for his beloved. If you have a miniature record player handy, maybe she'd play it for you.
5. O'Reilly book
Every geek has at least one O'Reilly book on his or her shelf. But only "PayPal Hacks: 100 Industrial-Strength Tips & Tools" has a marriage proposal right there in the acknowledgements, penned by co-author Dave Nielsen.
6. Venn diagram
This one actually did not work. Maybe there wasn't enough overlap between the circles. Maybe he should have tried a flow chart. Or maybe he should have fleshed out a full PowerPoint presentation. Whatever the case, we give props to Paul for putting himself out there in the name of love, and for posting this innovative image on GraphJam.
7. Taco's belle
A favorite among the geeky editors here, Slashdot is a great site for "news for nerds, stuff that matters." In 2002, Slashdot editor "CmdrTaco" had special news for a special nerd in a post entitled "Kathleen Fent Read This Story." It took only 15 minutes 30 seconds for him to receive a yes. And the commenters went wild.
8. Web comic
Any proposal that starts out with "A little over two years ago I was standing in line for the re-release of Star Wars" is going to earn a place on a list of geeky marriage proposals. What earns it a place on this list is that it was included in a 1999 Web-based comic along with an illustration of the artist in a Pac-Man T-shirt.
9. The Joy of Tech
Along the same lines, the producers of the "Joy of Tech" Web comic helped one of their subscribers propose. Not only are the subscriber and his intended immortalized in comic form, but the artists depicted a scenario where "angryjungman" calls his girlfriend over to look at some Python code that proposes via an ASCII text-art engagement ring - thus creating a three-layer geek-within-geek-within-geek dream that is blowing my mind at "Inception" levels.
10. "Why not Ask Jeeves?"
As we have just seen, it helps if you have friends in geek places. Barry Schwartz had the awesome idea of getting the folks at Ask Jeeves (now Ask.com) to set up a search result to pop the question when his girlfriend's name was entered. And while it didn't go super-smoothly, we admire his ability to keep cool and make it work: "I open up the browser; she begins to type it in, while I grab the ring from a drawer in my desk, behind her. She turns around and says that she messed up. I stay calm, hide the ring in my pocket and fix the screen, which she kind of minimized (using a Mac). Then she continues her search and I reach for the flowers behind the file cabinet. She looks at the screen, probably read it twice, possibly more. I am kneeling behind her when she swivels the chair around."
ALSO SEE: Top 10 robots we'd marry