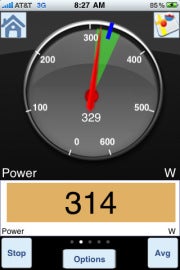 Have you been starring at the computer for the last 17 hours? You're not alone. But it might not be such a bad idea for you to get out and get some exercise. As in, outside. Don't worry, you won't melt in the sunlight; it's totally safe. But with the iBike Dash CC you can bring your technology with you as you get physical.
The iBike Dash CC (Cycling Computer) is a light-weight wireless computer for you bike that can turn an iPhone or an iPod tough into a fitness trainer. The device measures your speed, power, heart rate, wind speed, and even those calories (how many you're burning) that you unwilling put on while coding in C. It also includes a free iBike app that you can get from the iTunes App Store. Your iPhone or iPod then displays the app with high-resolution color graphics and animations.
The iBike Dash has other features like helping you set personal goals, a heart rate pacing meter, and it even tells you if you're pushing yourself a little too hard, which could be very handy if you haven't left your computer since you discovered StumbleUpon sometime in 2001.
You can pick up your own iBike for $199 for the basic version, or $329 for the advanced version which includes various extra features. But first, you might want to make sure that you remember how to ride a bike...
James Mulroy needs an iBike because he has been sitting in front of a computer for a long time and is in a state of insomnia and possibly starting to see hallucinations. Whoa! Is that unicorn meat ?
Like this? You might also enjoy...
Get your GeekTech on: Twitter - Facebook - RSS | Tip us off