Thunderbolt, the super-fast connection technology used in the new MacBook Pro range, will probably not be incorporated into any other PC vendors' machines until spring 2012.
Intel, the company behind Thunderbolt, said that it was targeting a launch with other OEMs by this time next year when it unveiled the technology last week.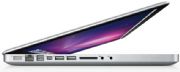 However, Engadget reports that Intel has denied that Apple will have an exclusive deal to use Thunderbolt over the next 12 months and that other manufacturers are free to incorporate the technology into their designs just as soon as they like.
Under the code name Light Peak, Intel's Thunderbolt technology was first introduced in 2009 and has a theoretical maximum date transfer rate of 10Gbps.
This compares to USB 3.0's 4Gbps, the 800Mbps offered by Firewire 800 and USB 2.0's 480Mbps. However, Intel has stated that it does not intend Thunderbolt to be a replacement to USB 3.0 -- which is struggling to gain a foothold in the market -- but a complementary technology. Initially, it is aimed at audio and video professionals and enthusiasts.
"Working with HD media is one of the most demanding things people do with their PCs," said Mooly Eden, general manager, PC Client Group, Intel.
"With Thunderbolt technology, Intel has delivered innovative technology to help professionals and consumers work faster and more easily with their growing collection of media content, from music to HD movies. We've taken the vision of simple, fast transfer of content between PCs and devices, and made it a reality," Eden continued.
The codename Light Peak was seemingly dropped because the technology actually uses copper wiring rather than fibre-optic cables, at least in early builds. However, Intel has said that later versions of Thunderbolt could use fibre-optics.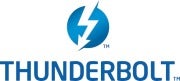 Using adaptors, Thunderbolt is compatible with most other connectivity protocols but is based on PCI Express technology, which most Macs use for I/O. Thunderbolt currently communicates with devices using PCI Express for data transfers and DisplayPort for displays, Intel said. All devices can connect to a PC using a single hub, reducing the need to have multiple connectors.
In terms of Thunderbolt-compatible devices, there aren't any available just yet, but Apple and Intel are working with component manufacturers on Thunderbolt cables and external hard drives using the technology from La Cie and Western Digital are expected soon.
This story, "Apple's MacBook Pro Gets Head Start with Thunderbolt" was originally published by Macworld U.K..