SLIDESHOW
13 fun facts and dreams about Google's next self-driving car
See this bug-shaped prototype in action with real people and learn more about its mind-bending, near-lack of manual controls -- a major shift in how people experience autonomous driving.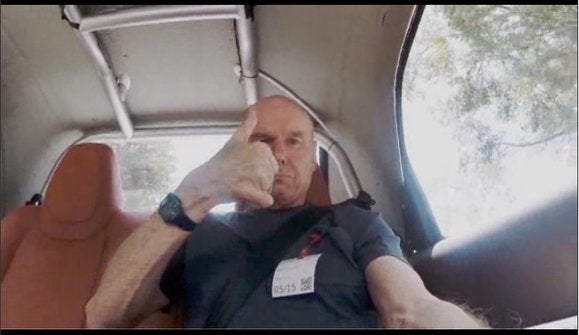 Look Ma, no hands!
Google's cute-as-a-bug self-driving experiment represents a major shift in how we see driving, let alone self-driving cars. The prototype has room for two people—but no manual controls.
After Google co-founder Sergey Brin introduced the self-driving car prototype on Tuesday evening at the Code conference in Rancho Palos Verdes, Calif., the company released a warm, fuzzy video of real people trying the car. Check out some stills from that video while we go over some basic information and aspirations around this new evolutionary chapter in autonomous driving.
It was built from the ground-up to be self-driving
Unlike Google's current roster of self-driving car prototypes, based on existing Lexus and Toyota cars, the new Google self-driving car is being created from scratch with an unnamed Google partner.
It's an all-electric vehicle
The prototype will be a battery-powered subcompact. Chris Urmson, director of Google's Self-Driving Car Project, cites the current range at about 100 miles.
There's a start and stop button
You can't steer, you can't brake or accelerate, but at least you can still turn the car on and off, using buttons on the car's center console. And yeah, there are cupholders—otherwise, forget it!
It has more sensors, radars, cameras…
According to Google's Urmson, the new prototype will have a full, 360-degree field-of-view radar that the current vehicles do not have. "We also have a new laser…that has a higher resolution and range than the existing laser on our vehicles, and the laser can be steered to look at any given direction to allow the car to pick up finer details."
The vehicles will also have more cameras and sensors. According to Google, the car's sensors will eliminate blind spots and be able to detect objects around the vehicle within the range of two football fields.
There's room for two people (and/or a dog)
The car has two seats with (Google hastens to add) seatbelts. With no pedals or dashboard, there's also plenty of room for a loyal, hardworking, and adorable service dog, or a few shopping bags.
It's built to be safe
"We designed the vehicle to have a soft front end and windshield," said Urmson, the better to protect both pedestrians and passengers in case of an accident.
In answer to a follow-up question, director of safety Ron Medford specified the prototype would not have airbags. "We have occupant and pedestrian protection tailored to the environment," he added, "a much different environment than normal high-speed vehicles operate in."
It's built to drive slowly
Another safety control is the vehicle's top speed of 25 miles per hour (mph). Slower is safer—more time to make decisions, less force of impact in a collision.
Urmson pointed out that in New York City, Mayor Bill DeBlasio is pushing to drop the speed limit to 25 mph to increase street safety. Good luck with that.
It still needs maps to navigate
Google's self-driving cars have always relied on maps to get around. This prototype will be no different—and that will limit the car's testing range at first. "The scale of the map data we have is quite small," Urmson admitted. "We build the maps just to the degree we need to for testing purposes."
The cars will not be able to drive in non-mapped areas, Urmson added. "We use the map with the real-time data from sensors. Right now the maps we have are only in the Mountain View area."
It could help elderly people remain mobile
"With elderly parents," Urmson said, "we have to have that conversation about taking the keys away. It's a life-altering decision. It removes the freedom of these people that they've grown accustomed to." A self-driving car could remove the need for that conversation.
It could give people with disabilities greater freedom
Here's Steve, who is blind, checking out Google's self-driving car. It doesn't matter that he can't see. The car can take him where he wants to go.
It could help families enjoy more quality time
Parents busy keeping their eyes on the road can't interact safely with their kids in the car. Janet and Ethan, shown here, can giggle and hold hands and have a conversation while the car does the driving.
It could help people who can't afford their own car
"There's a lot of ways we can imagine that going," Google's Urman said. "One is in the direction of shared vehicle: Call it and tell the vehicle where you want to go." Urman also suggested that people could share private cars, noting how long most people's cars sat idle in parking lots.
It's a prototype!
You can't buy it yet, but you might see it around Mountain View if you're lucky. "We're looking to be testing these vehicles first on private, closed courses this summer, and public roads at the end of the year," said Urmson. They will be tested first with trained drivers, but Urmson hinted that members of the public might test it "as the software matures and we're confident of the safety."
Next Up: Check out these related slideshows
Today's Best Tech Deals
Picked by PCWorld's Editors