SLIDESHOW
15 Surreal Bridges 'Melting' On Google Earth
Google's initiative to add elevation to Google Earth is having some weird and beautiful results. We take a look at 15 landscapes you can find online.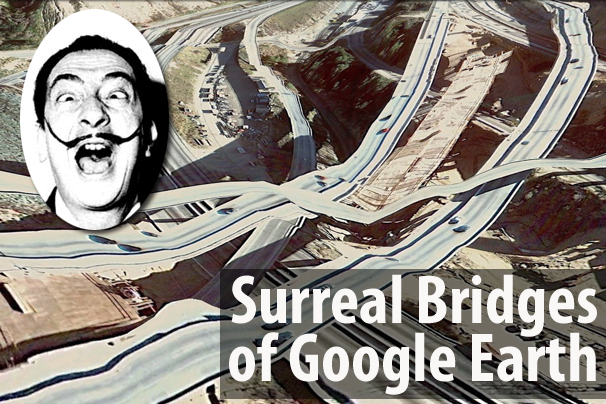 Surrealist Landscapes
What on (Google) Earth happened to this bridge? It looks like it came straight from a modern-day painting from surrealist master Salvador Dali. By extrapolating two-dimensional imagery onto three-dimensional models, sometimes images on Google Earth look like out of this world.
Artist and programmer Clement Valla scoured the globe with Google Earth to find a massive collection of strange and beautiful sights of bridges, which look like they are from an alternate reality.
Click through for a showcase of fascinating imagery...
Los Angeles Highway System
Bixby Creek Bridge, Big Sur, California
Golden Gate Bridge, San Francisco
George Washington Bridge, New York
Tatara Bridge, Japan
Glen Canyon Dam Bridge, Colorado River
Fred G. Redmon Bridge, Selah, Washington
Wilson Creek Bridge Over the James River, Virgina
Deception Pass Bridge, Washington
Richmond – San Rafael Bridge, San Francisco Bay
Peter Guice Memorial Bridge on Interstate 26
Verrazano-Narrows Bridge Connecting Staten Island and Brooklyn in New York City
Fred Hartman Bridge, Texas
Pat Tillman Memorial Bridge, Also Known as the Hoover Dam Bypass
I. B. Perrine Bridge at Twin Falls, Idaho
Next Up: Check out these related slideshows
Today's Best Tech Deals
Picked by PCWorld's Editors