SLIDESHOW
Samsung's New Galaxy Tab 10.1 and 8.9 Tablets: A Visual Tour
Samsung introduces a tablet thinner and lighter than the Apple iPad 2 that will be available in June.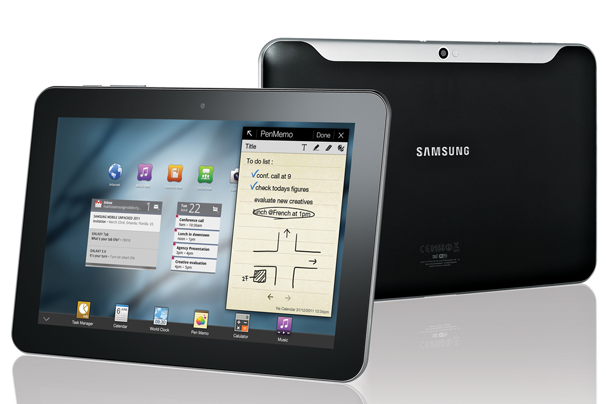 Tablet Wars Heat Up: Thinner iPad Competitor From Samsung
Samsung is getting serious about competing with Apple's iPad and on Tuesday introduced two new Android Honeycom 3.0 tablets. The Galaxy Tab 8.9 and the Galaxy Tab 10.1, which iseven slimmer than the iPad 2. The announcement was made today at the International CTIA Wireless Show in Orlando, Florida.
The Galaxy Tab 10.1: Thinner Than Apple iPad 2
Samsung introduced a Galaxy Tab 10.1 for the European market at Mobile World Congress in February, but the 10.1 model introduced Tuesday has different specifications and is 8.6mm thin (or 0.34-inches) which is about 0.2mm thinner than the Apple iPad 2.
Lighter Weight
The new U.S. Galaxy Tab 10.1 weighs 1.31 pounds (595 grams, 5 grams lighter than the Vodafone version available in Europe), while the Galaxy Tab 8.9 weighs 1.04 pounds (470 grams). The iPad 2 weighs 1.33 pounds.
The Specs for the New Galaxy Tabs
Both tablets pack a dual-core 1GHz processor, a high-resolution 1280-by-800-pixel display, and 802.11a/b/g/n Wi-Fi. Both models have microSD card slots (shown here) for cards up to 32GB in size. Both models come in 16GB, 32GB, or 64GB sizes.
Camera Specs: More Megapixels Than the iPad 2 Camera
Both Tabs have a 3.0-megapixel rear-facing camera with LED flash; the front-facing camera has a 2-megapixel capability, a notable boost over what Apple's iPad offers (not listed on Apple's spec site but believed to be 1 megapixel or less).
Pricing
The WiFi-only Galaxy Tab 10.1 (left, next to the iPad 2) will ship June 8 and will cost $499 for the 16GB version and $599 for the 32GB version. The Galaxy Tab 8.9 will cost $469 and $569 for 16GB and 32GB, respectively, arriving some time this summer.
Wi-Fi Only Announced but 4G Models Expected
Samsung only announced availability of the Wi-Fi-only models today, a model with a SIM card slot was on display. The company says 4G models are coming, but wouldn't say when, and no carrier affiliations were detailed.
The New TouchWiz UX Interface for the Tabs
Samsung is the first Honeycomb tablet maker to put its own interface layer on top of Android 3.0. Called TouchWiz UX, the interface leaves only the app management screen untouched, and the soft navigation buttons intact in location; otherwise, everything is done the Samsung way.
Redesigned Social Hub
The social hub has been completely redesigned from previous iterations for the Android Froyo operating system. On the TouchWiz UX interface, the social hub combines your Facebook and Twitter feeds, for example, into one timeline.
A Reworked E-Mail Client
The built-in e-mail client on the new Samsung Galaxy Tab tablets has been reworked to display your mail in a (potentially) more visual manner than on Android 3.0.
TouchWiz UX Custom Widgets
The TouchWiz UX provides additional widgets above and beyond those offered by Google: These widgets are resizable, more customizable, and more flexible and help the screen transform into an organic, real-time experience.
Built-In Music Player
Shown: The built-in music player on the new Samsung Galaxy Tab tablets.
Next Up: Check out these related slideshows
Today's Best Tech Deals
Picked by PCWorld's Editors