SLIDESHOW
Droid Does (What Others Don't)
Every OS has its pros and cons, but Android still has features that leave iOS users green with envy.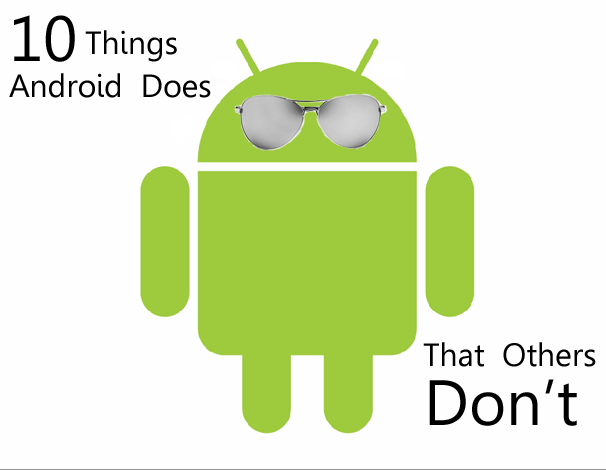 10 Things Android Does (That Others Don't)
Are you sick of your friends' constant bragging about their iPhones? Not entirely sure how your Android device stacks up against them? Fear not: I've compiled a list of all the things that Android does better than the competition. So the next time someone brags about their phone's FaceTime capabilities, just refer to this list--soon they'll be the ones feeling jealous.
4G (LTE, WiMax)
If there's one thing Android does well, it's definitely speed. As the situation currently stands, neither the iPhone nor the iPad supports 4G (LTE or WiMax) networks. Although the next-generation iPhone seems likely to support 4G speeds, that handset is still a ways off from release. Android users can enjoy 4G speeds right now. On the tablet end of things, users of the Motorola Xoom can have it upgraded to a 4G radio to take advantage of Verizon's superfast LTE network.
PlayStation Suite
Angry Birds and Cut the Rope may be fun for the first few levels, but they can get stale extremely fast. Enter the PlayStation Suite, a software framework that will allow Android devices to run PlayStation games. The Sony Xperia Play will be the first to take advantage of the software, but soon other Android 2.3 phones will be able to play classic PlayStation games as well.
More Choice in App Stores
On Android, you have a choice in where to go to download apps. If you can't find an app on the Android Market, chances are good that you can find it through other venues such as GetJar or the Amazon App Store. More stores means more competition, so app venues will charge different prices to remain attractive. Steve Jobs may not understand the Amazon App Store, but more choice is a good thing for consumers and developers alike.
More Choice in Phones
With Android you get your choice of a ton of different phones (with varying features) on nearly any carrier you prefer. Hate typing on a touchscreen, for instance? Grab a phone with a built-in keyboard. Android handsets come in all shapes and sizes, so you aren't stuck with just one design.
Cost
Even people on a budget can enjoy the benefits of Android without breaking the bank to buy a device. LG offers assorted entry-level Android phones for less than $100; even Motorola has a budget offering, with its nearly indestructible Defy. Sure, these entry-level phones may not be as flashy as some of the higher-end models, but a certain satisfaction comes with snagging a smartphone for $30.
Widgets
Widgets are great for people who want just a quick, at-a-glance update of what is going on in their phone. Widgets run right on the home screen, and most apps include a widget that you can use instead of having to pop open the full application. Let's hope that Apple takes notice and implements widgets in a future iOS update so that iPhone owners can see what they have been missing out on.
Customization
So you have a fancy new Android phone, but you aren't a huge fan of the overlay that the vendor included. Although you can't really remove the overlay without rooting your phone, you can at least hide most of it by using apps such as LauncherPro. These downloadable home-screen customization apps give you more control over the look and feel of your phone, without forcing you to fiddle around in the Android SDK.
Better Integration With Google Services
At this point, most people use at least one of Google's many services. Whether your go-to Google offering is Gmail, Google Maps, or Google Voice, Android handles it like a champ. Sure, the iPhone and iPad come with a form of Google Maps preinstalled, but that version doesn't have nearly as many features as the native Android one does. Gmail, Google Maps, and YouTube are all integrated into the Android OS, so various third-party applications can take advantage of their features and benefits. If you are a heavy Google user, Android should be a priority when you choose a new mobile device.
Upgradable Storage
With digital downloads being the norm, it's quite easy to quickly fill up the 8GB of storage that came with your phone. If you have an iPhone and you need more space, you must either delete things off the phone or buy a new one completely. Although Android phones do have a set amount of internal storage, a majority of them come with an SD Card that you can swap out for a larger one once it fills to capacity. And even though apps normally save to the internal phone memory, you have the option to move them to the SD Card to free up some space.
More Choice in Carriers
The iPhone's recent expansion to Verizon pushes the number of carriers offering it to a whopping two. These days, all the major carriers and most prepaid ones offer at least one Android device. So if you don't like AT&T or Verizon, you can go to another carrier and still get the same phone experience. Remember, choice is good for consumers like us.
Next Up: Check out these related slideshows
Today's Best Tech Deals
Picked by PCWorld's Editors