SLIDESHOW
Adobe's iPad Apps for Photoshop, Sneak Peek
Adobe's Photoshop tablet apps blur the line between desktop and tablet.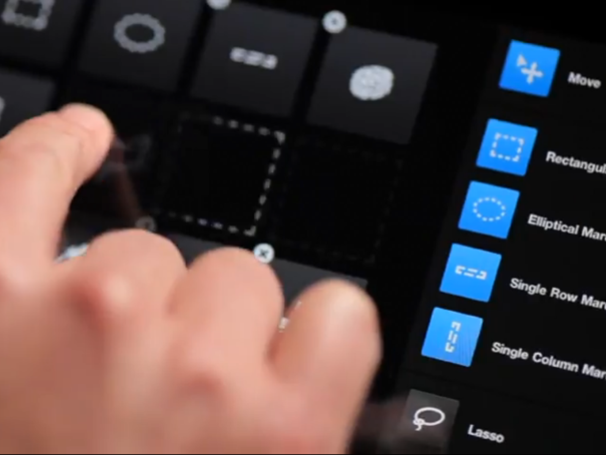 Adobe Photoshop CS5.5 Meets iPad
Adobe on Monday announced three apps written for the Apple iPad, which allow you to mix colors, finger-paint or control the Photoshop toolbar directly from the tablet. The apps, Adobe Color Lava Adobe Eazel, and Adobe Nav, were created with Photoshop Touch Software Development Kit (SDK), a new scripting engine that allows developers to create tablet applications that interact with Photoshop CS5.5. The apps will be available in around 30 days, Adobe said.
Click through for a look at the new apps...
Adobe Color Lava
Adobe Color Lava ($2.99) is a color-mixing and color scheme creation app. You can use Color Lava with your fingertips to mix colors on the iPad, creating custom color swatches and themes to transfer back into Photoshop.
Adobe Color Lava
Setting up Color Lava to work with Photoshop can be done via the Remote Connections menu on the computer. The Photoshop icon at the bottom right means a connection was made. Once five swatches were created, you can send them back to the Photoshop swatch panel.
Next up: Adobe Eazel...
Adobe Eazel
Adobe Eazel ($5) is a finger painting app that eliminates any menus, toolbars and distractions. The app is very realistic, as paint is 'wet' when you first apply it (it dries in a few seconds), so if you cross it with another stroke, it will blend (blending value is dependent on the size of the brush).
Adobe Eazel
When you place all five fingers on the iPad's screen, Adobe Eazel displays graphical icons that let you change the paint color, opacity or brush size. There's also a redo option, but for one action only. When sent to Photoshop, the painting will have all layers included, or you can save it to the camera roll on the iPad.
Next up: Adobe Nav...
Adobe Nav
Adobe Nav ($2) is basically an app that gives you control of Photoshop's tools from the iPad. You can select your most used tools to display on the screen, and arrange them in whichever order you prefer.
Adobe Nav
Adobe Nav also allows you to display up to 200 Photoshop documents as large thumbnails, with the ability to switch between them on the fly. You can create new documents from within Nav, as well as closing files (which closes them in Photoshop too).
Next Up: Check out these related slideshows
Today's Best Tech Deals
Picked by PCWorld's Editors