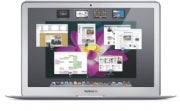 Mail improvements
In Lion, Apple is making some improvements to Mail. Mac OS X's native email client is pretty decent overall, hitting all the basics such as support for multiple accounts, easy setup, the ability to organize and search messages, and support for a range of mail rules or filters. Mail is missing a few modern touches, however.
One big issue is that the view format is pretty much limited to a dual-pane display that shows a small list-box of messages above a preview pane, plus a sidebar with accounts and folders -- an interface that email clients have used for nearly two decades. The hierarchical folder view in the sidebar can make locating specific folders difficult and limits the ability to manage messages from multiple accounts. Similarly, the small message list-box makes scrolling to locate messages challenging.
Another issue is that while Mail offers decent search capabilities, specifying multiple criteria (by a word in the subject line, the sender's domain name and to whom it was sent, for example) isn't really possible. Even getting granular with a single phrase or name and a specific folder or account isn't particularly user-friendly.
Apple says it will improve the view options in Mail by allowing a wide-screen approach, where you can have columns for all your accounts/folders as well as messages and a full-size display for a selected message. This option has been around in other email apps (most notably Outlook) for quite some time. Although Apple hasn't been too specific about search capabilities, it has said search in Mail will be refined. The screenshots available imply that the toolbar will be improved to make overall navigation better.
While there isn't much you can do to improve the toolbar and search capabilities of the current version of Mail, you can use one of two plug-ins to make the interface more user-friendly. WideMail and Letterbox do essentially the same thing: Replace the message list-box with a column that displays a greater number of messages and offers a larger message view next to it.
Both are good options; the differences between the two are minimal. WideMail is donationware, while Letterbox is free. WideMail offers some formatting options for how the message column is displayed, such as types of dividers, date style, and alternating background colors in the list. Both support Snow Leopard and Leopard; Letterbox also offers a version for Tiger.
A couple of other notable Mail plug-ins offer features that aren't quite Lion-like (at least from what we know about Lion at this point) but deserve some mention as well.
RelatedMail (free) offers a menu option that displays any messages related to the one you're currently viewing. The relationship is determined based on features such message thread or subject, date or sender. It is free -- and technically still in beta, though it works pretty solidly -- and available for both Snow Leopard and Leopard. It doesn't provide the advanced search features Apple is promising, but it is pretty helpful.
GrowlMail (free) works with the Growl add-on for Mac OS X and displays new message details, complete with a small pop-up identifying the sender and subject and providing a short message preview. The effect is similar to the new message preview option in Outlook. GrowlMail works with Snow Leopard and Leopard.
The Mac App Store
The Mac App Store, available to Snow Leopard users since early this year, places a wide, easy-to-browse selection of Mac apps at a user's fingertips without requiring a Web search. Purchasing, installing and updating apps have been simplified to the one-click approach of the iOS App Store.
Like the iOS App Store, the Mac App Store is curated by Apple to ensure that apps run properly and that they don't violate any App Store rules or guidelines. However, apps can still be purchased and installed from locations besides the Mac App Store -- an important difference from the iOS App Store, which maintains a closed environment for iOS app installation.
These third-party stores mean good news for Leopard and Tiger users, who can't access the Mac App Store. Even better, there are several easy-to-browse marketplaces that are free of Apple's App Store terms and conditions, and some easy-to-manage update tools are available.
Bodega is essentially a Mac App Store app. It has a storefront feel and allows you to browse, purchase and download new apps and update already-installed apps (whether installed via Bodega or not) from a simple and intuitive interface. The selection of apps available in Bodega is pretty good and, like the Mac App Store, it's organized by categories and lets you see new releases, staff picks, and the top free and paid downloads.
Web-based catalogs: There are many Mac catalogs worth visiting on the Web. Almost all are broken down by category and offer user ratings and reviews, and some also offer staff recommendations. Some of the top Mac software catalogs include MacUpdate, Pure Mac, CNet's Mac Software list (formerly Versiontracker.com), FreeMacWare, MacShareware.com, App Donkey and Mac Softpedia.
Mac.AppStorm isn't an app catalog, but it is a great resource for Mac software information and reviews.
Update tools: I mentioned that Bodega offers some automatic update capabilities, but there are a number of tools that can constantly track your installed Mac software (commercial, shareware and free/open source) and alert you to updates. Some of the better options include MacUpdate Desktop, AppFresh and MacKeeper. MacUpdate Desktop and AppFresh are free and focus just on update management, while MacKeeper is a $38 tool that offers a range of other Mac utility features including antivirus protection, backup, file encryption and disk space management tools.
Finally, another potential alternative to Apple's Mac App Store is brewing. Cydia, the unofficial app store for jailbroken iOS devices and apps not approved by Apple, has announced plans to create Cydia for Mac. The exact purpose of creating the store is a little unclear, since Mac OS X will remain an open platform where users can install any apps they want (no jailbreaking required), but once up and running, it will offer users an additional storefront-style option.
Conclusions
The tools in this list may fall short of what's coming in Mac OS X Lion, but they do approximate some of the Lion features we've glimpsed. Some offer advantages that we may not see in Lion, such as character-based gestures and the ability to fully customize individual Spaces. Regardless of how they compare to the upcoming Lion, they offer great benefits to Mac users in the here and now.
Ryan Faas is a freelance writer and technology consultant specializing in Mac and multiplatform network issues. He has been a Computerworld columnist since 2003 and is a frequent contributor to Peachpit.com. Faas is also the author of iPhone for Work (Apress 2009). You can find out more about him at www.ryanfaas.com and follow him on Twitter (@ryanfaas).
This story, "Mac OS X: Make Snow Leopard (and Other Cats) Roar Like Lion" was originally published by Computerworld.