SLIDESHOW
Windows Phone 7 Mango: A Visual Tour of the New Features
Get a closer look at the top 10 coolest new features in the Windows Phone 7 Mango update, coming this fall.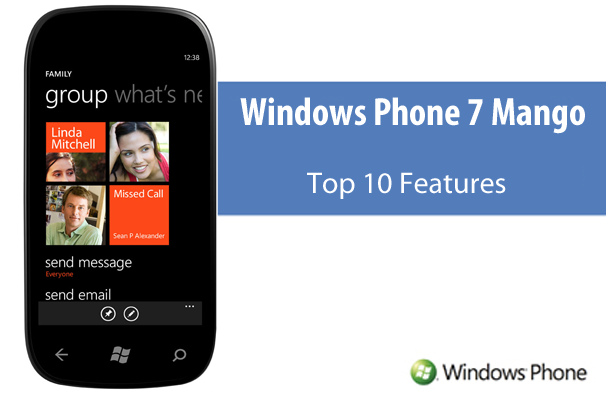 A Revamped Windows Phone
Windows Phone 7 will get a bunch of improvements later this fall in the form of Mango, a free software update. Microsoft says there are over 500 new features coming in Mango but we only got a glimpse at what's coming, so here are the top 10 additions in Mango to be excited about.
Multitasking
Third party apps in Mango will be able to run in the background and you can switch between apps via a panels interface. You'll be able to quickly switch among recently used applications by pressing and holding the back button.
Integrated Messaging
Mango allows you to switch between text messages, Facebook chat and Windows Live Messenger without having to open and close multiple apps: it's all in the same conversation.
Local Scout
The Local Scout feature pulls local results and recommendation of nearby businesses such as restaurant, shops and other activities.
Internet Explorer 9
The Windows Phone version of Internet Explorer includes some support for HTML5 and hardware acceleration. Social networking is built in, so you can share any page you browse.
Contact Groups
Mango allows you to pull groups of contacts into live tiles on the home screen, which will also display their social networking status updates. Shortcuts to send texts, emails or IMs to an entire group are also available.
Unified Inbox
You can finally pull multiple email accounts into one inbox in Mango, via what Microsoft calls a linked inbox. You can also search e-mail servers, like the Exchange Server, for older emails no longer stored on your phone.
Personal Contact Card
Mango makes it easier to update your Facebook status or IM, directly from your contact card.
Improved Bing
You can initiate a Bing search by taking photos of barcodes, QR codes or Microsoft Tags (no need for a third-party app). Bing can also identify songs by holding the phone to a speaker.
Live Tiles
You can create personalized live tiles for friends and individuals on the home screen, and apps third-party apps will be able to display tailored information in this space as well.
App Connect
App Connect is a new Mango feature that will connect specific apps to search results in Bing, such as the IMDb app opening when you select a movie from the search results.
Next Up: Check out these related slideshows
Today's Best Tech Deals
Picked by PCWorld's Editors