Five lucky cities will be the first to get access to AT&T's LTE network this summer, the company announced Wednesday.
AT&T's initial LTE launches will hit Chicago and Atlanta as well as Dallas, Houston and San Antonio in its home state of Texas. The carrier plans on launching LTE in at least 10 additional markets by year-end, thus creating an LTE network that the company says will cover 70 million Americans.
ANALYSIS: Breaking down the carriers' 4G wireless spin
LTE, which stands for Long Term Evolution, is essentially a bridge from 3G technologies such as HSPA+ and EV-DO Rev. A to the 4G IMT-Advanced technologies that the International Telecommunications Union (ITU) says will deliver consistent speeds in the 100Mbps range. Verizon became the first major U.S. carrier to deploy LTE last year when it launched the technology in 38 major markets covering roughly one-third of the U.S. population. The carrier plans to have its entire current 3G footprint upgraded to LTE by the end of 2013.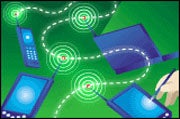 AT&T so far has waited patiently to get its LTE network up and running, as the carrier has consistently tried to get more mileage through upgrading its current HSPA+ network. But while HSPA+ does deliver significantly higher speeds than legacy HSPA or EV-DO Rev. A 3G networks, it is simply no match for LTE as a mobile broadband technology. A test released this year by PC World showed that Verizon's LTE laptop air cards provided average download speeds of 6.5Mbps and average upload speeds of 5Mbps, while HSPA+ networks such as those used by AT&T and T-Mobile delivered download speeds in the 2M to 4Mbps range.
Read more about anti-malware in Network World's Anti-malware section.
This story, "5 U.S. Cities Will Get AT&T LTE This Summer" was originally published by Network World.