SLIDESHOW
10 Upcoming Android Devices We Just Can't Wait For
We use our time machine to take a look at upcoming Android devices.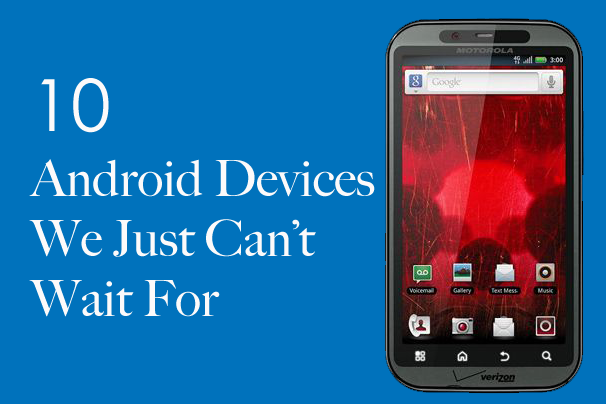 10 Android Devices We Want Right Now
Lots of great and powerful Android devices are already out, but--by using our PCWorld time machine--we can see the future of Android, and it looks awesome. Expected to arrive within the year are 3D phones, 4G speeds, and a shiny new Android OS. Hot tip: Start saving up now to buy one of these beauties!
Samsung Galaxy Tab 10.1 (LTE)
The Wi-Fi-only Galaxy Tab may be debuting June 17th, but we are looking forward to the LTE version coming sometime this summer. With its razor-thin design and crisp display, this Android-based tablet is a worthy competitor to Apple's iPad 2. Add Verizon's blazingly fast LTE network into the mix, and you'll have a tablet that will be hard to beat when it comes to browsing the Web on the go.
Motorola Droid 3
When the original Motorola Droid launched in late 2009, it was the first in a new generation of Android devices. Now, nearly three years later, the upcoming Droid 3 is shaping up to be a worthy successor to the Droid name. What with expected features such as an improved keyboard, a high-res qHD display, and a dual-core processor, we can't wait to get our hands on the Motorola Droid 3.
Note: The term qHD refers to a display resolution of 960 pixels by 540 pixels arranged in a 16:9 aspect ratio. This resolution is one-quarter of a full HD 1080p frame (thus the name) and is three-quarters of a 720p frame.
Photo: Courtesy of Howard Forums
Motorola Droid Bionic
I'm still lugging around my (relatively) ancient Droid Incredible because I'm waiting for its succcessor, the Droid Bionic. With a dual-core processor and LTE connectivity, the Bionic will be built for speed. Its release date keeps getting pushed back, but we hope to see the Bionic before the end of 2011.
Samsung Galaxy S II
Europeans may already be able to get their hands on the Galaxy S II, but Americans are still waiting to hear which carrier will have Samsung's device. The gorgeous Super AMOLED Plus display on this smartphone makes the Galaxy S II a joy to behold, and the unit we reviewed was quite speedy.
Toshiba Thrive
If you love ports on your tablets, this one has you covered. With a full-size USB port, an SD card slot, and an HDMI port, you can plug pretty much anything into this Android unit. Couple that with a fairly fleshed-out file manager, and you have the makings of a tablet that could potentially replace your laptop.
HTC EVO 3D
While I'm not entirely sure why someone would want to have a 3D display on their phone, it would still be pretty interesting to see it in action. The EVO 3D can also take 3D pictures, in case you can't find any 3D content to view on your phone. Be careful, though: 3D effects have a tendency to give people headaches after prolonged exposure.
Motorola Photon 4G
Motorola's first WiMAX-capable phone, the Photon 4G will be powered by a dual-core processor, much like the Atrix on AT&T. One major plus for the Photon is that it will be shipping with Android 2.3 (Gingerbread), so you'll have the latest mobile OS from the first day you own it. If you love gaming, you'll be able to hook the Photon up to a TV to play your games full-screen on the set's larger display.
Nexus 3
While we may not know much about the Nexus 3 (and have no photo of it yet), we know it is definitely coming sometime in the fourth quarter of 2011. The Nexus 3 will also be one of the first phones to run the Ice Cream Sandwich version of the Android operating system. Ice Cream Sandwich is supposed to bridge the gap between Android handsets and Android tablets to give users a more unified experience across both platforms. We are excited, not just about the phone, but about the major changes this new Android OS will bring as well.
Asus Padfone
Asus decided to unify tablets and phones in a different way. With the Asus Padfone, your smartphone fits nicely in a small compartment on the back of the tablet. Once the phone is mounted there, you can access all of the phone's features using the tablet. An interesting concept, but we'll have to wait to see how it plays out.
Motorola Xoom 2
While the original Xoom wasn't exactly the iPad killer that everyone had hoped it would be, it did give people their first taste of Android 3.0 (Honeycomb). After a recent leak on Motorola's product page, it looks like we can expect a successor to the company's 10.1-inch tablet relatively soon.
Word on the street is that this particular tablet will be running on a Tegra 3 quad-core processor, which would effectively make it the most powerful tablet on the market. Keep your your ear to the ground for any more news surrounding this (so far) mythical beast of a machine.
Next Up: Check out these related slideshows
Today's Best Tech Deals
Picked by PCWorld's Editors