SLIDESHOW
Sony's S1 and S2 Innovative Android Tablets: Detailed Look
Here is an up-close peek at Sony's innovative S1 and S2 tablets for sale later this year.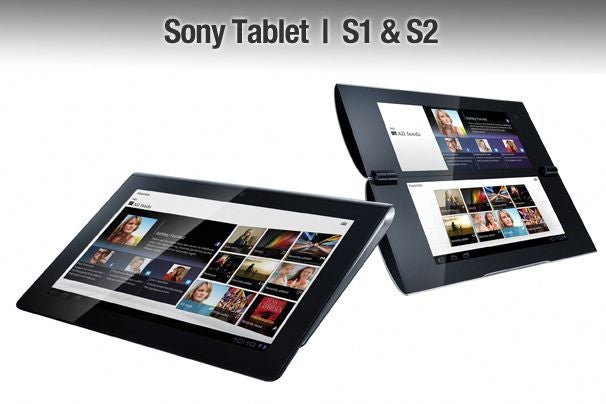 Meet Sony's New Tablets - S1 and S2
Wednesday Sony held a press event in San Francisco and surprised attendees with an opportunity to play with its upcoming S1 and S2 tablets at the same time announcing a data partnership with AT&T and a rough release date of this fall. Sony has been talking about these uniquely designed tablets since April.
As previously reported by my colleague Ed Oswald, both devices will run the tablet-optimized version of Android mobile OS called Honeycomb. Data service for the S2 tablet will be provided exclusively by AT&T in the United States. There's no word on pricing just yet.
Here is a detailed tour of everything there is to know about both tablets until Sony shares more. Images are from Sony's press event help Wednesday evening.
Sony Tablets: Daring to Be Different
When news first hit that Sony was prepping two Android tablets for release later this year, some scoffed at the thought, figuring that Sony was going to be late to the game. But even then, it seemed like Sony's announced fall timeline would only make it fashionably late to the tablet party. And now, with a fall release edging closer it's clear Sony was smart to avoid the current tablet crush. Sony's tablet designs do not follow the cookie-cutter flat slate approach of the many tablets for sale today. Releasing its uniquely designed tablets amid a tablet cavalcade would risk Sony getting lost in the crowd.
At the rear, you can see the clamshell-style tablet codenamed S2; in front, the S1.
Sony S2: PlayStation Certified
This view shows the clamshell Sony S2's back, with the dual-screen tablet propped open upside down. Note the rear-facing camera at the right, and the PlayStation Certified logo by the chrome-colored hinge at left. Both the S2 and the S1 are PlayStation Certified, which means they'll support the PlayStation Suite, for example.
Sony's Favorites
Some tablet makers have opted for re-skinning Android, or for adding widgets to provide some level of personalization. Sony's approach: Add a Favorites button up by the Apps Menu.
The Favorites Home Screen
The idea behind Sony's favorites is that you get home screen that's fully customizable, so that you can cut down on finger strokes by programming each module to lead to whatever piece of content is your favorite. It appears that you'll be able to set your favorites to be apps, media, or websites.
Sony S1: The Folded Side View
Most tablets are flat slates. But Sony has opted for a very different design with the S1 and its 9.4-inch screen that the company says is intended to mimic how a magazine folds over. It's a quaint metaphor, perhaps, for the digital age, but when held in a portrait mode, one side of the tablet is thicker and rounded, while it narrows and tapers off towards the opposite side. The rounded side is where the tablet's center of gravity lies, says Sony; that, coupled with the curvature, made the tablet feel very comfortable in-hand.
Sony Tablets: Sharp Text
Sony did not reveal much in the line of specs--we yet don't know the specific supported resolutions of the S1 and S2, but in my eyes-on, I found myself impressed by the sharp, well-rendered text, and the rich, yet not overly saturated, contrast and color. The S2's screen looked particularly sharp. The clarity I observed in these early units may have been due, in part, to the fact that neither tablet appeared to have a significant air gap between the LCD itseld and the glass outer panel.
Sony S2: A Clamshell for Your Pocket
This profile view gives you an idea of how the S2 folds up, not to mention how it can sit comfortably in-hand. It's long, yet fairly compact; and it will fit easily into a deep pocket. It's actually smaller in size than a typical travel document folder, though its thickness is, roughly, about the same as two cell phones stacked atop one another. The S2 can be held vertically as well, a position that replicates the side-by-side pages of reading a book. Not bad. The preloaded bookstore tie-in will be Sony's own Reader Store.
Sony S2: A Folding Tablet Takes Shape
The innovative dual-screen S2 looks closer in size to an Nintendo DS, and yet it's similar in concept to the Kyocera Echo, a dual-screen Android cellphone. This tablet is larger, though, with two 5.5-inch displays; the idea is for apps to run across both displays. It runs a 1GHz dual-core Nvidia Tegra 2 processor and uses the Android Honeycomb operating system (specific version to be determined). The S2 will be sold via AT&T, with HSPA+ data.
Sony S1 Tablet: Left Side
The S1 tablet has a USB port beneath a flap door; Sony didn't say what type varietal of USB this was, though. Next to that USB port is the headphone jack. Look carefully at the underside of the folded-around plastic: you can see a thoughtful touch, feet, for the base of the tablet. Another benefit to the folded-around design: When you put the tablet down on a surface, you get ever so slight of an incline to make it easier to type on.
Sony S1 Tablet: Right Side
The S1's volume and power buttons are located along the right side of the S1 (orientation assumes the fold is at the top). In this image, you can see one of the two stereo speakers; the speakers' inset location means it's less likely your fingers will accidentally block the audio.
Sony S1 Tablet: Bottom Edge
Along the bottom edge sits the S1's uncommon power adapter and dock connector port.
Next Up: Check out these related slideshows
Today's Best Tech Deals
Picked by PCWorld's Editors