SLIDESHOW
EA's E3 2014 keynote: Big name games and bizarre prototypes abound
Battlefield. Dragon Age. The Sims. Star Wars. Madden. EA's E3 2014 keynote stuck to games with familiar names.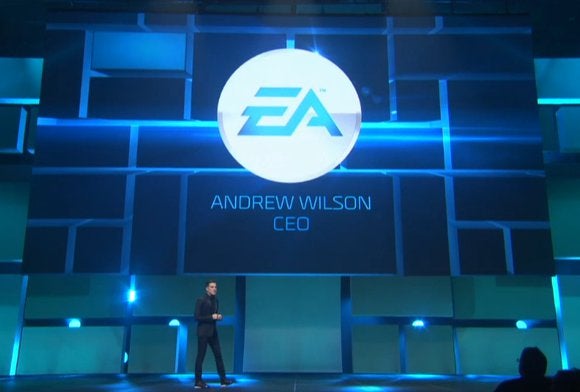 Games with familiar names
This morning Microsoft hit us with a feast of games—ninety minutes worth. Not to be shown up, EA came out swinging with 14 game announcements in the span of 60 minutes.
"Everything you'll see today is tied together by a common thread—a commitment to putting players first," said Andrew Wilson, EA's CEO. "It's about putting the games into your hands and inviting you to helping us make them better."
Star Wars: Battlefront
Battlefront. Battlefront. Battlefront. It's been an entire console generation since the last time we got an entry in the Battlefield-inspired Star Wars series. Hoth, Endor—it's all coming back.
The game is looking phenomenal—a little too phenomenal to be honest. With the new consoles having problems matching PC graphics already, let's see if the final release lives up to the pre-release footage from today.
Dragon Age: Inquisition
After, for whatever reason, bringing a cellist on stage to play along with the trailer, EA showed off more information about Dragon Age: Inquisition's tactical combat camera—a much-loved PC-only feature of the first game. We also got a brief look at the game's cast, including a ranger-type character Sarah and an armor-clad mercenary known only as the Iron Bull. "Whatever we were before, we are now the Inquisition."
Mass Effect 4
There's no real news about Mass Effect 4, except that it exists. EA decided this year it would show some behind-the-scenes footage from upcoming prototypes, and Mass Effect 4 is so early in development it basically fits that stage. No fancy trailer. No story promises. Nothing except promises that the game will amaze us on next-gen consoles.
Fingers crossed.
Unknown Bioware prototype
BioWare also showed off a few screens from...something. If Mass Effect 4 is a prototype, I don't even know what to term this—all we saw were some workstations with a few level slices. It's BioWare though, so assume some sort of RPG-trappings, a deep story, and some light choice-based mechanics.
Sims 4
EA showed a brief cut of The Sims 4, highlighting smarter Sims with stronger emotions. The (weird) highlight of the trailer? They made a Sim laugh so hard he died. It looks like it's easier than ever to kill your Sims.
Sports, sports, sports
We got brief looks at EA Sports UFC, Madden NFL 15, FIFA 15 and NHL '15. As with most years, these look like iterative versions of last year's games—prettier graphics, "more" physics, better controls, updated rosters, et cetera. NHL '15 in particular looks gorgeous, though it's been a while since I've played a hockey game. EA promises a better defensive game in Madden 2015, as well as more cinematic camera angles.
Also, EA Sports UFC will feature Bruce Lee as a playable fighter when it drops next week. So there's that.
Criterion prototype
I though Criterion had died. I knew Criterion had died.
Apparently, I was wrong. Criterion, with a greatly reduced staff, showed off a prototype today of a new vehicle game. Helicopters, ATVs—this isn't just a car game, and it's all in first person. This is really early though—don't expect more information for at least another year.
Battlefield Golf?
So this year's PGA Tour golf game is...a bit weird. After a normal trailer opening on placid, green fields, two planes flew overhead and a battleship crashed into a beach and then a guy hit the golf ball over it and what the heck is going on?
"Golf without limits," says EA. Okay then.
Dawngate
Bored by sports? Well then I bet you're excited by yet another MOBA! Right? Right? I don't even know what to say about Dawngate except that, like every other MOBA developer on the planet, EA claims this one is "different" and "innovative." How? They're not telling us. I don't think this is the one that'll dethrone League of Legends and Dota 2, but I guess there's always a chance...
Mirror's Edge 2
After last year's teaser trailer, Mirror's Edge 2 is back for real. This year EA focused primarily on early-in-development behind the scenes content, like the design of Faith as a character. There were some interesting tidbits though—multiple paths through levels that are dependent on skill level and, more importantly, no damn guns.
Battlefield: Hardline
EA's undoubtedly annoyed that all its plans for Battlefield: Hardline leaked prior to E3, but oh well. Them's the breaks.
Regardless, Battlefield: Hardline is an upcoming shooter from Visceral Games that's basically a digital version of cops and robbers. Let's hope it's better than the last time this concept was explored—the 2010 flop APB.
EA debuted the new Heist mode with a 32-player demo—robbers blew up a bunch of armored cars and had to escape with what was inside. The whole game looks a little too "military" for what I'd expect from cops and robbers, betraying its Battlefield roots, but overall it's an interesting concept.
Even crazier? You can sign up for the beta today, right here. PS4 and PC only.
Next Up: Check out these related slideshows
Today's Best Tech Deals
Picked by PCWorld's Editors