Phones are getting bigger, but women's pockets are not. That sounds like a laughable pain point, a faux problem even in the First World. But when your phone is blowing up with notifications that you don't notice because you have it tucked away in your purse, you could miss out on important real-world connections: a call from your best friend, an urgent email from your business partner, a notification that your Uber just pulled up.
Wearables like the Pebble and Samsung's Gear smartwatches exist to put "glanceable" information and notifications on your wrist, but fashionable women don't want to accessorize with OLED screens. Ringly is a new wearable device just for women—it's a ring that packs in a vibration motor, Bluetooth LE radio, accelerometer, and color-changing LED. But despite all that tech, it looks like jewelry: a gold-plated band with a rectangular semi-precious stone, Ringly blends right into your outfit in a way Pebble never could.
Gimme a ring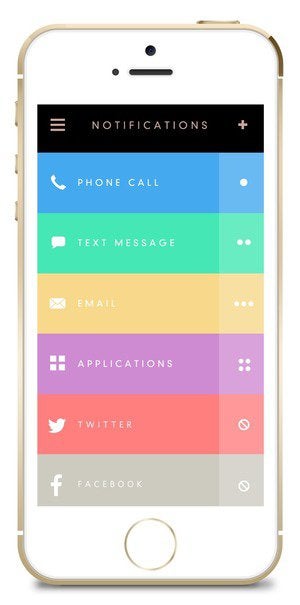 Ringly pairs with Bluetooth LE to a smartphone—the Ringly app will be available for iOS and Android. The flexible app lets you set notifications for both applications and contacts. First, the Ringly will buzz one to four times to let you know you're receiving a notification. Then as you glance down at your hand, a small, subtle LED on the side of the ring can light up to show you exactly which application and/or contact is trying to get your attention.
For example, you could have Ringly buzz once and then flash blue to alert you to a Facebook notification, then flash red so you know it's from your spouse. Or you could have the ring buzz three times but not light up at all. At launch, Ringly will be able to notify you of incoming texts and calls, calendar alerts, new email, and notifications from Instagram, Twitter, Facebook, LinkedIn, Uber, Tinder, Poshmark, Vine, Tumblr, Pinterest, and Snapchat.
With four vibration patterns and five colors, Ringly is aiming for the sweet spot between having enough customization options, and overloading you with too many patterns to remember. Being able to flag contacts is a great idea, and if you use Gmail instead of iOS's built-in Mail app, you could opt to be notified of new messages in your Priority inbox. Settling on the right mix of notifications for you might take some time and tweaking, but Ringly's well-designed app makes it simple to experiment.
Smart jewelry
The Ringly has a couple more tricks besides passing along notifications. The accelerometer lets you check if the Ringly is connected—just tap the finger your ring is on against your thumb a couple times, and the light will flash blue if it's connected to your phone. And if the Ringly leaves your phone's Bluetooth range, it can also buzz to let you know you're about to leave your phone behind. The battery lasts two or three days, depending on how many notifications you get, and you charge it by dropping it back into its ring box, which doubles as the charger.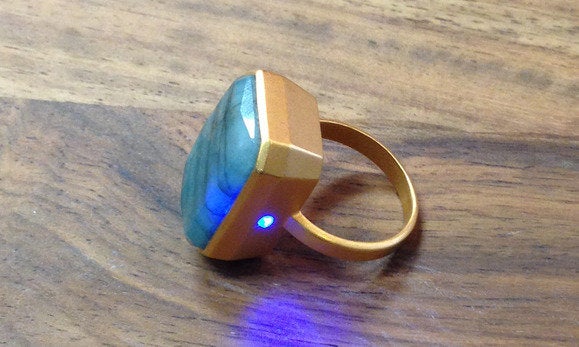 Ringly will ship in three ring sizes (6, 7, and 8) with a choice of four stones, named after those moments when you don't want to be slavishly checking your phone: the black onyx version is named Stargaze, the rainbow moonstone is Daydream, a pretty pink sapphire is called Wine Bar, and the emerald is Into the Woods. I thought they looked great on my finger—Ringly cofounder and CEO Christina Marcando told me that her goal was for the design to look good enough that people would want it even if it didn't do anything.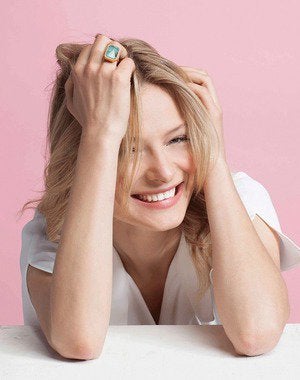 Design-wise, I would want it even if it didn't do anything—but not at full price. Ringly will retail for around $200 when it ships this fall. The early-bird preorder price is $145, which is $100 less than the Pebble Steel, and about what the first-gen Pebble costs today. Now that's not an apples-to-apples comparison, since the Pebble does provide more information on its screen, and the Ringly is a fashion accessory as well as wearable tech.
At SXSW, I saw a similar light-up wearable called Ringblingz, but that company seems to have gone off the radar. (Its website didn't start taking preorders in March as scheduled, and with no social media posts in the last two months and no response to my query as of press time, we fear the worst.) Ringblingz is/was aimed at teens, with its price point of $40 to $60 and a candy-colored plastic aesthetic, so Ringly is going after a higher-end clientele. It would definitely best Ringblingz in a beauty contest, so we'll be interested in seeing if Ringly's promise of keeping you connected as well as properly accessorized will resonate with women. Preorders start today.
This story, "Women's wearable Ringly makes notifications fashionable" was originally published by TechHive.