SLIDESHOW
The best portable hard drives: Our top picks are fast, light and spacious
Cloud storage is great, until you don't have Internet access. A portable hard drive lets you access your data anywhere.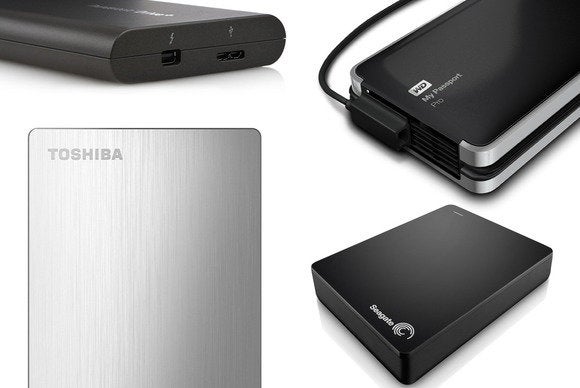 A portable hard drive is all kinds of useful
The SSD in your brand-new Ultrabook is super-fast, but its capacity is exceedingly limited. You could turn to a cloud-storage solution like Box, Dropbox, Google Docs, or Microsoft's OneDrive, but you'll have to pay over and over again for a subscription fee.
And if that isn't bad enough, there's the inherent security risk of storing data on servers outside your control. And what happens when you don't have Internet access?
Toss a portable hard drive in your laptop bag, and you can take everything with you. Most models are lightweight, and all but the SSD models offer terabytes of capacity.
Here are eight great examples.
Western Digital My Passport Slim
Available in 1TB and 2TB capacities, WD's My Passport Slim is super thin and lightweight, with the 1TB model reviewed here measuring 0.48 inches thick and weighing 4.8 ounces.
The drive has a speedy USB 3.0 interface that's backward-compatible with USB 2.0. It comes with WD's SmartWare Pro software for automatic backups (including backing up to cloud), and it supports password protection and hardware-based data encryption.
The 1TB model is priced at $100 and the 2TB model is $150, but I found the drives selling at the WD store for $80 and $130, respectively.
Toshiba Canvio Slim II
Toshiba is one of the three remaining mechanical hard-drive manufacturers, so it's no surprise that they also offer a line of portable hard drives.
The Canvio Slim II is available in 500GB and 1TB capacities and in versions formatted for Macs as well as PCs. The PC versions also come with an NTFS driver for the Mac, so you can use one drive across both platforms.
Toshiba provides free backup software, and the drive can be password-protected. The 1TB Canvio Slim II is 0.49 inches thick and it weighs 5.5 ounces. It has a USB 3.0 interface that's backward-compatible with USB 2.0.
Toshiba is offering the 1TB model at a 50-percent discount at its online store. That drops the price of this drive to $75 through the end of June.
Seagate Backup Plus Slim Portable
Tired of silver and black hardware? Seagate's Backup Plus Slim Portable drive is also available in red or blue.
The drive—available in 500GB, 1TB and 2TB capacities—comes with Seagate's Mobile Backup App that enables you to back up not just your PC, but your smartphone and tablet, too. The drive will even back up photos and videos from your social networks, such as Facebook and Flickr, and you can post videos from the drive to your YouTube account.
Seagate is offering the 0.35-inch thick 500GB drive for $90 at its online store. The 1TB model is going for $90, and the 2TB model sells for $120. The larger-capacity drives are 0.48 inches thick and weigh 5.6 ounces.
Apricorn Aegis Bio
When you need to carry a lot of highly sensitive information, Apricorn's Aegis Bio will prevent any unauthorized person from accessing the contents of its drive.
The drive has a built-in fingerprint reader that's faster and more convenient to use than the numeric keypad that some other secure drives use, and you can create up to five unique user profiles.
The drive has a USB 3.0 interface, and it turned in a good performance in our hands-on review. We checked out the 1TB model, which is currently priced at $189. Apricorn also offers 500GB and 750GB models and a 1.5TB SKU at its online store.
The encryption hardware and fingerprint reader add less bulk than you might think. The 1TB drive is 0.75 inches thick, and it weighs just 6.2 ounces.
Seagate Backup Fast Plus
If you crave speed and need tremendous capacity, take a look at Seagate's Backup Fast Plus. This drive sandwiches two 2TB drives inside one enclosure and operates them in RAID 0.
That provides total capacity of a whopping 4TB and incredible speed, because the drive's controller writes one half of the data to one drive and one half to the other drive at the same time.
But we recommend using this drive only for backups. It's extremely difficult to recover data from a failed RAID 0 array.
The dual-drive nature of this product will also add to your carrying weight. The Backup Fast Plus is 0.88 inches thick and it weighs 10.8 ounces. It was selling at Seagate's web store for $270 as of this writing. You can read our full hands-on review right here.
Western Digital My Passport Pro
If you like the idea of a portable RAID drive and your PC has a Thunderbolt interface, you'll want to check out Western Digital's My Passport Pro.
Like Seagate's Backup Fast Plus, this drive comes from the factory configured to operate its two internal drives in RAID 0. Unlike Seagate's product, however, you can reconfigure the drive to operate in a more data-safe RAID 1 configuration.
In this scenario, the drive's controller writes all the data to both drives at the same time. So if one drive should fail, you can recover everything from the other.
On the downside, the $430 My Passport Pro is thicker and heavier than Seagate's offering, being 1.74 inches thick and weighing 1.59 pounds. WD also offers a $300 2TB SKU that's slightly thinner and lighter: 1.13 inches thick and 1.01 pounds.
Both models come with an integrated Thunderbolt cable.
Apricorn Aegis Portable SSD
If you write lots and lots of data to your portable hard drive, a model with a solid-state drive will perform that task much faster than its mechanical counterparts.
When we reviewed Apricorn's 256GB Aegis Portable SSD, we found the drive to be three times faster than the same enclosure with a mechanical hard drive inside. The drive comes with an integrated USB 3.0 cable that's backward-compatible with USB 2.0.
Prices have come down quite a bit since our review, with the 256GB drive now priced at $279 and the 512GB version going for $529. That's obviously quite a premium compared to mechanical drives, but it's impossible to beat the speed of an SSD.
Elgato Thunderbolt Drive+
You'd think Thunderbolt would be more prevalent in the PC world, being an Intel invention and all. The interface is supremely fast; unfortunately, it's also supremely expensive.
It has found a home in the Mac ecosystem, and there are a few PCs that support the standard. If you're involved in content creation that depends on very large files—music or video production, for example—you should check it out.
The Elgato Thunderbolt Drive+ features a fast Plextor M5 Pro SSD inside a very attractive aluminum enclosure that's 0.8 inches thick and weighs 9.5 ounces.
The enclosure has both a Thunderbolt and a USB 3.0 interface, but you'll need to reformat it to NTFS to use it with a PC (it comes from the factory formatted HFS+ for use with a Mac).
The Thunderbolt Drive+ is available in 256GB and 512GB capacities, priced at $500 and $900, respectively.
Next Up: Check out these related slideshows
Today's Best Tech Deals
Picked by PCWorld's Editors