SLIDESHOW
The most exciting PC games we saw at E3 2014
E3's ordinarily a console show, but Hayden Dingman and Brad Chacos found plenty of PC gems worth drooling over on the show floor.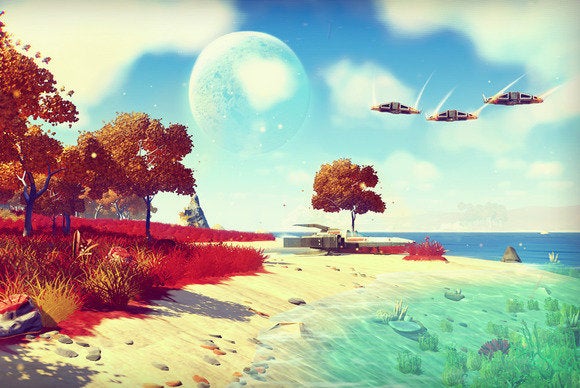 The sky's the limit
Today we close the book on another E3, the gargantuan annual conference where games, games, and more games are thrust into the spotlight and immediately swamped by hordes of enthusiastic fans and exhausted press.
Even though E3, alas, focuses overwhelmingly on consoles, plenty of PC games still make an appearance at the show. Which titles should you pay attention to? Here are the ones that got our blood pumping.
No Man's Sky
No Man's Sky. Wow. This game is ambitious, dropping you into a universe rife with glittering space vistas and varied, full-blown worlds comprised randomly using procedural generation. A demo at Sony's PlayStation keynote showed the player wandering around a jungle world with giant, dinosaur-like creatures before jumping into a spaceship, taking off, and dogfighting enemy fighters with the help of a squad before cruising down to a desert planet, all seamlessly.
Even more ambitious? Hello Games, the group behind the game, is comprised of only four people. The game's only confirmed for the PlayStation for now, as a quote-unquote "console exclusive"—which means it's all but certain to come to PCs, too. --Brad
P.S. The previous slide shows one of No Man's Sky's procedually generated worlds.
The Witcher 3: The Wild Hunt
Last year I left E3 sad that The Witcher 3 was about a year from release. This time around, I left E3 sad that The Witcher 3 is still about a year from release, thanks to the magic of game delays.
CD Projekt Red has created an enormous but dense world to explore, full of horrific monsters, monstrous men, and morally questionable choices to make. Geralt of Rivia has his work cut out for him in this capstone to the incredible Witcher saga. --Hayden
The Crew
So my real favorite racing game of E3 2014, Forza Horizon 2, unfortunately won't come to PC. On the plus side, Ubisoft's The Crew has me almost equally interested.
The Crew's map is enormous, spanning a scaled-down version of the entire United States of America. The developers claim you can drive seamlessly from New York to Los Angeles without a single loading screen, and that trip would (so I've been told) take you approximately two hours of driving at top speed. I played through a race and found the handling took a bit of getting used to—it's mostly arcadey, but the handbrake has a tendency to spin you out. Still, Ubisoft has my attention. --Hayden
Rainbow Six: Siege
Be still, my beating heart. It's been years since a Rainbow Six game has been released, and it looks like all that time has been put to good use. In a long (but scripted) gameplay demo, Ubisoft showed a multiplayer match showing Team Raven infiltrating a house to rescue a hostage from Team Rogue, then battling to extract her while Team Rogue fought back.
But most exciting is the environment itself. Rainbow Six: Siege has a procedural destruction system that lets you realistically damage in-game objects. In the high point of the demo, the player blew a hole in a second-story floor to get at Rogues barricaded in a first-story room. I'm pretty sure I actually said "Whoa" out loud, Keanu-style. --Brad
I got to play three rounds at the show. It's just as fun as the video makes it look. --Hayden
Grand Theft Auto V
It's official: Grand Theft Auto V is finally coming to the PC. I'm not the biggest fan of GTAV, but if there's one thing that'll convince me to buy the game a second time it's the prospect of widespread PC mod support. The Grand Theft Auto IV mod community is a whirling dervish of absolute genius and sheer insanity. I can't wait until the streets of Los Santos are similarly infested. --Hayden
Let the record show that I love GTAV even if Hayden doesn't. --Brad
Battlefield: Hardline
Sure, you could call it Battlefield: Cops vs. Robbers. And yeah, the criminals are more heavily armed than you'd expect to see in L.A. (or wherever the game is set). But I don't care: Watching the demo of a 32-player "Heist" multiplayer match careening in and out of buildings across the city, with criminals downing giant cranes as they sped to a getaway chopper with loot hijacked from a security truck, I wanted to play it.
Hey, Battlefield games are popular for a reason. Even better, EA opened a multiplayer beta for Hardline immediately after announcing the game. --Brad
Grim Fandango
I shed a few happy tears when Sony announced Grim Fandango is finally getting re-released. This is one of the all-time great games, and it's finally going to be legally available again for the first time in over a decade.
Even if Disney makes a bunch of terrible Star Wars films, at least one good thing came from the Lucasfilm buyout. --Hayden
Civilization: Beyond Earth
Civilization: Beyond Earth is basically Civilization V, but in space. Or is it the unofficial successor to Alpha Centauri? Either way, whole weeks of my life have been lost to Civ V, and I'm not the only one—the game's one of the most popular PC titles around. Check out Hayden's killer hands-on preview for all the details about roaming aliens, the paths of Purity, Harmony, and Supremacy, and the game's new "orbital layer." --Brad
The Talos Principle
The Talos Principle is a freeform puzzle game that's sort of like Portal on a Myst-esque island. This didn't surprise me much until I found out the game was made by the same people who made twitch-shooter Serious Sam.
It's quite a shift in tone for the developer, but it works. The Talos Principle is one of the best games I played at the show, hands down. --Hayden
Valiant Hearts: The Great War
Valiant Hearts is probably the most poignant game trailer I've seen since the original Dead Island. This World War I game, built in Ubisoft's gorgeous UbiArt graphics framework, tells a tale inspired by the letters of soldiers during the Great War, about four strangers who help a young German soldier find his love. That's a powerful foundation for a story. --Hayden
Dragon Age: Inquisition
Dragon Age Inquisition has been teased for a while now, but I'm still excited. I spent more than a hundred hours playing the original Dragon Age: Origins, gobbling up every bit of downloadable content the second it hit EA's servers. The second game's story was still good, but Dragon Age 2's real-time combat and recycled environments didn't strike the same spark with me (or a lot of other Origins fans).
Inquisition, the final chapter in the Dragon Age trilogy, brings back the tactical combat and deep customization options of the original game, while maintaining the second's lush visuals and fast real-time hack-and-slashery if tactics ain't your thing. Inquisition also introduces a massive open world for the first time in the Dragon Age series. And oh geez, the dragon fights. --Brad
Titan Souls
Titan Souls feels like Shadow of the Colossus—every battle is a boss battle, and each requires entirely different tactics to beat. Also, you die after a single hit. The game puts your reflexes and your patience to the test, eschewing fodder enemies so every fight feels fresh. --Hayden
Pillars of Eternity
I can't talk about what I saw of Pillars of Eternity at the show just yet, but I can say Obsidian's spiritual successor to the old Infinity Engine games (Baldur's Gate, Planescape: Torment) is right near the top of my most-anticipated list. --Hayden
Seconded. Look for more details on PCWorld soon. --Brad
Dive deep into the biggest games show of the year
Next Up: Check out these related slideshows
Today's Best Tech Deals
Picked by PCWorld's Editors