SLIDESHOW
10 videoconferencing tools for small groups
Get everyone on the same page—literally—with these video chat and conferencing solutions.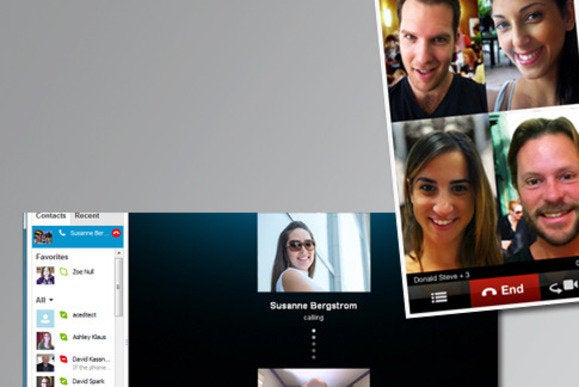 Take that meeting from anywhere
Sorry, telecommuters. The wonders of videoconferencing mean you'll have to brush your hair and change out of your jammies, even if you're working from home. Now your colleagues and clients actually want to see you—and perhaps collaborate in real time on a jointly-developed document, sketch out new ideas on a digital whiteboard, or even take control of one another's computer to walk through the way something works.
Whether your platform of choice is a PC, the web, or a mobile device, there's a solution out there for you. Here are ten of the most noteworthy video chat and conferencing systems currently available.
Skype
The 800-pound gorilla in web-based communications, Skype recently made group video calls free for everyone (with up to 10 participants allowed). This well-worn app has a huge installed base, which means you'll likely have little trouble getting people to join a video chat on the platform. It helps that it's dead-simple to use, though business features are limited to a rudimentary screen-sharing feature.
The ability to call regular telephones just about anywhere in the world for low per-minute rates is perhaps its most appreciated bonus feature.
Platforms: Windows, Mac, Linux, iOS, Android, Windows Phone, Xbox One, and more
Pricing: free (up to 10 participants)
GoToMeeting
Available in both full-featured Pro flavors and a stripped-down Free variety, Citrix-owned GoToMeeting has a conferencing solution for just about everyone. The simple GoToMeeting Free lets you video chat and share files with up to three participants (a browser-based solution for Google Chrome only, no registration required).
The beefier Pro is a full-fledged conferencing system that supports up to 100 viewers. Features include full screen sharing, collaborative on-screen editing, text chat, and the ability to dial in for audio via phone.
Platforms: web (Free only), Windows, Mac, iOS, Android
Pricing: free (up to 3 participants) to $59 per organizer/month (up to 100 participants)
WebEx Meetings
Cisco-owned WebEx is the Rocky to GoToMeeting's Apollo Creed. Pound for pound, they're just about evenly matched. Full-fledged videoconferencing features are available for meetings with up to 100 participants, including desktop sharing, whiteboarding, collaborative document management, and remote control of other computers on the call.
A more basic three-participant system is available for free, but unlike GoToMeeting. you'll have to register for an account before you use it. On the other hand, even free WebEx users get 250MB of online storage space to stash their documents, so it might be worth the signup time.
Platforms: web (Free only), Windows, Mac, iOS, Android, Windows Phone, BlackBerry
Pricing: free (up to 3 participants) to $89 per host/month (up to 100 participants)
Google+ Hangouts
Google's ambitious video chat system wraps up instant messaging, live-streaming video, remote control, and more into one Chrome-friendly package. Chat via video, share your screen, take control of other participants' desktops, and import files from your Google Drive account for collaborative note-taking or sketch-making.
You can even watch videos (via YouTube, of course) as a group and add your comments to the mix, Mystery Science Theater 3000 style. If bandwidth starts to drag you down, you can adjust  your camera's usage of the internet connection. Need to broadcast to a larger group than the 10-user limit? Try Hangouts on Air, a live-streaming companion to Hangouts.
Platforms: web, Windows, Mac, Linux, Chromebook, iOS, Android
Pricing: free (up to 10 participants)
ooVoo
A bit like Skype for the younger crowd, ooVoo is a mobile-centric video chat tool designed with more casual communications in mind. (Most of the software's splash screens feature women in bars, not offices.) Facebook integration is a big sell here, and ooVoo boasts millions of users on the service, so ideally you already have friends who're using the app.
Standalone versions for Mac and PC are also available, just beware the junkware ride-alongs when installing the software. With support for up to 12 simultaneous users, video voice mail, and the ability to record calls and upload them to YouTube, ooVoo is a capable, if a bit juvenile, service.
Platforms: Windows, Mac, iOS, Android, Facebook
Pricing: free (up to 12 participants); $3 per month removes ads
AnyMeeting
Simple yet stuffed with features even in its free mode, the 100 percent web-based AnyMeeting is an impressive tool for both casual and professional users.
Support for free video chats with either computer- or telephone-based audio for up to 200 attendees (with six on video) is just the start. Built into the tool you'll also find screen sharing, presentation capabilities, integrated YouTube video playback, and even a real-time polling system all within easy reach of the meeting organizer.
Seamless Google account integration makes AnyMeeting even easier to get started with, both for setting up meetings and getting people to attend them.
Platforms: web Pricing: free (ad supported) to $78 per month (no ads, up to 200 attendees)
Meetings.io
A low-overhead web-based chat system, Meetings.io lets you video chat with up to five people at once while adding in screen- and file sharing as a bonus. Regular users (such as service providers who want to encourage customers to initiate paid web chats) can create a profile page on the service with a static URL, but otherwise no signup is needed to use the system. Registered users can calendar meetings, importing contacts from email, Facebook, or LinkedIn to manage the invitee list. Works fantastically well and costs nothing.
Platforms: web
Pricing: free (up to 5 participants)
MyTrueCloud My Web Conferences
This robust meeting app features all the bells and whistles of a full video-based meeting system like GoToMeeting and WebEx, but prides itself on performing all of its tricks without the assistance of downloads or add-on applications other than Flash. If you've ever found yourself late for a WebEx meeting because you hadn't installed the client, you know how nice this feature can be. It's not the most immediately intuitive system, but a little hands-on time is plenty to get you up to speed with the basics. No free plans after 15-day trial.
Platforms: web
Pricing: $15/month (up to 3 participants) to $32/month (up to 25 participants)
TinyChat
TinyChat is an "online video chat community," and one look at its homepage, where public rooms like #sfbootyfactory25 and #th3s3ductionspot dominate, may have you convinced you've wandered into videoconferencing's red light district. That may not be far from the truth, but you can still use TinyChat for legitimate purposes, especially since video chat rooms can be created with literally two mouse clicks and without signing up for an account. Pro service scrubs out ads and provides a few other perks.
Platforms: web, iOS, Android
Pricing: free (up to 12 participants); $10/month for Pro service (no ads, upgraded video quality)
Fring
Fring is the sole mobile-only video conferencing tool in this roundup, making this system a nice choice for those who eschew computers altogether. The system supports video chats with up to four simultaneous talkers, arranged in a convenient grid on the screen of your smart phone or tablet. There's not much in the way of extra features—this is really just a fun way for multiple people to chit-chat while seeing each other—but considering the casual design of the app, perhaps it doesn't need them. A for-fee international landline calling system, a la Skype, is also available.
Platforms: iOS, Android, Nokia
Pricing: free (up to 4 participants)
Next Up: Check out these related slideshows
Today's Best Tech Deals
Picked by PCWorld's Editors