SLIDESHOW
Lenovo Yoga clones: 5 copycats from Acer, Asus, Dell, HP and Toshiba
Lenovo started it, but they're everywhere now: Laptops that flip, fold, and pitch like a tent.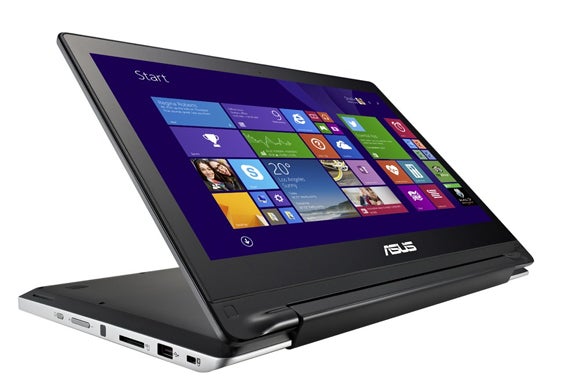 Anything you can do…
They say imitation is the sincerest form of flattery, but it took the laptop industry a couple of years to admit it couldn't come up with a more innovative solution to combining the best features of a tablet and a notebook than Lenovo did with its 2012 IdeaPad Yoga 13.
Over the past several months, Acer, Asus, Dell, HP, and Toshiba have all announced new notebooks with 360-degree hinges that allow their touchscreen displays to fold against the back of the keyboard, so that the machines can be used like tablets.
And while Samsung is often criticized for making too many products, it's the only major laptop manufacturer that doesn't have a Yoga clone.
Well, make that Samsung and Apple.
Acer Aspire Switch 10
Acer deserves the most credit in this crowd of cloners. Its engineers took Lenovo's 360-degree hinge idea and improved on it by making the touchscreen display on the Aspire Switch 10 detachable.
This machine is more tablet than laptop, being powered by an Intel Atom Z3745 CPU and 2GB of memory. Storage is on the skinny side: 32GB of flash storage in the $380 model or 64GB in the $430 version. A MicroSD card slot can provide up to 32GB of additional capacity.
The 10.1-inch IPS display delivers resolution of 1366x768 pixels and supports five touch points. The smaller screen size enabled Acer to keep the weight down to 2.58 pounds—1.29 pounds if you're carrying just the tablet.
Asus Transformer Book Flip
Asus took the opposite tack from Acer when it designed the Transformer Book Flip. You can order this machine with up to an Intel Core i7 processor, and with discrete graphics processors up to an Nvidia GeForce 840M.
And where Lenovo's Yoga designs—and most Yoga imitators—stick with small displays, the Transformer Book Flip is available with up to a 15.6-inch touchscreen. It will also be available with 13.3- and 14-inch displays; but no matter the size, the Flip delivers resolution of 1920x1080 pixels.
Asus hasn't released much in the way of details about the Transformer Book Flip, so we don't know how much memory and storage these machines will have. We don't know how much they'll weigh or what they'll cost, either. Guess we'll have to wait until they ship at the end of June.
Dell Inspiron 11 and 13
Dell is jumping on the Yoga bandwagon because it's worried the kids think the company is too old-school—that its products are aimed solely at their parents and teachers. So it's trotting out the Inspiron 11 3000 and Inspiron 13 7000 laptops to change that perception.
The former are budget-priced hybrids ($450 and up) powered by Intel Celeron and Pentium processors (Bay Trail class). They'll have 11.6-inch, 1366x768 touchscreens.
The larger Inspiron 13 7000 series will have 13.3-inch touchscreens with resolution of either 1366x768 or 1920x1080 pixels. These machines will have Intel Core i3 or Core i5 processors (Haswell class) when they ship in September.
HP Pavilion x360
Meg Whitman keeps chopping heads at HP, but that hasn't reduced the number of new product announcements emanating from the Silicon Valley giant's garage. In a bit of counter-programming, the company introduced its Pavilion x360 not at CES in January, but at Mobile World Congress in February.
Just like Dell, HP is targeting "millennials" (people who reached adulthood around the year 2000) who can't decide if they want a tablet or a notebook, but who know they want it to be priced low and clad in bright colors (the $400 Pavilion x360 is available in Brilliant Red and Smoke Silver).
The Pavilion x360 has an 11.6-inch touchscreen and is powered by an Intel Pentium N3530 processor and either 4- or 8GB of memory. It's available now.
Toshiba Satellite Radius
Asus isn't the only company that thinks bigger is better when it comes to hybrids. Toshiba announced the 15.6-inch Satellite Radius in late May, but it won't be available until the back-to-school season.
Unlike Dell and HP, Toshiba claims it's not going after the younger crowd. "We're targeting the mobile worker who needs to make presentations on the road," Toshiba's Senior Product Marketing Manager Carrie Cowan told me in a briefing. In the same briefing, however, Toshiba also told me it was targeting the back-to-school shopping season for releasing this product, so perhaps the company is playing it both ways. 
The Satellite Radius is aggressively priced at $926, which isn't too shabby for a convertible with a Core i5 processor, 8GB of memory, and a 750GB hard drive. Toshiba will also offer a SKU with a Core i7 and a 1TB drive for $1049. Both models will deliver 1920x1080 display resolution.
Lenovo Yoga 2
It wouldn't be fair to ignore Lenovo's own latest contribution to the folding laptop market. The company announced the Yoga 2 in 11- and 13-inch configurations at CES 2014 and began shipping them recently. 
The 11-inch Yoga 2 is outfitted with an Intel Pentium processor (Bay Trail class), 4GB of memory, and a 500GB mechancial hard drive. Its touchscreen display provides native resolution of 1366x768 pixels. You can find these at Best Buy for $499. 
The 13.3-inch Yoga 2 comes with up to an Intel Core i5 processor (Haswell class), up to 8GB of memory, and a 500GB hybrid hard drive. Prices for this model start at $999. 
Next Up: Check out these related slideshows
Today's Best Tech Deals
Picked by PCWorld's Editors