SLIDESHOW
5 insanely powerful tools you won't believe can fit on a flash drive
Flash drives are good for more than merely shuffling files around these days. They can breathe new life into an ailing or old PC, house an operating system, or even double as full-blown SSDs.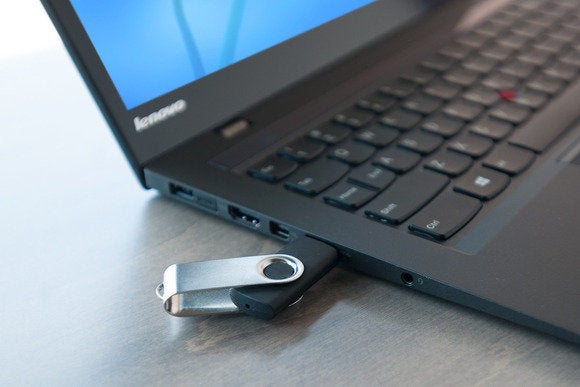 The evolution of the flash drive
Flash drives sure ain't what they used to be. Once mere vessels of conveyance, space-constrained dongles good for shuffling a handful of documents or pictures around, and little else, the usefulness of flash drives has exploded right alongside their storage capacities.
But don't take my word for it: Check out these 5 powerful tools that fit onto and run from today's flash drives.
You may just find yourself shocked at what USB keys can do these days.
A full-blown SSD
Hefty storage capacities are nothing new for flash drives, with some offering even more space than you'll find in some Ultrabooks. But Corsair's Flash Voyager GTX might as well be a portable solid-state drive.
The USB key offers blazing-fast 450MB/s read and 350MB/s write times, pitting it against full-blown SSD speeds, and it comes in similarly SSD-esque 128- and 256GB capacities.
What's more, the Flash Voyager GTX includes software support you'd expect to find in an SSD but not a flash drive, such as TRIM, which keeps performance up to snuff over time, USB Attached SCSI, and SMART monitoring to keep an eye on the drive's health. Wowza!
A full-blown operating system
More traditional flash drives with limited storage capacities still have some useful tricks up their sleeves—most notably, they can be used to run all sorts of operating systems, including Linux Live drives designed to run straight from a UBS key or physical disc.
Live drives let you boot into and run a full-blown version of an operating system, but the memory is wiped when you power down your PC.
Heck, FreeNAS, a popular free operating system used to turn hardware into a home server, works best when you run it from a flash drive that you leave plugged into the system. Even better, it works just fine on a mere 4GB flash drive.
You can read all about FreeNAS here.
An army of virtual operating systems
But sometimes you don't want to boot into a dedicated operating system; sometimes, you just want to use a secondary operating system in a window of your primary operating system, for security, software compatibility, or testing reasons.
Virtual machines let you do just that, and while VMs are typically limited to the single PC they're installed upon, Portable VirtualBox lets you run numerous virtualized operating systems directly from a flash drive.
The virtual machines still use your primary machine's physical resources, and there are some caveats you'll want to keep in mind. Check out PCWorld's guide to bringing virtual machines on the road for all the details you need to know.
A portable PC survival kit
Beyond operating systems, simple flash drives are perfect portable repositories for all the software that can breathe life into an otherwise ailing PC.
All the web apps in the world won't help you when your PC falls prey to malware or hardware issues, but a flash drive carefully crafted to include a host of powerful tools that run directly off the USB key can save your bacon.
The secret sauce to a portable PC survival kit is a handy-dandy little application dubbed PortableApps. Check out PCWorld's guide to setting up your own ninja drive, complete with a suggested loadout of portable software to install on the rescue kit.
A boost in performance for older PCs
If you're rocking a PC with limited RAM, a flash drive can help speed things up if you're running Windows Vista, 7, or 8. Simply slap that puppy in and choose to speed up your PC's performance with ReadyBoost when prompted.
(If the option doesn't appear, right-click on the flash drive in File Explorer, select Properties, and open the ReadyBoost tab.)
ReadyBoost uses your flash drive's memory as a cache, to speed up access times for your hard drive. Flash drives aren't as fast as traditional RAM, and you won't even be allowed to use ReadyBoost if your PC has a decent amount of free memory, but the tool can definitely help on older PCs with 1GB (or less!) of RAM.
Next Up: Check out these related slideshows
Today's Best Tech Deals
Picked by PCWorld's Editors