Treepad 8.1 review: Tree-style outliner starts showing its age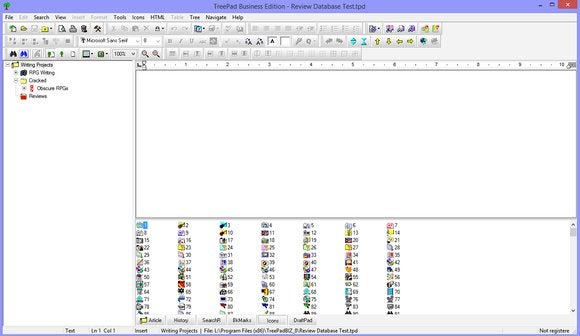 Today's Best Tech Deals
Picked by PCWorld's Editors
Top Deals On Great Products
Picked by Techconnect's Editors
Treepad is one of the oldest still-supported outlining programs for the Windows environment. It has a rich set of features, with multiple versions serving different user bases (this review focuses primarily on Treepad Biz). Unfortunately, it is beginning to show signs of age.
Tree-style outliners, such as Treepad, offer users the ability to arrange information hierarchically, which is useful for many situations or needs. Because the user is free to create their own categories and structures according to what makes sense to them in a given context, they are not forced to work according to a third party's idea of the "correct" way to organize data. For example, one might wish to organize books by genre, then by author, or vice-versa, or by character and then by individual works featuring that character. Advanced outliners, such as Treepad, include rich text, tables, internal and external hyperlinks, revision control, and many other such features.
And when it comes to features, Treepad has them in abundance. The user can assign different fonts, styles, and icons to the tree, creating visual metadata or just making it more appealing. There are many tools to restructure the tree, moving items and branches up and down in the hierarchy. Treepad Biz and Enterprise also include the ability to create forms for data entry and to have these forms be the default format for the entire tree or just a subtree. (This creates the ability to have one tree for "Authors" with an "Author" form and one tree for "Books" with a "Book" form, for example.)
Other powerful and useful features include a "draft pad" for storing notes, a history tab to make navigation easier, and a "Reminder" option that can be attached to a node, which causes an alert to sound when the specified time/date occurs. This last one makes using TreePad for "to do" lists and task management much more efficient.
The nodes themselves support a full array of rich text options, allowing easy mixing of fonts, styles, alignment, and so on. Hyperlinks can go from node to node, or connect to external sources.
On my Windows 8.1 machine, Treepad runs without crashing, but there are continual graphical glitches when application windows are resized. Likewise, though I am testing version 8.1, which includes new features (such as the aforementioned "Reminders"), the online and offline help are both for 7.5, released many years ago. That help file, somewhat teasingly speaks of features, such as rich text in forms, that will be "coming soon" but still aren't here.
Treepad remains one of the most powerful and feature-rich outliners for Windows, and it's absolutely worth downloading the full-featured 21-day trial if this is a type of application you use. That should be sufficient to determine if it's worth taking the plunge and paying the full price, or looking at the other versions: Treepad Lite is a free version; Treepad Plus is similar to Treepad Biz, but lacks form editing capacity, which is likely not an issue for many users.
Note: When you purchase something after clicking links in our articles, we may earn a small commission. Read our
affiliate link policy
for more details.
At a Glance
Treepad 8.1

A kitchen sink worth of features still makes Treepad worth investigating.

Pros

Still has one of the richest feature sets
Advanced formatting of both outline and data
Forms and templates
Documentation is out of date

Cons

Some graphical glitches when rendering
Shop Tech Products at Amazon