SLIDESHOW
The 10 Geekiest iPad Apps Ever
Show your geek-itude by loading these apps on your Apple iPad.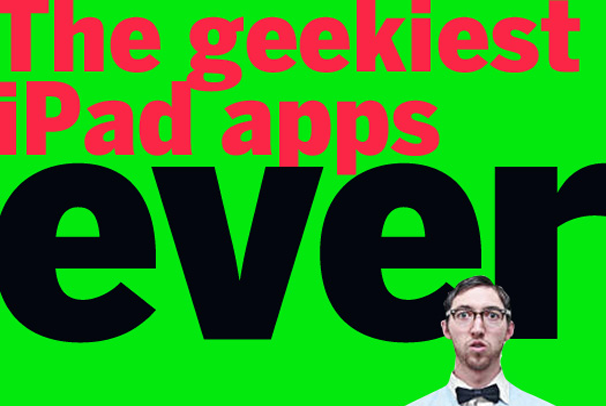 The Background
Comic-Con 2011, as always, brought the geek to the forefront of American culture, at least for a time. Inspired by that gathering, we scoured the App Store to find the "geekiest" apps out there for the true purveyor of all things geek. Take a look.
Star Trek PADD: $4.99
Just like the crew of the Enterprise on "Star Trek: The Next Generation," you can use your iPad as its own PADD (Personal Access Display Device). This official "Star Trek" app also serves as a database for the "Star Trek" universe, allowing you to access information on characters, episodes, cast members, places, ships and technologies from the show. The interface looks and sounds exactly like the LCARS interface used in the show and movies. You can also access the official "Star Trek" Facebook and Twitter feeds from the app.
Dark Horse, DC Comics, Marvel and Comics + Apps: Free, with individual books available for purchase
Any true comics fan will have all of these apps installed, allowing users to access and read digital versions of these publishers' comics. Each app lets users download free comics, as well as purchase other issues via in-app purchasing. The Comics + app features Marvel, IDW, Archie Comics, Dynamite Entertainment and others in one place.
iAmADalek: Free
From the nice folks at BBC Worldwide comes this Dalek Voice Synthesizer, which lets you speak into the iPad and create your own recordings of you sounding like The Doctor's archenemies. It helps if you yell "EXTERMINATE!" a lot. You can also email recordings to your friends.
FluxCapacitor: $0.99
Any fan of the "Back to the Future" series will appreciate this app, which creates the display of the time machine scene in those movies. When held vertically, the app shows you the flux capacitor, the "thing that enables time travel." Holding your finger on the display, you can then accelerate to 88 mph and see the flux capacitor in action. Unfortunately, you won't actually travel in time (or will you?). Rotate horizontally and you see the time display, which doubles as an alarm clock (along with clock sounds from the films). Another nice touch: a GPS-enabled map that lets you "track" lightning strikes (in case you need to generate 1.21 gigawatts of energy).
South Park Avatar Creator: $0.99
A fun app that lets you create your own avatar that looks like a character from "South Park." The app lets you choose skin tone, hair style, colors, outfits, emotions and accessories, or you can just hit the "randomize" button and see what the app comes up with on its own. You can save the avatar to the device, or upload to Facebook or email to friends. You can also take an image and save it to a contact number, so when that person calls you see the "South Park" avatar.
Doctor Who: The Mazes of Time: $3.99
Nice little adventure game featuring the Eleventh Doctor and Amy Pond. You get to solve maze-like puzzles to help save the world from the Daleks. A must-have for any "Doctor Who" fan.
Pong Clock: $0.99
Regular digital clock displays are boring compared to this one, which tells you the time but also lets you watch a game of Pong as played by the computer (sadly, you can't join in). When the minute changes, a "score" takes place. The app lets you change colors, speed and sound settings as well.
Torchwood: Web of Lies: Free, with in-game episode purchases
As part of the show's current "Miracle Day" series appearing on Starz, BBC Worldwide has offered this interactive comic/puzzle game that ties into the story line. This 10-part series provides interactive puzzles with motion graphics to tell an exclusive story line. The first episode is free and comes with two puzzles and some comics; additional episodes can be downloaded for $0.99 each (a full unlock costs $2.99), and new episodes are available after the corresponding episode airs on TV.
Memefy: $0.99
If you are into the concept of creating and sharing meme images, this app can help you join this subculture. Rather than having to find an original meme image, this one provides it for you, and then lets you add your own text. You can then share the images via Twitter and Facebook, giving you instant credit to your wonderful and witty meme jokes. You can also create your own memes by using your own photos from your iPad, letting your kids become meme stars! W00t!
Next Up: Check out these related slideshows
Today's Best Tech Deals
Picked by PCWorld's Editors