SLIDESHOW
It's Selectric! IBM's Classic Typewriter Turns 50
It's the anniversary of the release of one of the best-selling office devices ever -- and the midpoint of IBM's history.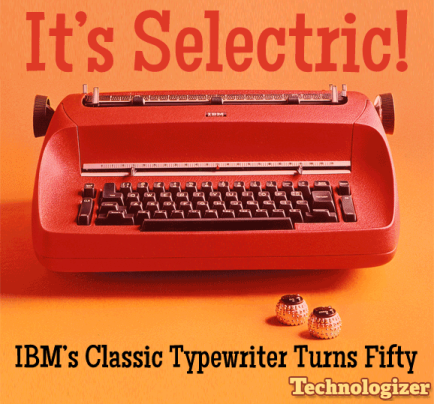 It's Selectric!
Do you remember typewriters? Of course you do. But do you remember the last time a typewriter was exciting and futuristic? That would be 1961, when IBM released its first Selectric. It went on sale on July 27, which makes this week its fiftieth anniversary. (IBM is celebrating its own hundredth birthday this year, making the Selectric a nifty half-way point in its long history.)
The result of seven years of research, the Selectric went on to become one of the best-selling office devices ever. It's been so archaic for so long that it's tough to remember just how remarkable it was in its day -- and there's no better time than right now to give it its due.
(See also 100 Years of IBM Milestones.")
The Original Selectric
The original Selectric had 2800 parts and sold for $395, or almost $3,000 in 2011 dollars. (A special wide-body model cost $445.) Unlike other typewriters, which struck the paper with hammers, it used golf ball-like type heads embossed with a full set of alphanumeric characters. The ball zipped along in close proximity to the paper, tilting and rotating as necessary to lay down characters on the page almost instantly-and allowing accomplished typists to reach 90 words per minute, vs. fifty with a conventional electric typewriter. It also eliminated jams, using memory that could distinguish between keypresses as close as one 20,00th of a second apart. Even the ribbon -- sealed in a tidy case to prevent inky fingers -- was innovative.
IBM's Era
Today, it's easy to think that Apple was the technology company that invented the idea of technology companies caring about good industrial design. But in its own way, the Selectric-era IBM was just as obsessed with the topic. For more than 20 years, legendary designer Eliot Noyes was charged with making sure that everything associated with IBM was classy -- from products to buildings to advertising. He did a fabulous job, hiring other greats such as Charles and Ray Eames, Paul Rand, and Eero Saarinen to help. And he designed the Selectric, whose good looks have held up for five decades.
Typewriter Wars
As this 1962 ad points out, the Selectric wasn't just competing against more mundane electric models. In the early 1960s, much of the typing done in American businesses was still done on incredibly slow, cumbersome manual typewriters. My fingers ache just thinking about it.
Upgrades
In 1966, IBM announced the Selectric Composer, an advanced model that sold for $4400, or more than $30,000 in 2011 dollars. It came with 50 typefaces -- and allowed typists to create typeset-quality, justified text. One minor downside: You had to type everything twice. (The typewriter calculated how many characters would fit on each line on the first pass, then inserted the appropriate amount of space on the second one.) An even fancier model announced at the same time, the Magnetic Tape Selectric Composer, came as close to performing word processing as was possible at the time. It cost $21,000, or $146,000 in 2011 dollars. (Today, that would buy you more than 200 ThinkPads.)
Forecasting Future Tech
"Someday all typewriters will work like this. But why wait?" That line from this 1967 ad brings to mind a Jetsonian future of flying saucers, robotic household help -- and really, really sophisticated typewriters.
Self-Correcting Selectric
Liquid Paper was all very well, but IBM had something better. This 1973 Self-Correcting Selectric had a ribbon of special tape that let lousy typists lift their typos right off the page, one character at a time. It was enough of a breakthrough that Popular Science covered it. The model sold for $620, or about $3150 in 2011 dollars -- about the same as the original 1961 Selectric.
Career Opportunity
By 1978, the personal computer was beginning to show up in American homes and businesses -- but the Selectric was still America's most popular office machine. They were everywhere, and as sophisticated electromechanical devices, they needed maintenance to stay in top-top shape. So much so that "Selectric repairman" seemed to make perfect sense as a "high-class, high-demand" career choice. I wonder if anyone who answered this ad is still fixing them?
Pals with the PC
The PC would eventually do in the Selectric, but IBM's typewriter also got to play a bit part in the PC revolution's early history. For one thing, many early hobbyists users hitched up their PCs to a Selectric with interfaces such as the one shown in this 1980 InfoWorld ad, allowing them to use the typewriter as what was then called a "letter quality" printer. For another, IBM's keyboard set the standard for early PC keyboards. If a computer company wanted to brag, it would say that its PC boasted a Selectric-like feel and a Selectric-style layout. (See also this more recent crossover: the USB typewriter.
Selectric Clones
Just as the IBM PC inspired "IBM compatible" machines in the 1980s, other typewriter manufacturers sold Selectric workalikes at lower prices. This 1985 ad is for the Avanti, a Japanese import that used Selectric type balls. It was a close-out deal at $199. I don't know a thing about it, but I bet it was nowhere near as nice as a Selectric.
Still Selling
IBM retired the Selectric brand a quarter century after its 1961 debut. (It continued making other typewriters until it spun off Lexmark, its imaging business, in 1991.) But don't confuse retirement with death. There's still a market for reconditioned Selectrics-here's a company selling the Selectric II for $499, the same price as an iPad. I wouldn't buy one. I'm not entirely sure why anyone would. But I'm kind of glad they're still available.
Selectric Stamp
As part of the Selectric's 50th birthday celebration, it's getting its own U.S. postage stamp -- in a new series celebrating industrial design. Other ones in the series celebrate Henry Dreysuss's telephone, Walter Dorwin Teague's Brownie camera, Gilbert Rohde's alarm clock, and other classic examples of form following function. In this photo, IBM Senior Vice President Linda Sanford (left), a former Selectric engineer, poses with Kathya Dunn-Moodie, the officer in charge at the U.S. post office in IBM's Armonk, N.Y. home.
Still nostalgic about IBM typewriters and other pre-PC technology? I looked at even earlier stuff in The Golden Age of IBM Advertising.
More tech nostalgia on Technologizer:
Polaroid's SX-70: The Art and Science of the Nearly Impossible
Next Up: Check out these related slideshows
Today's Best Tech Deals
Picked by PCWorld's Editors