SLIDESHOW
12 Android L features that will help or hinder your portable productivity
Google has begun rolling out the first builds of 'Android L,' the next iteration of Android. We rounded up the 12 features we loved—and disliked—that will affect your potential for productivity.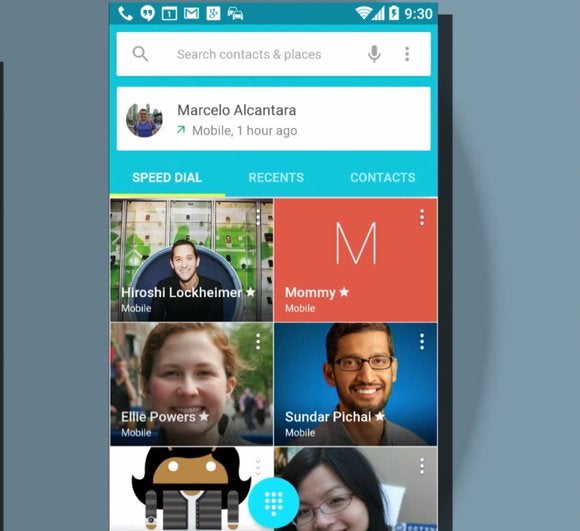 Google's Android L: Making you more (and less) productive
This week at Google's I/O conference in San Francisco, Google executives outlined Google L: the company's next iteration in its line of Android operating systems.
Android L represents both a visual redesign of the Android operating system as well as functional improvements. And there are some nifty ones, as we'll show you in the upcoming pages. But there's also a few that, honestly, feel like a step back.
The new Dialer screen (shown here) encapsulates both. For those who think visually, selecting a person's face—rather than their name—makes sense. But this Google+ approach also limits the amount of data that can be shown on a single screen.
Lock screen notifications
Apparently, any extra space on your lock screen is wasted space, according to the Android L design mantra.  But displaying all recent, relevant information does make sense, and Google appears to be prioritizing phone calls, then messages, then calendar events.
Tapping a particular card expands it, allowing you to drill down into email messages, for example. And swiping it away erases it, as is now expected.
Apple's iOS 8 has a leg up on one productivity feature, however: the ability to set "VIP notifications," where you can ensure you know the instant an eagerly-expected email arrives. Otherwise, Android L and iOS 8 share a number of useful, common, features.
Popup notifications
A feature of Windows Phone and now iOS, popup notifications are a handy way to allow the phone to alert you to take action, without a significant amount of distraction or the need to exit an application. I think you'll find this to be a handy feature.
Personal unlocking
Let's face it: typing in a PIN to unlock your phone is pretty annoying. According to Dave Burke, director of engineering for Android. Android L's new personal unlocking feature will take what the phone knows about itself and you (if it's in a "safe" location, if it can detect you and your Bluetooth headset or watch, even the sound of your voice) and allow you to unlock your phone simply by swiping up. If it's unsure, it defaults to PIN entry. It's a (presumably optional) convenience that you'll probably appreciate.
Unnecessary animations
Does anyone get the feeling that mobile OSes are finding themselves adding things like animations, not because they're useful, but because they can? We started to see this in Windows Vista, and now Apple and Google are heading down this road.
When searching for a painting like "The Starry Night," Google's search widget throws up information on a card, then shrinks it as the user scrolls up and looks for related information. This appears to be marginally useful, but it's pushing it a bit.
Old v. new Gmail
I'm less impressed, however, with Google's new "Material" design ethos, as shown in this composited shot of the old Gmail app, on the left, and the newer version on the right. 
I think you'll agree that the old version makes a better use of space, showing one more entry than the newer version. And, if you look closely, the new Gmail discards that actual time of the email in favor of simply how old it is. This seems totally unnecessary. 
The new "Material Design" permeating Android L also uses "floating" elements. The dialer has a floating keyboard button, while Gmail has a floating compose button (not shown)—each with their own precious drop shadow.
Recent history: apps and Websites
Visually organizing your most recent history in this Rolodex-style carousel also feels like complexity being introduced for the sake of design. And it may be. 
However, Android L's treatment of your history as a series of actions—visiting one website, then another, opening an app, or a document—feels much more natural than merely flipping back and forth between open apps, as is the current practice. As long as Google continues to facilitate transferring information from one app to another, this could be quite useful.
Deep linking, from search to apps
We've heard about this for some time, but deep linking is still one of my more eagerly anticipated features. What is it? Well, note the "OpenTable app" listing. If you click on it, you won't go to a Web page. Instead, Google knows that you have the OpenTable app installed, and will open that directly, giving you access to that community and its stored collection of knowledge. It'll even go straight to OpenTable's Waterbar Restaurant listing when it opens, continuing with this example.
Android ART Runtime
Android L will be built on the ART runtime, the first time that Android will enter the world of 64-bit computing. Not only does this mean that phones will gain more and more memory, but they'll also add more performance as well. (The attached chart offers a comparison between the current 32-bit runtime, Dalvik, as well as ART, across a number of benchmarks.)
If you want to try out ART on your phone, before Android L drops, here's how.
Project Volta
Ever since I upgraded my Galaxy Note 3 to Android 4.4 KitKat, it was plagued with "wakelocks": unexpected battery drain for no good reason. (A bug would power up the camera and never power it down after it was no longer in use.)
Since then, I've been mildly obsessed with battery life. Sure, apps need to wake the phone up to send their location, ask for new data, et cetera. But doing so willy-nilly keeps the phone powered up longer than it should be.
Android L appears to stack wakelocks, syncing data across a number of apps and services simultaneously. This can add more battery life via software improvements alone: 90 minutes on a single day's charge, Google executives said. If true, that's awesome.
Predictive battery meters
As Greenbot's Blake Stimac discovered in his "Nine nifty things we found in our first hour with Android L" hands-on, the battery meter in Android L predicts when your phone will run out of juice. (It's a feature I've noticed in the battery apps on Windows Phone.) Predicted battery life isn't foolproof, of course, but it should give you an idea of whether or not you need to squeeze in a charge.
All the rest
Naturally, Google couldn't fit in all of the features as part of its two-hours-plus presentation, so it summed up the rest in this summary slide. I'm intrigued by mentions of this "64-bit trusted execution environment," which could imply something like Samsung Knox; "do not disturb" settings for meetings and sleeping; and even lock-app APIs, which implies that third-party apps could post photos or notifications on the lock screen.
And when is Android L expected? This fall. PCWorld sister site Greenbot is busy digging through the new OS; since we sit right next to them in the office, we'll peer over their shoulders and keep you informed.  
Next Up: Check out these related slideshows
Today's Best Tech Deals
Picked by PCWorld's Editors