3. iPad 2 Support
Tell me again why my iPad 2 didn't get Siri? As I understand it, the iPhone 4 didn't get Siri because it lacks the dual core processing horsepower of the iPhone 4S. Fair enough, but that argument doesn't hold water against my dual core processing iPad 2.
I'd like to be able to ask questions, set reminders, check the weather, etc. using Siri on my iPad 2. In fact, I am pretty sure I would use Siri more on the iPad 2 than I do on the iPhone 4S. Hopefully iPad 2 support will be coming in an update…soon.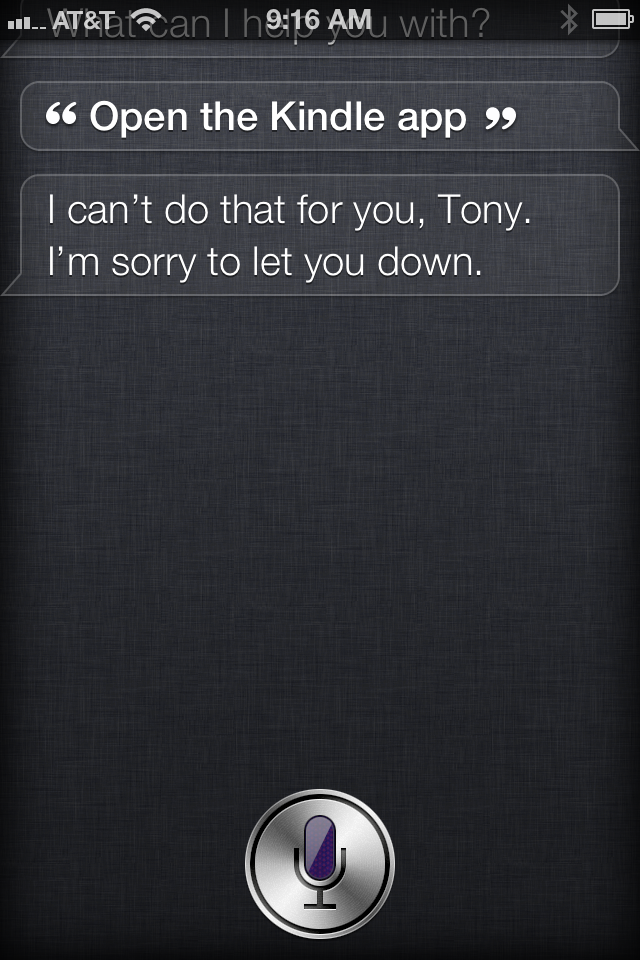 4. Deeper Integration
I am still learning what Siri is capable of, but she is not shy about letting me know what she is not capable of. So far I have learned that Siri can't open apps, and it can't take pictures. Siri will let me dictate a text message, but not a Twitter tweet or a Facebook status update.
This isn't all Apple's responsibility, though. Apple just needs to have the APIs that allow third-party developers to tap into and integrate with Siri. For example, Remember the Milk has already figured out how to link in to the power of Siri so when I tell Siri to set a reminder it saves it to Remember the Milk.
5. Default security
Apple has included an option with Siri that lets you access the power and capabilities of the personal assistant without unlocking the phone. A blog post from Sophos describes an issue with the default functionality of Siri while the iPhone 4S is locked. The problem is that if I can pick up the phone and send a text message, or access my schedule to get my reminders, so can anyone else who picks up my phone.
The bigger problem is that Apple leaves this on by default. I can understand making the choice available, but this should be turned off by default. The very point of having establishing a passcode lock is to prevent unauthorized access to my iPhone and the information it contains. Allowing Siri to circumvent the passcode and share that information violates the concept.
You can turn this off in Settings, but it is oddly not part of the Siri settings. Tap General, then Passcode Lock. Under the Passcode Lock settings, you can turn off the ability to access Siri's functionality from a locked iPhone.
There you have it. Five things I wish Apple would add, change, update, or improve for Siri 2.0. Actually, since this is still a beta, I guess the next major iteration would technically be Siri 1.0.
Siri is great, but it could be better.