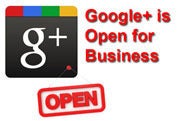 At long last, Google+ has rolled out Business Pages, but at first blush, it's tough to figure out the rationale behind the timing. Ideally, organizations should have been able to pimp their brands on the site the day the social network left beta (if not sooner), yet this wasn't the case. An optimistic observer might have thought, "Well, Google must be cooking up something interesting and innovative for businesses, something to give Facebook a real run for its money."
Well, "interesting" and "innovative" aren't particularly apt descriptors for the Google+ business pages. They aren't distinguishable from plain ol' Google+ user pages in any meaningful way. Alas, it looks like Google is paying the price for building a siloed, inflexible social networking platform that's seemingly incapable of integrating with the company's own wealth of apps and services, not to mention third-party programs. Thus, Business Pages offer little in the way of engaging or useful information for users -- and no real reason to linger.
Comparing, for example, WWE's (World Wrestling Entertainment) brand-new Google+ business page to its Facebook business page clearly illustrates why Facebook is continually laying the smackdown on its upstart rival. The reigning champ is built on a flexible, adaptable platform that makes it easy not just for Facebook but for developers and users to tailor the end-user experience as they see it.
Let's start with WWE's Google+ business page. It's certainly, in Google fashion, a clean, uncluttered page, with the company name and choice images prominently displayed at the top. As a user, you can scan down the list of posts (breaking news about shows as well as links to recent footage). You can comment on those posts. You can share the posts. You can add WWE to your preferred Circle, as you would with Google+ users. You can block WWE -- all pretty basic.
Clicking About gives you basic text about the company, along with some links to WWE pages on YouTube, Hulu, Twitter, and (amusingly) Facebook. Otherwise, there's not much of use or interest. This About section might have been a good place to integrate information from Google Places or Google Maps, or perhaps to pull in details about upcoming WWE shows, all personalized to a Google+ user's location. The same could be said for the Google+ Macy's page. Ideally, a user could easily find info about local stores and promotions through the Google+ Macy's page, but no dice.
The Photos section presents you with the same basic options you get when accessing a Google+ user's photos: You can choose an album, then open a specific picture, which, in turn, takes you to an album page with a stark black background. There's also a Video option and the Google+ hangout feature, which is effectively live group chat that supports a webcam. Nevertheless, compared to Facebook, Google+ offers very little opportunity for businesses to engage with their customers, or vice versa.
The Facebook business pages offer superior standard features compared to what you'll find on Google+. The options include the standard Wall for posts; an info page; photos and video pages; a locations page; and an events page.
The Facebook Wall page, for example, is superior to the Google+ Posts page in that both the business and other users can post; on the Google+ version, only the business can post. Facebook's standard Event page is another nice feature, clearly very useful for any organization that puts on shows or events of any kind.
As for the Locations feature: Clicking on the Locations link presents you with a Bing-powered local map showing you, for example, the nearest Macy's stores, as well as the option to search elsewhere.
But what really sets Facebook's business pages apart is the ability to near-seamlessly integrate outside apps and services. This creates the opportunity -- nonexistent in Google+ -- for organizations to integrate their own content to better enrich the user experience.
For example, when visiting the WWE Facebook page, a user starts off on what's called WWE Pages, which looks to be a third-party page that's nearly integrated with the business page itself. It presents a user with what amounts to an index of links to various other WWE-themed Facebook pages for specific performers and shows. Evidently, whoever manages the WWE Facebook decided that was the starting-off point for visitors.
Other third-party content on WWE's Facebook page include a WWE Live Chat feature, access to the WWEShop (which means WWE can get all the more payback for its investment in managing its Facebook page), polls and quizzes, the WWE Twitter feed, WWE job listings, and more.
The Macy's Facebook page, meanwhile, includes interactive third-party content that clearly can be added, tweaked, and removed with ease. For example, there's a section promoting the forthcoming Macy's Thanksgiving Day Parade, a holiday shopping guide, and a page detailing Black Friday specials.
While it's premature to predict Google+'s imminent demise, Google clearly has work to do under the hood to transform it into a dynamic sort of platform that can lure both users and organizations away from Facebook. Facebook has already demonstrated that it can and will make changes to emulate anything innovative on Google+, while also taking advantage of its built-in flexibility to steadily add new features. Google+, meanwhile, just doesn't seem built to adapt and evolve and integrate as it should with all the useful tools the search giant has in its arsenal. One still can't even easily share Google Docs with one's Google+ peers, a feature that could certainly boost the social network's appeal.
This story, "Google+'s Business Pages fall short against Facebook's," was originally published at InfoWorld.com. Get the first word on what the important tech news really means with the InfoWorld Tech Watch blog. For the latest developments in business technology news, follow InfoWorld.com on Twitter.
This story, "Google+'s Business Pages Fall Short Against Facebook's" was originally published by InfoWorld.