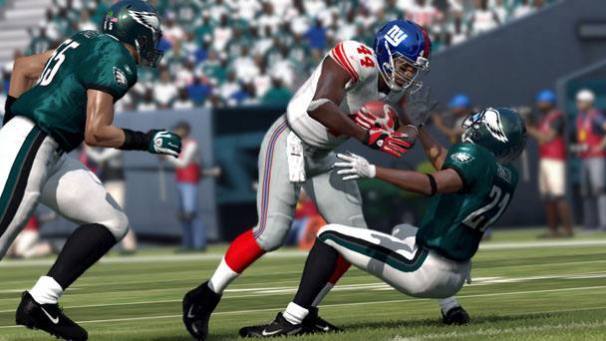 It doesn't matter what time of year it is, sports games are always in season. They can take the edge off a painful loss; keep hope alive during a lengthy lockout, or provide a few moments of joy during the offseason. And, of course, they're a lot of fun to play with other people.
We've compiled a list of the 15 best sports game on the market today. Our list covers pretty much every major sport in North America (sorry, no Rugby or Cricket), and highlights the franchises that have truly captured the look and feel of their game. Read on to see which games you should be playing when watching the real thing is just not enough.
Although it's a stylistic departure from UFC 2009 Undisputed​, THQ and Yuke's second round with the mixed martial arts franchise is nonetheless a much deeper experience than its predecessor.
Aside from an improved roster count and tweaked controls, UFC Undisputed 2010 is a dramatic time sink. Career Mode has been improved from mindless menu navigation to a genuine progression from camp to camp, as you have to hone certain skill sets to even qualify for the UFC ranks. Once you do, it's a consistent and engaging grind to raise your stats and master grappling and striking techniques as you move up in the division. What's especially welcome is the expanded online mode, when you can enlist friends into a fight camp and collectively work towards common goals.
UFC 2010​ also has a dramatically improved combat system, with more avenues for dishing out damage. New fighting styles help to make key fighters like Lyoto Machida feel much different than Frank Mir​ or Rashad Evans​, and the grappling movements have been remapped on the analog stick so you'll be less likely to mess up transitions and guard passes. More than anything, the stand-up game is much more complete, as you can now sway to dodge punches, and use the fence to trap opponents. Pack in common modes like classic match recreations and tournament ladders, and it's an impressive update. There's a bunch of new stuff to learn, but it's still very good training for UFC Undisputed 3.
14 | Top Spin 4 | PS3, Xbox 360
Top Spin 4 has always been one of the more realistic tennis sims available, but Top Spin 4 makes the entire experience more approachable than ever. Not only does the game look terrific, but the expansive career mode ensures that you feel a solid progression through the game's ranks, even when you're playing by yourself.
And the game's even better on PS3, since it includes Move Support. While it's not quite one-for-one control over your character, it makes the game fun and approachable for fans of all ages and skill levels. Surprisingly, though, the Wii version of Top Spin 4 is the weakest version; imprecise controls and terrible graphics ensure that you're better off sticking with the Wii Sports version of the game.
You may not think that a game centered around Nintendo's portly plumber clad in soccer cleats would make for one of the Wii's most enjoyable sports titles, but it's very tough to deny the insanely addictive nature of Mario Strikers Charged​. Playing as Mario, Luigi, Peach, Toad, and a whole slew of Nintendo's best and brightest original characters, you'll kick, scrap, and shoot your way to victory over, and over, and, well, until your Wiimote runs out of juice.
Featuring arcade-y soccer action by way of the Mario gang, Strikers Charged remains a GamePro office obsession to this day, and if you own a Nintendo Wii​ and have even a passing interest in arcade/sports titles, it comes highly recommended.