SLIDESHOW
Top 10 Cell Phones
Need a break from your laptop? These productivity-oriented phones offer a lot more than the ability to make calls. Here are the ten best smartphones available today.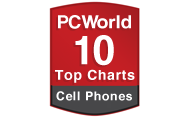 The Best Cell Phones Around

Here's a quick, close-up look at the top 10 cell phones on the market today.
HTC One S
The HTC One S is the ultimate multimedia phone, from gaming to music to snapping high quality photos.

Samsung Galaxy Nexus
The best Android phone to date, the Galaxy Nexus dazzles with its curved display, sleek design, fast performance, and, of course, the Ice Cream Sandwich update.


HTC Rezound
If you can deal with subpar battery life, the HTC Rezound is an excellent phone that won't feel outdated anytime soon.

T-Mobile MyTouch 4G Slide
The MyTouch 4G Slide has one of the best cameras we've ever tested, with a wide range of shooting modes and editing tools. The rest of the phone is pretty amazing as well, since it provides the latest software and chipset technology. Its only drawbacks: The keyboard is difficult to type on, and the handset lacks an HDMI port.


Motorola DROID RAZR MAXX
The Droid Razr Maxx packs in a dual-core processor, large battery and LTE in a very thin frame.


Apple iPhone 4S 16GB (AT&T)
The iPhone 4S might not be the most exciting update, but its improved camera, faster performance, and addition of Siri make it a top-notch smartphone. Its beautiful display still beats that of the competition, too. Even so, the iPhone could use more improvement: For starters, it allows you to upload video only in 1080p, and Siri is not always accurate.

Samsung Epic Touch 4G
Sporting a bright, clear Super AMOLED Plus display and offering superb performance and an excellent camera, the slim and speedy Samsung Epic Touch 4G is excellent for gaming, Web browsing, and watching video. The plasticky build feels a bit cheap, however, and the phone carries lots of bloatware and preloaded apps.


Samsung Galaxy Note
With its large display and stylus-like pen, the Samsung Galaxy Note is a refreshing departure from the smartphone pack, but its design won't please everyone. Additionally, not enough apps support the pen right now.

Nokia Lumia 900
With a stunning display, fast data speeds, and a versatile camera, the Lumia 900 has what it takes to compete with the iPhone and with Android handsets--if Microsoft and AT&T can win over customers.

Motorola Droid Razr
On the thin but sturdy Motorola Droid Razr, you get smoking Verizon LTE data speeds, and great performance from the dual-core processor. The phone's short battery life is a disappointment, though, and the handset is pricey.

Next Up: Check out these related slideshows
Today's Best Tech Deals
Picked by PCWorld's Editors