D-Link DIR-880L review: A good, basic 802.11ac Wi-Fi router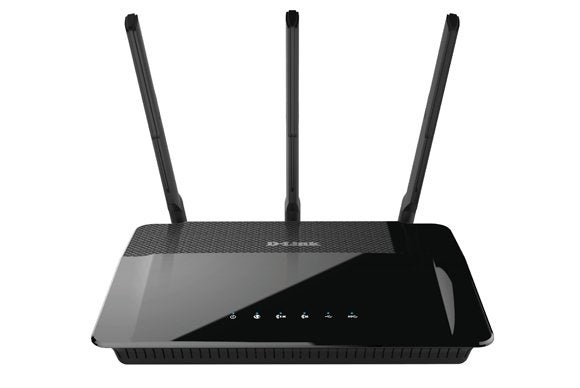 Today's Best Tech Deals
Picked by PCWorld's Editors
Top Deals On Great Products
Picked by Techconnect's Editors
At a Glance
D-Link DIR-880L Wireless AC1900 Dual-Band Gigabit Cloud Router
If you're a big fan of D-Link's connected-home product line, D-Link's DIR-880L is the 802.11ac Wi-Fi router to buy. D-Link is building out an ecosystem of IP cameras, motion sensors, and lighting controls that are super-easy to deploy, thanks to the company's "zero-config" architecture. This router is also a good choice for if you're looking for a new router that's easy to set up and manage, with or without a PC.
The DIR-880L isn't the fastest 802.11ac router I've tested lately, but it's also priced about $30 less than either the Asus RT-AC68U or the Linksys WRT1900AC. Like those routers, this is a dual-band model supporting 802.11b/g/n clients on its 2.4GHz frequency band (802.11n clients at speeds up to 600Mbps) and 802.11a/ac clients on its 5GHz band (802.11ac clients at speeds up to 1300Mbps). Add 600 to 1300 and you get the oh-so-popular AC1900 marketing label. You can also set up a guest network on either or both bands.
The DIR-880L has a low-profile enclosure with three oversized antennas that can be removed and upgraded. LEDs on top indicate the status of its power, Internet connection, 2.4- and 5GHz wireless networks, and USB ports. There's a USB 3.0 port on the left side, and a USB 2.0 port, a power button, a WAN port, and the usual four-port gigabit Ethernet switch in the back. If you don't like this router's desktop footprint, you can hang it on the wall.
This router's firmware provides a relatively basic, consumer-oriented feature set that includes beamforming, VPN support using L2TP over IPSec, and a Quality of Service engine that automatically prioritizes lag-sensitive traffic such as online games, VoIP calls, and video streaming over other data that can tolerate delayed packet deliveries. You can also manually assign higher priority to individual clients .
Advanced configurations such as port forwarding and assigning clients to static routes are supported, but you're limited to 15 instances in each case. Parental controls are even more limited: You can define schedules for when individual clients—or the router itself—are allowed online, or you can block particular websites. And that's about it.
The DIR-880L is quite easy to set up using a web browser. If you'd prefer to use a tablet or smartphone, D-Link's QRS Mobile app is available for the Android and iOS operating systems. The router comes preconfigured with a password for its wireless networks, and D-Link helpfully provides a small card with the router's SSID and password printed on it. The router's admin user interface is not password protected, but you're prompted to create one when you use the setup wizard.
Register for D-Link's free Mydlink service and you can access and manage this router from the cloud. If you find yourself frequently troubleshooting your parents' home network over the phone, you might want to consider talking them into an upgrade.
The router's USB ports can share a printer, scanner, or a storage device over your network (any combination of two). I didn't test the router with a scanner or printer, and D-Link's SharePort technology isn't compatible with our storage benchmarking procedures, so I couldn't evaluate its performance on that score.
I'm just not a big fan of SharePort. On the positive side, the user interface helpfully presents your files in an organized fashion according to file type: music, video, photographs, and documents. And D-Link offers smartphone and tablet apps you can use to stream media files. The router is DLNA compatible, but it doesn't have an iTunes server.
On the negative side, SharePort limits you to viewing just one file at a time in this view, and it won't let you download or otherwise move files around. Switch to a hierarchical list view and you can at least upload files; but again, just one at a time. Our procedure for testing network-attached storage performance involves reading and writing both a single 10GB file and a 10GB collection of files. So I can't tell you how fast or slow the DIR-880L is when it comes to reading files from and writing to a hard drive attached to its USB ports. Don't buy this router if NAS functionality is on your must-have list of features.
In terms of its wireless routing performance, the DIR-880L was much slower on the 2.4GHz frequency band than the Asus and Linksys routers at close range (with an 802.11n client in the same room as the router, separated by 9 feet). It was slightly faster than the Linksys when the client was in my kitchen (20 feet from the router, separated by one wall hung with plywood cabinets). And it was much faster on this band than both of those devices when I tested it in my home theater (client 35 feet from the router) and in my home office (client 65 feet from the router).
D-Link's router trailed both the Asus and the Linksys with an 802.11ac client in three of my four test locations. I tested all three routers using an Asus USB-AC56 Wi-Fi adapter plugged into the client's USB port. TCP throughput of 328Mbps is nothing to sneeze at, but the WRT1900AC delivered 439Mbps here and the Asus managed 418Mbps. The DIR-880L will probably stream HD video to most rooms in the typical home, but it wasn't nearly as fast as the competition on this band in my longer-distance tests.
I've found that the best way to get the maximum performance from an 802.11ac router is to deploy two of them: One as a Wi-Fi router and the other as a Wi-Fi bridge that you hardwire to one or more clients. You can configure a second DIR-880L as a bridge, but I wasn't able to test its performance in such a scenario because D-Link sent only one router.
Should you buy one?
If the time has come to upgrade from your aging 802.11n router, the D-Link DIR-880L is a model you should consider—especially if you can't afford the price premiums that Asus and Linksys are fetching, or if you won't benefit from the advanced features those routers offer. (I'll be testing Netgear's new Nighthawk X6 soon, too, but it's even more expensive.) The DIR-880L is also a good router to recommend to those friends and family who depend on your for tech support, because its online-management features will make that chore easier.
The DIR-880L doesn't deliver state-of-the-art performance, but it's not slow. I think some of its other shortcomings are more important: It has a USB 3.0 port, but D-Link's SharePort technology doesn't take full advantage of it. Its parental controls are not very sophisticated, and its port-forwarding and static-route features are limited. It also doesn't have an iTunes server, although it is DLNA compatible.
In short, this isn't a router that will excite router geeks, but it's not a bad choice for mainstream users.
This story, "D-Link DIR-880L review: A good, basic 802.11ac Wi-Fi router" was originally published by TechHive.
Note: When you purchase something after clicking links in our articles, we may earn a small commission. Read our
affiliate link policy
for more details.
At a Glance
D-Link DIR-880L Wireless AC1900 Dual-Band Gigabit Cloud Router

The DIR-880L isn't the best router on the market, but it's a good choice if you don't need the power and performance that more-expensive 802.11ac models have to offer.

Pros

Very easy to manage via the cloud
The best choice for consumers buying into D-Link's connected-home portfolio
Can share up to two USB devices (printer, scanner, or hard drive) over the network

Cons

802.11ac performance not as fast as more-expensive competitors
SharePort hobbles USB storage sharing
No iTunes server, no ftp server, limited advanced features
Shop Tech Products at Amazon