SLIDESHOW
20 hot tips and tricks for your Amazon Fire Phone
Amazon's phone works a little differently than the iPhones and Androids you're used to. These helpful tips should get you used to its quirks in no time.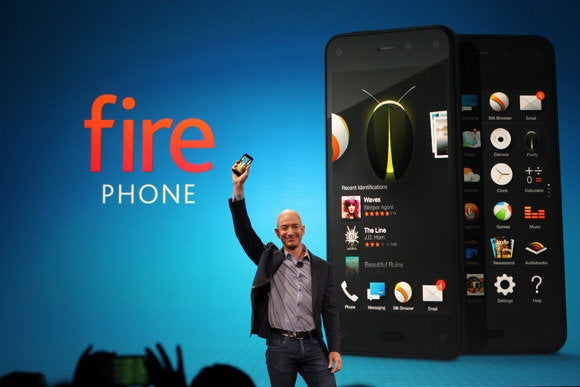 Get to know your Fire Phone
The difference between loving the Fire Phone and loathing it is how quickly you can get used to its quirks. Its Fire OS is based on Android and borrows some from iOS, but at the end of the day it's a breed all its own. With these tips and a little practice, navigating Amazon's smartphone will be a breeze—and there's always Mayday if you still have questions.
Note: All of these features work on Fire OS 3.5.1, which is rolling out to Fire Phone users. If you're on 3.5.0, you can't use the Locket album, Quick Switch menu, or put your apps into folders. But it's coming!
Shortcut to the Camera app
The Fire Phone goes from zero to camera faster than any other. Simply press the button on the side of the phone once. Once it's open, you can press that button again to shoot, or press either of the volume-up and -down buttons. The camera doesn't have a burst mode, so holding down the volume buttons or the shutter button on the screen does nothing. Holding down the camera button launches the Firefly app.
Using Firefly
You can launch Firefly by holding down the side button, or launch it from the Carousel or App Grid. The main screen kind of looks like the Camera app, but you'll see little points of light hovering around—you know, like fireflies. Then you just point your phone at something, like a sign, product packaging, a book or CD cover, a movie poster, a barcode, a business card, and so on. If Firefly can identify it, it will do so pretty quickly, but it stays in scanning mode. You have to tap on a result to see more details, or swipe up to access the full list of everything you've identified.
Firefly does make mistakes—if misidentifies the front of a package, try again with the barcode. But generic or store-brand food packaging is particularly tricky, for example, since Amazon isn't likely to sell that exact item.
Firefly for music and movies
At the top of the Firefly screen, you'll see two small icons, a musical note and a little TV. Tap the musical notes if you want Firefly to identify a song that's playing, or the little TV screen to identify a movie or TV show. After listening for a bit, Firefly is great at nailing not just the movie, but also who's acting in the scene, what song is playing in the background, even trivia about the movie—it's really neat. Of course, you get links to buy the movies and TV shows on Amazon in various formats, and the music results also have deep links into iHeartRadio (where you can create a new station for that artist) and StubHub (to search for concert tickets).
Firefly results
Let's say you Firefly a phone number off a flier on the bulletin board at your favorite cafe. Later you see it in your Firefly results list, but it doesn't ring a bell—you don't know anyone in that area code, do you? Just tap "View original photo" to see, you guessed it, the original photo. That should give you the context to decide if you want to add it to your contacts, call it, or just delete it from your Firefly history.
Reply with a text
If you don't want to take an incoming call, you can reply with a text message. You'll see a little icon on the screen with a teensy-tiny arrow that sort of indicates you should swipe in from the right. It's a little vague, but you do indeed need to swipe in from the right, where you'll see four prewritten choices. To edit the default options, go to Settings > Phone > Edit Reply with Text Messages. Even though it looks like there is room for more than four replies in the list, right now you can still only have four.
Predictive typing
When you're composing text messages and emails, a little line above the keyboard will attempt to predict not only the word you're typing, but the word you're going to type next. When you press the space bar, three or four options for a subsequent word will appear, and you can just tap one to select it—which then displays guesses for the word after that. I had fun playing a Mad Libs kind of game where I would just keep tapping words to make sentences that quickly became nonsensical but also strangely poetic.
Very little voice control
Just like invoking Siri, to talk to Fire Phone's digital assistant, you just hold the home button down for a few seconds. But this assistant—who will remain nameless since she wouldn't tell me her name—can't do quite as much as Siri or Google Now. You can make calls, send messages, send emails, and search the web. The dictation is pretty good if you need to jot off a quick email to let your boss know you're running late. Don't forget to speak the punctuation, like commas and periods.
Hopefully this assistant will learn new tricks soon, because without being able to set timers, add reminders, or ask for directions, there just isn't much to talk about.
Swipe up to go back
Since there's no back button, physical or software, you just swipe up from the bottom to go back a screen. And pressing the physical home button takes you to the home screen, of course. Once you get used to swiping up to go back, it makes sense, but it's not the most obvious gesture when you first pick up the Fire Phone.
Menus to the left of me, menus to the right
In Amazon's apps (and some third-party ones such as StubHub), you can flick your wrist to bring in menus from the right and left, or drag them out with your fingers. The left menu tends to be a list of folders, topics, that kind of hierarchy.
The menu on the right is different but more interesting. The music app, for example, shows lyrics. In Maps it's your search history and bookmarks. And the menu on the right side of the home screen has your local weather, and Google Now-ish information like your Amazon shipments, calendar appointments, and messages from your VIP contacts.
Mayday
If you do need help with something, it's only a flick and two taps away. Dip the top-left corner of your phone down a little bit, just a turn of the wrist, and then snap it back up. That brings up the Quick Actions menu, which includes toggle switches for Airplane Mode, Wi-Fi, Bluetooth, flashlight, sync, settings, Mayday, and search. When you tap Mayday you have to confirm on a second screen, but once you tap Connect you're typically talking to a real live person within 10 to 15 seconds. They can't see you, but they can see and control your screen, or explain to you what to do and even circle menu items or buttons for you. You can access Mayday over Wi-Fi or cellular, 24 hours a day. Besides teaching you how to use your new phone, Mayday specialists can run diagnostics if something isn't working, or even connect you to AT&T tech support if the problem is on their end.
Status bar: Now you see it, now you don't
You might notice that the status bar at the top of the screen isn't visible all the time. To see the time, your signal strength, and how much battery you have left, you can tilt the phone to bring them up with Dynamic Perspective. Or just do the dip move to bring up the Quick Actions menu, since it's always visible there. If you want to see the status bar all the time, you'll find a switch in Settings > Display.
Yelp reviews in Maps
If you search for something in the Maps app, say yoga studios, you'll see the results highlighted on the map, but if you tilt the phone, you can see their Yelp ratings appear. Maps also uses Dynamic Perspective to let you peek around buildings to read the names of streets that might be covered up.
Pin an app to the Carousel
The Fire Phone's home screen is dominated by the Carousel. It defaults to show you the last apps (or movies, books, and TV shows) you were using, in reverse order. As you use more apps, the older ones fall away. But if you want to keep an app in a certain spot on the Carousel—say, you're traveling and you always want Maps to be first—just hold any icon in the Carousel until a pop-up menu offers to let you pin it.
Reorder the App Grid
Swiping down from the Carousel view in the home screen, you get a grid of apps, starting with the built-in apps, then listing them in order that you purchased them from the store. But if you want to reorder them, it's easy. Just hold an icon until it comes loose, then drag it wherever you want. Drop one icon over another to start a folder. It's all very familiar from the other operating systems—but the app icons on their home screen don't subtly rotate and move when you turn your head.
Turn down Dynamic Perspective
If the Dynamic Perspective feature makes you seasick, or you just find it more gimmicky than useful and you want to turn it off, you can. In the same Settings > Display > Low Motion menu, you can switch on and off all the different gestures and effects, like the tilt move for the menus, the swivel move for Quick Actions, and even the Peek.
Turn off auto-scroll in Silk
The Silk browser uses Dynamic Perspective to automatically scroll the page as you tilt the phone down. But it's a little wild—it can zoom way down if you set the phone down on a table, for example. If you can't get used to it after a couple of days, just give up and turn it off. Look in Settings > Display > Low Motion, where the controls get fairly granular, including a switch for Auto-Scroll.
Keep a picture in your locket
Amazon wants you to use its pretty 3D-looking, Dynamic Perspective lock screens. (Personally I'm getting tired of all of them, but your mileage may vary.) But most people I know use a photo on their lock screen—and when those people are parents, there's about a 99 percent chance that photo will be a snapshot of their kids. If you swipe right on the home screen, you can add photos to your locket, which is just a small album that's easily accessible from the lock screen—so you can quickly show off your kids without having to unlock your phone and navigate to the Photos app. Unfortunately, you need to add the photos one at a time, but it's a nice feature.
Automatically back up photos and videos
Your Fire Phone comes with unlimited Amazon Cloud Drive storage for your photos. Strangely, it's not on by default. You have to go to The phone is linked to your Amazon account of course, and both videos are automatically saved to the cloud, where photos don't count against your 5GB of storage, but videos do. You're free to buy more storage for your videos, or they'll just stop uploading when you run out of room—but your photos will keep uploading. You can get to them online by logging into Cloud Drive and looking in Pictures > Fire Camera Roll. Any photos that come attached to emails are in a separate folder called Fire Attachments.
The Fire Camera Roll folder syncs both ways, so you could throw some favorite images in here to sync them automatically with your Fire Phone.
Quitting apps
Double-tapping the Home button brings up the Quick Switch menu (just like on an iPhone!). From there, you can scroll through your recent apps and tap one to go back to its last state, or you can swipe up an app icon to quit it. If one of your apps freezes, you can quit it from this screen and then try relaunching it again.
Search in settings
The friendly Mayday workers can help you find settings, but if you'd rather run a quick search first, just open the settings app and start typing a keyword into the search box. As you type, applicable settings pop up, organized by section. Since the settings are a little different than both iOS and regular Android, I really appreciate being able to search.
Next Up: Check out these related slideshows
Today's Best Tech Deals
Picked by PCWorld's Editors