SLIDESHOW
What's New With Android Ice Cream Sandwich?
Android has undergone a huge transformation with the Ice Cream Sandwich update. Here are a few of the biggest changes.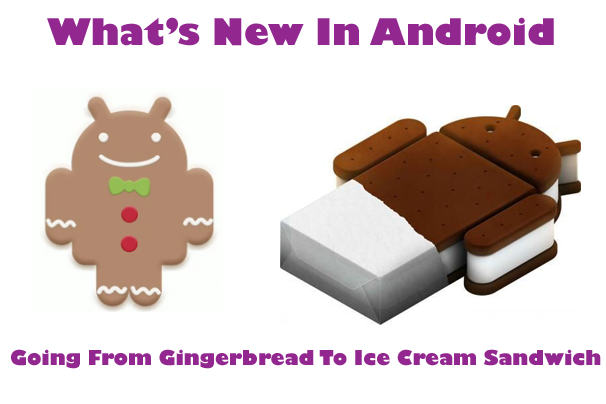 Spot The Differences
Ice Cream Sandwich brings about some of the most dramatic changes to Android we've seen since the OS went from 1.6 to 2.0. Everything from core applications all the way down to how you unlock the device has been transformed.
If you're one of the lucky ones upgrading from an Android 2.x device up to Android 4.0, here are a few things you should be aware of.
Editor's Note: We used an LG G2X for the Android Gingerbread screens.
Lockscreen
As soon as you wake up your device, you'll immediately notice the changes made in Ice Cream Sandwich. In Gingerbread you slide a button or panel on your screen to unlock your phone. That panel has been replaced with a lock icon that you flick out of a circle-much like in Android 3.0 (Honeycomb). The new lockscreen also allows for faster access to the camera, and you can immediately start the camera app without having to fully unlock your device.
Folders
Creating folders in older versions of Android was, to be honest, kind of a pain. You would have to long press the homescreen, find the option to create a folder, create a folder on your homescreen, and only then could you fill it with the apps you wanted. Ice Cream Sandwich simplifies things by allowing you to create folders simply by dragging one application onto another, ala iOS, adding all of the usefulness of folders without any of the hassle involved in creating them.
Contacts
The Contacts app has been renamed "People" and is no longer the drab and dreary application it once was. The dark grey background has been replaced with a lighter eggshell white, and contact photos are now much larger than they were previously. If you have your various social networks synced up to your device, images will be pulled from their profile and you will have quick access to their status updates.
Apps and Widgets
The app drawer has been redesigned to look more like the one on Android 3.0 aka Honeycomb. Pages scroll from left to right (instead of up and down) and you can quickly launch into the Android Market thanks to a button on the top right corner. Widgets no longer exist in their own space and have, instead, been rolled into the app drawer for easier access. Widgets are now re-sizeable, making it easier to place them in every nook and cranny on your homescreens.
Notifications
Notifications work the same way that they did in Gingerbread with only have a few minor tweaks. Notifications will sometimes display an image as well as an icon, making them much more descriptive. Additionally, you can now dismiss individual notifications by swiping them left or right. The notification bar also gives faster access to the device settings and you can now check notifications from the lockscreen.
Keyboard
The keyboard in Ice Cream Sandwich has been tweaked and tuned to better predict what you are going to type next. Keyboard keys have become much squarer (for easier typing) and there is now an option to auto-dictate your text.
Recent Apps
The old Recent Apps box was hardly the most impressive looking part of the OS. You only got to see the icons of the last eight apps you had opened and the only way to get to that list was to hold down the Home button until it popped up over your screen. Recent Apps in Ice Cream Sandwich now has its own button which you can press to bring up a scrolling list of all your open apps. This list is much more visual than the old static box and gives you a small thumbnail preview of each application so you know what is going on before you enter it. If you wish to close any of the running apps, you can flick it off the list and the app will shut down.
Call Screen
Like the lockscreen, you'll answer (or deny) phone calls by flicking a circle over the proper icon. If you flick the circle upwards towards the Messaging icon, you can send the caller a short text explaining why you can't answer their call. You can choose from one of several stock messaging responses or write some of your own for later use.
Gmail
Like most of the OS, the Gmail app has received a major facelift in Ice Cream Sandwich. There is now a context sensitive bar that occupies the bottom of the screen, and the app has sliding panels like the Gmail app found on Honeycomb. The context bar will change depending on where in the app you are. So for instance, if you were in an email you would see options to tag that email, move it to another folder, delete it, or mark it as read. The new version of Gmail also makes it easier to attach photos and videos to your emails, so you are not jumping back and forth between apps.
Calendar
The Calendar is much easier to read and doesn't feel as cluttered when full of events. You can pinch to zoom in and out of the app, making navigation a bit simpler. Zooming out will allow you to see all of your events at a glance, while zooming in can give you more details about individual events.
Gallery
Android 2.1 gave the gallery a much needed new look by separating albums and making them look like stacks of photos. The Gallery in Ice Cream Sandwich continues with the same look and feel, but it looks a bit more polished. You can now perform minor edits on photos you have taken in the past and have the option of applying various filters (if you feel the need to hipster-fy them up a bit).
Browser
The Ice Cream Sandwich browser can best be described as a mini version of the Android Honeycomb browser. If you hate mobile websites as much as I do, you can set the browser to request the full desktop versions so that you get a full web experience. Entire WebPages (including images) can be saved for offline reading, or if you find something interesting that you would like to save for later. Switching between browser windows has been simplified a bit as well, and now behaves much like the Recent Apps list in that you can close windows by flicking them off screen.
Music
The old boring Music app has been replaced with Google's new Music application that ties in with the Google Music cloud service. The app gives you direct access to the music stored in your Google Music account and will also play any tracks you have saved locally on the device. The Now Playing screen now displays much larger artwork and feels a lot less cluttered overall.
Settings
Device settings have been rearranged to allow you to quickly turn on and off Wi-Fi and Bluetooth, something that was previously buried under "Wireless and Networks" on Android 2.x. One extremely useful new feature is Data Usage. Data Usage will show how much data you have used that month and will alert you when you get close to your set limit. Data Usage will also break down your usage by day, and can show you which apps are using the most data. Handy, especially if you aren't lucky enough to have an unlimited data plan.
Menus
Menus are now identifiable by an icon of three dots stacked vertically. Once pressed, you will see a context menu pop-up with more options. This is how menus behave on the Galaxy Nexus, a device without any of the usual physical Android navigation keys. We still have yet to see how these will work on a phone that still has a physical menu button.
Next Up: Check out these related slideshows
Today's Best Tech Deals
Picked by PCWorld's Editors