SLIDESHOW
The Weirdest, Wackiest and Coolest Sci/Tech Stories of 2011
It was the year we found that horses help build the Internet, Apple has all the money in the world, and way more wackiness.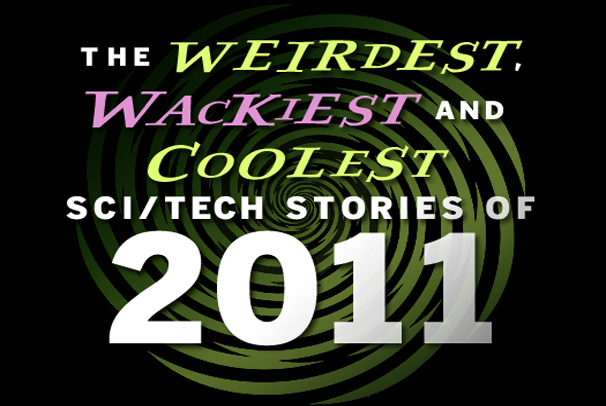 Crazy Stories
This year was certainly one of the weirdest and wackiest in recent memory. We have everything from burning iPhones and secret spacecraft to orbiting space hotels and self-driving cars. The year is over but you can relive the best parts here!
And don't forget we put together a list of the weirdest, wackiest and coolest sci/tech stories from the first part of the year. Read it here.
Aesir's New Phone
Like we need this. Here we have Aesir's new mobile phone shown during a press presentation in Moscow. The phone doesn't do email or the Internet, and it doesn't have a camera, games or GPS navigation, but it is literally solid gold. Danish retailer Aesir said it hopes to sell its $57,400, limited-edition 18-karat gold phones to Moscow's fashion-forward elite, according to Reuters.
Murmur Study
Seems like a waste of paper but here we see artist Christopher Baker reading tweets printing in his "Murmur Study," which was exhibited at a book fair in Frankfurt, Germany. The installation consists of 132 common thermal printers connected to a computer system. Custom software collects every new tweet from the Twitter network in the Internet containing keywords associated with topics such as dialogue, ideas and literature, and prints them on the thermal printer designated to the keyword.
X037B and It's Super-Secret Payload
The U.S. Air Force launched its second secretive spaceship, the X-37B, in March and has extended the spacecraft's mission beyond the end of the year as of this writing. The X-37B carries a super-secret payload, but provides what the Air Force calls a flexible space test platform to conduct various experiments with network satellite sensors, subsystems, components and associated technology, according to the Air Force.
The Retired Space Shuttle Discovery
Long road to retirement. The retired Space Shuttle Discovery awaits its turn to approach shuttle Endeavour outside Orbiter Processing Facility-3 at the Kennedy Space Center in August. Discovery, which temporarily was being stored in the Vehicle Assembly Building, is switching places with Endeavour, which has been undergoing decommissioning. Discovery will go on public display at the Smithsonian's National Air and Space Museum Steven F. Udvar-Hazy Center in Virginia. Endeavour is slated for public display at the California Science Center in Los Angeles.
MAKS International Aviation and Space Salon
A visitor sits inside a model of an orbiting hotel during the MAKS International Aviation and Space Salon in Zhukovsky, outside Moscow, in August. A hotel in orbit, lunar sightseeing flights and luxury rides into the cosmos -- all are part of Russia's vision to ensure it is not left behind in the growing space tourism industry.
Largest Solar Boat
The largest solar boat in the world, PlanetSolar, set sail this year. It has a 30-meter long and 16-meter wide catamaran topped with about 500 square meters of photovoltaic solar panels.
Hands-Free Driving
Daniel Goehring of the AutoNOMOS research team of the Artificial Intelligence Group at the Freie Universitaet demonstrates hands-free driving of the research car named MadeInGermany during a test in Berlin. The car, a modified Volkswagen Passat, is controlled by BrainDriver software with a neuroheadset device, which interprets electroencephalography signals with additional support from latest radar sensing technology and cameras. The BrainDriver is only a demo, however, and not ready for prime time.
Small Bionic Robots
Small bionic robots were all the rage this year. Here engineering school students look at the Delf Fly bionic robot during a demonstration at the International Workshop on Bio-Inspired Robots.
Electronic Waste is a Worldwide Problem
Electronic waste continues to grow into a worldwide problem. Here an employee arranges discarded computers at a newly opened electronic waste recycling factory in China. According to the U.S. Environmental Protection Agency (EPA), e-waste is the fastest growing commodity in the waste stream, with a growth rate five times that of other parts of the business such as industrial waste.
Hasbro's Fonedox Project
Experiments from Hasbro's Fonedox project, which use Android phones to detect faces and touch, are displayed at the Google I/O Developers Conference.
Solar-Powered Aircraft
Solar Impulse's chief executive officer, pilot Andre Borschberg, takes off with the solar-powered HB-SIA prototype aircraft during a flight from Brussels to Paris in June.
The Wind Explorer
The Wind Explorer wind-powered car is fueled by batteries which are recharged by windmill every night. The car traveled more than 3,100 miles from Perth to Sydney, Australia.
Language Foul-Ups
Apple's much-touted Siri may sound like the Japanese word for buttocks, but that's no big deal given that iPhone users are unlikely to give a rat's backside about the coincidence. Nokia customers, on the other hand, may have more of a problem with their new Lumia 800 and Lumia 710 phones, especially if they're up on their Spanish, a language in which the word "lumia" apparently means "prostitute" (from Buzzblog).
BlackBerry Service Outages
Police in the United Arab Emirates said that this summer's extended BlackBerry service outage significantly reduced traffic accidents there. From a story in The National, based in Abu Dhabi: In Dubai, traffic accidents fell 20% from average rates on the days BlackBerry users were unable to use its messaging service. In Abu Dhabi, the number of accidents that week fell 40% and there were no fatal accidents (thanks to Buzzblog).
Doomsday Comets
NASA, which had gone out of its way to diminish wild doomsday reports about the impact of comet Elanin on Earth over the summer, reiterated its scorn for the hoopla by later in the year by issuing a statement detailing the comet's death. "Perhaps a little homage to a classic Monty Python dead parrot sketch is in order," NASA said. "Comet Elenin has rung down the curtain and joined the choir invisible. This is an ex-comet."
Air Force Inventions
If you remember the "Dirty Harry" movie "Dead Pool" where a radio-controlled Corvette model car containing a bomb chases Harry around the streets of San Francisco and eventually detonates under his car and destroys it, then you have the general idea of the technology a retired 66-year-old mechanical engineer named Dante Barbis came up with to win a $25,000 prize from the Air Force Research Laboratory. "The solution consists of a remote electric-powered vehicle that can accelerate up to 130 MPH within 3 seconds, position itself under a fleeing car, then automatically trigger a restrained airbag to lift the car and slide it to a stop."
Texting and Driving
According to press out of the United Kingdom, a man who was driving at 70 mph while texting on one phone and talking on the other has been banned from driving for a year. Initial reports said that the driver, David Secker, was apparently using his knees to steer the car, an accusation he apparently refuted in court. From a BBC report: The court heard that when officers pulled Secker over, they had to wait for him to finish his phone conversation. Prosecutor Denis King said, "He was seen holding a mobile phone to his right ear and as he moved closer the officer saw he was holding another phone in his other hand as though he was texting."
Killer Phone Calls
Nigerian officials this summer had to quell public concern that by answering a certain phone number, cellphone users are killed. From a BBC report: "Viral text messages had warned that several people had died when they answered calls with the ID 09141. The regulatory body, the Nigerian Communications Commission, said this was 'unimaginable' and 'unscrupulous persons' were spreading fear. The text messages gave conflicting accounts of the number of people killed when they answered the call -- some put the death toll at seven while others put it at 10. "
Zero Tolerance
Most people thought this one was just dumb. Verizon fired six workers and suspended 32 others for taking part in a Super Bowl pool this year. "Verizon does not tolerate illegal activities of any kind," and "betting is illegal in Massachusetts," Phil Santoro, Verizon's Boston-based spokesman, said. Whether the firings and suspensions were related or not to a recent strike by Verizon workers at the time is the question raised by some observers. Verizon denied the moves had anything to do with the strike.
Stratolaunch Systems
Microsoft co-founder Paul Allen would never be accused of not thinking big. And big is what his next project amounts to: launching unmanned rockets into space from a massive aircraft. Allen's new company, Stratolaunch Systems, said it will build huge aircraft with a wingspan of 385 feet, bigger than a football field and 70% longer than the wings on a Boeing 747, making it the largest aircraft ever flown. The plane will be built by Scaled Composites, the rocket will be built by Elon Musk's Space Exploration Technologies, and the state-of-the-art mating and integration system allowing the carrier aircraft to safely carry a booster weighing up to 490,000 pounds will be built by Dynetics. The first test flight is targeted for 2015.
Next Up: Check out these related slideshows
Today's Best Tech Deals
Picked by PCWorld's Editors