SLIDESHOW
10 Biggest Tech Letdowns of 2011
From the dead-on-arrival HP TouchPad to RIM's epic BlackBerry outage and Yahoo's slow fade, here are the tech products, companies and events that let us all down in 2011.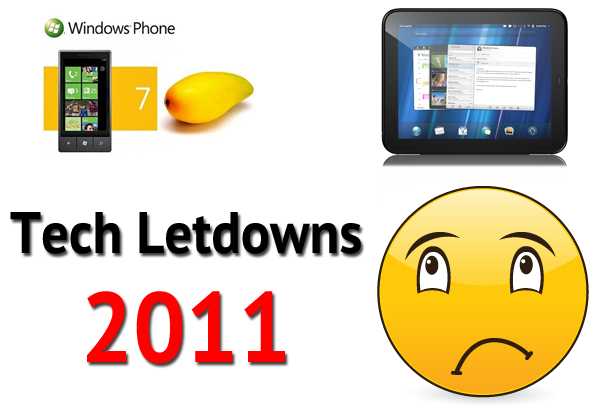 Tech Disappointments
Throughout 2011 there was fevered anticipation for many products that didn't quite shape up as promised. Here's a quick overview of the biggest letdowns of the year.
HP TouchPad/WebOS
Hewlett-Packard was a land of confusion in 2011. It abandoned its WebOS mobile operating system and sold off its HP Touchpad tablets in a fire sale, letting down countless developers who invested in the platform and businesses and consumers hoping to take a chance on the OS. Making matters worse, HP announced in August that it would spin off or sell its PC business, only to say in October after Meg Whitman became CEO that the company, in fact, would be keeping its PC business intact.
Google Android Mobile Security
The cat's out of the bag: Google's Android mobile OS is a malware magnet. In 2011, Google removed more than 100 malicious apps from its Android Market. Why Android? It's a combination of software's skyrocketing market share, the openness of the platform, the many flavors of the OS and the many hardware devices it runs on, which all add up to a breeding ground for malware.
BlackBerry's Three-Day Outage
RIM experience a nightmarish, worst-ever network outage in October. The outage lasted three days and shut down text messaging, Internet access and, in some cases, voice calling services for millions of BlackBerry users around the world. It was another black mark in an awful year for RIM where its sales, customer loyalty and stock price plummeted.
Windows Phone 7.5 "Mango" Update
Microsoft released a major update to its Windows Phone OS in September, called Windows Phone 7.5 or "Mango", and it also has a fleet of Windows Phones on the market from Samsung and HTC. And a partnership with Nokia should soon bear fruit in the U.S. So what's the problem? Well, Microsoft is doing everything but pay people to use Windows Phones, and nothing seems to work. Sales numbers and market share are low. So while the Mango update itself is not exactly disappointing – the OS has many cool features – the collective cold shoulder coming from consumers is the real letdown.
Android Tablets
The Android OS is spread across a variety of tablets such as the Samsung Galaxy Tab, the Motorola Xoom, the new Kindle Fire and the Barnes and Noble Nook. But no matter the hardware maker, not one device has been a true winner in 2011. This lack of success is a real testament to how powerfully the iPad has won over the hearts and minds of consumers. But that kind of momentum can't last forever and the many maturing, and hopefully more secure, Android tablets will be ready to be snatched up when tablet buyers open their minds -- and wallets -- beyond the iPad.
FTC Order Against Facebook
In November, the Federal Trade Commission and Facebook reached a settlement that requires the social media king to undergo regular privacy audits for the next 20 years. The FTC found that Facebook made information public that users had deemed private, and allowed advertisers to access personal information when Facebook users clicked on ads. There were no fines, but if Facebook violates the new terms it will have to pay $16,000 a day for each count. Oh Facebook, we'll stay with you, but please stop screwing around. (And thank you FTC for the aggressive wrist slap.)
Google+ and Google Music
Is it me or has Google become a very reactive company? Like Microsoft, Google now has the money and resources to wait and see what becomes popular, and then create its own version. Case in point: Google+ and Google Music. Both are Google rehashes of a social media site and cloud music service that already exist, Facebook and Amazon Cloud Player, respectively. Both Google+ and Google Music debuted this year and are still babies, so they deserve time to marinate. But so far it's been mostly shrugs from the public for both services.
The BlackBerry PlayBook
There were high hopes for the BlackBerry Playbook tablet as an iPad killer when it debuted in April. But the PlayBook has proven to be a bust. Why? Despite the device's cool hardware and strong and stable OS (based on code from QNX Systems), RIM has been late to deliver key features such as a native PIM (personal info management) apps like e-mail and calendar—it still requires a BlackBerry smartphone to access native e-mail on the Playbook. And the tablet still comes in Wi-Fi only. The result? Sales are so bad that RIM recently cut Playbook prices by 70 percent and started selling PlayBooks via infomercials on TV. Seems desperate, no?
Yahoo
Yahoo has been in trouble for years, but 2011 was especially bad. CEO Carol Bartz was fired in September and has yet to be replaced. (CFO Tim Morse is interim CEO.) It's unclear what exactly Yahoo is doing anymore. It has folded most of its search operations into Microsoft Bing. It is slipping dangerously in the online advertising war with Google and Facebook, and for all the traffic that Yahoo still generates, it has not been able to monetize it. The company needs to do a serious makeover or put itself on sale. Something's got to give in 2012.
Cisco Cius
The Android-based Cisco Cius tablet for enterprises has a more tightly integrated feature set than the BlackBerry PlayBook -- 4G capabilities with Verizon; native e-mail that supports Exchange and multiple accounts; integration with Cisco tools like WebEx and Telepresence, for example. But the Cius hasn't been any more successful than the PlayBook. The plan was to kick the iPad out of the enterprise … yet the opposite has happened: More and more employees are bringing iPads to work. However, the Cius has only been available since August so I would not rule out its corporate usefulness just yet.
Next Up: Check out these related slideshows
Today's Best Tech Deals
Picked by PCWorld's Editors