SLIDESHOW
'Appcessories' of CES 2012: Phone and Tablet Accessories
These advanced accessories really stretch the boundaries of what you're able to do with your phone or tablet.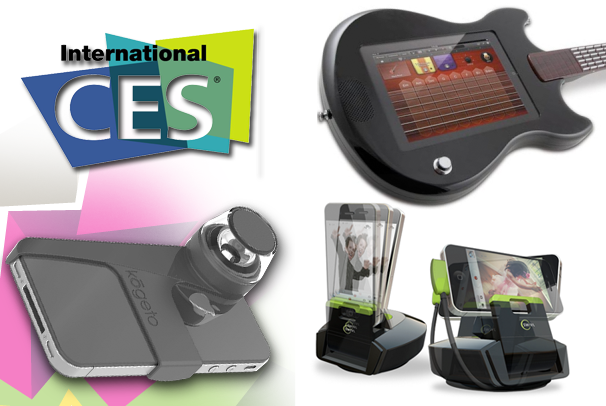 Accessories Galore
From radar-equipped sleep detectors to camera-mounted helicopters, accessory makers are using phones and tablets to get creative at CES 2012. These products, which come alive when used with companion phone and tablet apps, are known as "appcessories." Here are the coolest ones we found in Las Vegas
Targus iNotebook
Targus' iNotebook is like LiveScribe without the special paper, and it connects with your iPad instead of a PC. When writing notes using Targus' pen, the handwriting gets picked up by a Bluetooth receiver and gets transmitted in digital form to an iPad for safekeeping, either in real time or later. It'll ship mid-year for $150.
Cobra Joyride
The Cobra Joyride is a car charger with added purpose. When plugged in to any Android phone, it lets users switch between a few favorite Android apps--such as a music player or Navigation--by pressing a button on the charger.
It also can toggle Wi-Fi, Bluetooth or GPS when plugged in, and it automatically creates a GPS snapshot when unplugged to find the car later. It's one of the few appcessories on the show floor that supports Android, but it's also one of the most useful. It'll cost $40 when it launches next quarter.
AR Drone 2.0
Parrot's AR Drone has been an attraction of CES since 2010, but now it's getting an upgrade with a pressure sensor for better flight control and a 3D compass that lets users fly closer and further by tilting a connected phone or tablet forward or back. It also supports live HD video recording and sharing.
It's still a costly little toy, though. Expect it to be priced at $299 when it launches in the second quarter of this year.
Kogeto Dot for Android
Kogeto's Dot is a lens that attaches to the iPhone and takes panoramic video, and now it's coming to Android. Just one problem: Android phones come in different shapes and sizes, so creating a bracket for the lens is no simple task.
Kogeto's hoping to enlist a partner to do the job, but the companion Looker app that captures the video is ready to go.
Gear4 Renew SleepClock
Not feeling refreshed in the morning? Gear 4's Renew SleepClock tries to tell you what's wrong by monitoring your sleep patterns.
The tabletop device uses radar to measure micro-movements and the rise and fall of your chest, and spits back details on a free iPhone app. It can also play music until you fall asleep, and wake you up during light sleep so you don't feel wrecked in the morning.
It's launching in Febuary for $199.
Ion Audio Guitar Apprentice
Ion Audio's Guitar Apprentice will let users snap in an iPad and learn some chords through a companion app (not pictured here because it's not finished yet), which will light up the proper frets to press.
The app will be free, and users will be able to purchase additional lessons. Without strings, it's not going to feel like a real guitar, but it could be a cheap way to learn how to strum the basics. The Guitar Apprentice will cost $99 when it launches this July.
Jetstream with Live TV
Jetstream, a little black box that launched last year, sniffs out videos, photos and music on your home network, and makes them available from anywhere on an iPad, using a free app.
Now, it's getting an optional TV tuner and antenna for watching live broadcast television around the house or on the road. The Jetstream costs $150, and the tuner and HD antenna are supposed to launch for $45 in March.
Swivl
Swivl makes it easy to record video of yourself without having a camera man to keep you in focus. Just hold the included widget in your hand, or hang it around your neck, and Swivl rotates to follow, using Bluetooth and infrared. It'll work with any phone or small camera, but with an iPhone, users can stop and start recording through a button on the widget.
Eventually Swivl wants to add more button functions for its app, such as making the bracket do a 360 spin, or making the camera take snapshots. Swivl is expected to launch this quarter for $159.
Wi-Spi
Wi-Spi offered some cool toys at this year's CES, including an RC car and helicopter that beam live video back to phones or tablets, which also serve as the remote controller.
Wi-Spi's free iPhone and Android app also will be able to share your stunts on Facebook and YouTube. Both vehicles launch this fall: $100 for the car and $120 for the chopper.
Tinké
Tinké--pronounced "Tink"--is a simple way to keep track of heart rate, respiratory rate, and blood oxygen through a small dongle containing two LED lights. The dongle plugs into an iPhone's standard 30-pin connector, and then users hold their thumb over it to measure the difference in absorption between the two LED lights.
A companion app then gives users a score that they can track or post to social networks. It'll be available for iPhone in six months, and Android at the end of the year, for $100.
Next Up: Check out these related slideshows
Today's Best Tech Deals
Picked by PCWorld's Editors