Some governments, schools, and businesses try to block websites in order to reduce distractions, conserve bandwidth, or censor content. If you want to circumvent such limitations--and you're willing to assume any attendant risks--you can enlist the aid of the following tools. Each one will help you mask your online identity and sidestep restrictions.
Use a Proxy Server
Proxy servers are useful tools that act as intermediaries between your computer and the websites you visit. When you can't visit a blocked site directly, you can ask a proxy server to visit it for you. The proxy displays the blocked website, and allows you to interact with it. Since you are communicating directly with the proxy--not with the restricted site--the communication isn't blocked. Many free proxy services are available, but I suggest you start with HMA. An alternative, Anonymouse, has a similar feel. Here's how to use such a service:
1. Go the website for the proxy service, type the URL of the site you wish to unblock, and press Enter.
2. Browse the restricted site as you normally would. Notice that the address bar of your browser displays the proxy service's domain, indicating that you are browsing anonymously.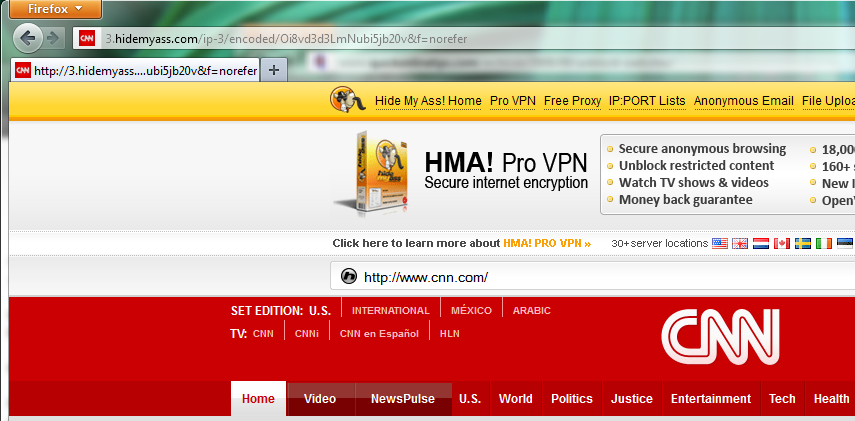 Keep in mind that free proxy servers will sometimes slow down your browsing, or fail to display Web pages properly. Also, take note that although the two free proxies suggested here do not bombard you with advertisements and pop-ups, plenty of proxy services do.
Take Advantage of a Translation Service
Translation services such as Google Translate, Microsoft Translator, or Yahoo Babel Fish are similar to free proxy services in that they fetch a website and display it for you without your visiting the site directly. You can exploit this fact by asking these services to "translate" English pages into English. I find Microsoft Translator to be the best suited for this trick.
1. Visit Microsoft Translator, also branded Bing Translator.
2. Enter the URL of the restricted site into the left text field. Keep 'Translate from' as Auto-Detect and 'Translate to' as English. Click Translate.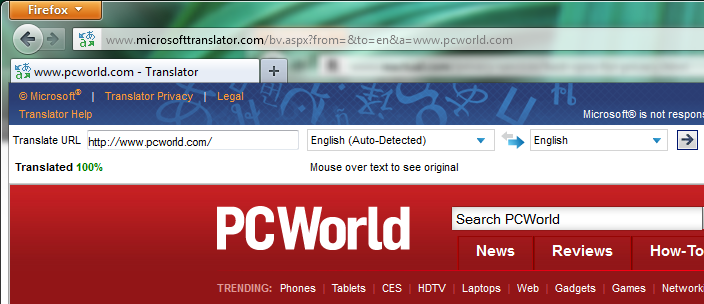 3. The page will display below a functional and unobtrusive Microsoft Translator banner. Browse as you normally would.
Use a Virtual Private Network
Virtual private networks create a secure tunnel between your PC and a VPN server. When you connect to a VPN server, all of your communication travels through that tunnel, so third parties can't monitor it. In this setup, your online identity--your IP address--becomes anonymized, and you can access blocked websites. VPNs also offer a higher level of security than proxy servers and translation services do.
Try AnchorFree's Hotspot Shield for a free, ad-supported introduction to accessing blocked websites via VPN. The paid version of Hotspot Shield ($45 a year, unlimited use) removes the ads, improves speed, and includes free support. Another standout in the paid-VPN category is the aforementioned HMA ($79 a year, unlimited use).