SLIDESHOW
Atari Oddities
Here's a look at the wacky Atari you don't know: its digital photo booth, video phone, "Puppy Pong," and more.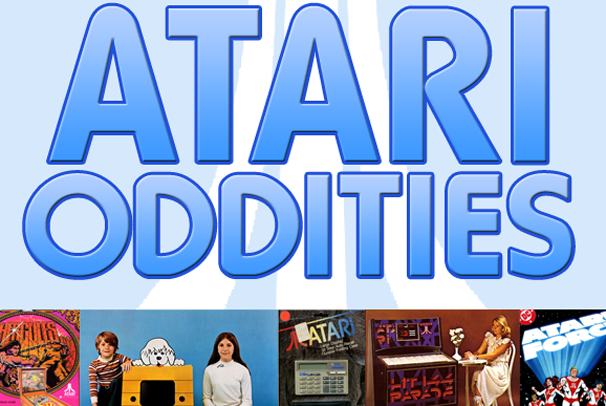 Atari Oddities
Forty years ago this June, Nolan Bushnell and Ted Dabney founded Atari, Inc. in California. And with it, they founded the video game industry as we know it today. Since then, the name Atari has become synonymous with the golden age of video games and a sense of Generation X nostalgia that will never fade.
If you're reading this, I suspect you know the Atari 2600, 5200, and 7800 consoles. You've played the hit arcade video games, and you may have even used an Atari 8-bit or ST computer. But the story of Atari is filled with many unseen and little known oddities. Here are 13 examples of weird Atari products and strange Atari marketing you can use as trivia at your next 1970s or 80s theme party. When they ask, "How'd you know that?", just tell them Benj Edwards sent you.
The 1976 Atari Digital Camera
Atari's early products from the Nolan Bushnell era often carried a sense of creative exuberance that would later be ironed out by corporate structure. Take the Compugraph Foto, a 1976 coin-operated amusement. This monstrous computerized photo booth took a subject's photo, digitized it, and printed out gag portraits on 11″x14″ tractor-feed printer paper.
I say "gag portraits," because the photos came out as ASCII mosaics, composed of alphanumeric characters automatically arranged by the computer to match light and dark areas of the photo. I'm not sure exactly how they pulled it off, but I do know that it predated TTYQuake by 23 years.
Atari Stunt Cycle
In the years following Atari's breakout success with Home Pong (1975), Atari scrambled to keep ahead of countless clones and competition by bringing out new dedicated home consoles. One of the more interesting units from 1977 incorporated motorcycle hand grips and played a home version of Atari's arcade game Stunt Cycle.
Sears released its own version (licensed from Atari, as per tradition at the time) called Tele-Games Motocross Sports Center IV (seen here), which bundled 20 game variations — including four-player Pong.
Only in the '70s
Atari Video Music was a 1976 device that generated a dynamic, kaleidoscopic light show on your TV based on any audio source plugged into the box. Its designer, Robert Brown, intended it to complement hi-fi components popular at the time, so you could listen to and watch, say, Pink Floyd in the comfort of your own living room.
If that seems weird, consider that Video Music came out at a time when Sears devoted a couple pages every year to psychedelic light displays.
In practice, the Video Music wasn't nearly as entertaining as it sounds (I have one), and Atari pulled it after only a year in production.
Pinball on Steroids
You're looking at the world's largest production pinball machine, Atari Hercules, from 1979. This 93″ long, 39″ wide, and 83″ high monster was also Atari's last pinball table.
Wait a minute — Atari pinball? Yep, Atari did pinball machines beginning in 1976. They never reached the success Atari wanted, especially in the face of booming video game popularity, so Atari shuttered the division in 1979.
Another oddity: LeVar Burton played a predecessor of this giant game when it was known as Bigfoot, then a Bally prototype, on national TV.
The Great Universal Atari Machine
In 1976, Atari released one of its most obscure products, the CTF I (Computer Test Fixture). This bulky diagnostic tool specifically aided in the troubleshooting and repair of Atari coin-operated video games.
The CTF served as a universal Atari game machine; a service technician was able to remove any Atari arcade printed circuit board from its original cabinet and play it with the CTF I, which came equipped with dual joysticks, paddles, and everything else needed to test the function of the game.
Alternate Joystick Reality
If you've ever played the famous Atari 2600 game console, you are probably familiar with its now-iconic joystick. What most people don't know is that the joystick could have debuted in the 1977 home console version of Atari's Tank II arcade game.
The Tank II prototype had a neat feature: with joysticks placed in the base unit, a single player could control the left and right treads of the tank with the corresponding joystick. In two player mode, one could pop out the joysticks for each player to use.
With the more versatile 2600 readied for release that same year, the Tank II console never made it to the market. Home players ultimately got a taste of Tank when Atari included it as part of Combat, the original pack-in game for the 2600.
The Atari Jukebox
In 1976, France-based Atari Europe launched a line of coin-operated jukeboxes such as the Hit-Parade 144, this gaudy model from 1977.
Information on these machines is scarce, but it is rumored that the European branch of Atari purchased a local jukebox manufacturer and decided to get into the business. It must not have been very successful, because Atari Europe exited the jukebox market in 1978 — and the machines never made it to the US.
(Photo: Atari)
Atari Videophone
Deep in the Warner era of Atari (1976-1984), the company tried products in many strange markets. One of the standout developments of this era has to be the 1983 AtariTel Luma Videophone, which could transmit a still black and white image in about 5.5 seconds over a normal phone line. It had hookups for a printer and a TV so one could see the image on a big screen.
Ultimately, none of AtariTel's products came to market under the Atari brand. Mitsubishi bought the AtariTel division during restructuring in 1984 and released the Luma as the Lumaphone LU-1000 in 1986.
(Photo: Clint Thompson)
The Non-Video Game
Atari made its name as a pioneer video arcade game manufacturer. But it didn't limit itself to video technology in the coin-op world. In fact, Atari moved outside its comfort zone with the release of its only electromechanical arcade game, F-1, in 1976. This release is slightly odd because electromechanical games were prone to frequent mechanical failure, containing precisely the kind of technology video games were supposed to replace.
In this case, however, the projected, animated racing action featured in the Namco-designed F-1 unit represented a smooth racing experience that video games of the time could not replicate. It wasn't long before video game technology caught up, rendering electromechanical simulation games obsolete only a few years later.
Pong for Kids
In the earliest days of Atari, when Pong was still king, Nolan Bushnell was already thinking about diversification. How could he sell Pong to more and different people?
His answer was to package the game in two kid friendly units called Dr. Pong and Puppy Pong that could be placed in pediatrician waiting rooms to entertain kids. The 1973 units would sell for $795 each and would not contain coin slots — they would be free to play for patients at the office.
Atari produced a very limited number of Dr. Pong and Puppy Pong machines that only appeared in on-site testing at doctors' offices and a Pizza Time Theatre location. As such, they are very rare and prized Atari artifacts today.
Atari Force
Beginning in 1982, Atari began to pack mini comic books developed by DC Comics in some of its Atari 2600 game boxes. Each book featured the adventures of a multi-ethnic paramilitary strike team in spandex known as "Atari Force."
Aside from the name, Atari Force had little to do with video games and wasn't a particularly good read. Instead, it served as a "collect them all" type marketing ploy where kids would have to buy future Atari games to keep reading the story. It morphed into its own full-sized comic book in 1984 that lasted 20 issues.
You can read the entirety of Atari Force issue #1, which I conveniently narrated over at VC&G back in 2006.
Atari Calculator
In 1987, a company called Hartech USA introduced a fully licensed line of desktop and pocket calculators styled with Atari design and branding. Seen here is a CC192from my private collection, still unopened in its retail blister pack.
Two years later, Atari Corporation cancelled the license and announced plans to enter the calculator market directly. Those plans never came to fruition — likely because LCD calculators had become such a cheap commodity by the late 1980s.
(Photo: Benj Edwards)
The Soul of Atari
Atari co-founder Nolan Bushnell led his company with the heart of a showman. Nowhere is this more graphically demonstrated than this in 1976 print ad for a new lineup of Atari coin-op games. In it, Bushnell sits among a whimsical, multi-genre display representative of the company's games, his trademark pipe clenched in a toothy smile.
Bushnell's leaps of creative fancy set the playful tone of the video game industry as a whole. In a sense, the soul of Atari — and Bushnell's vision — lives on in every game we play today.
Next Up: Check out these related slideshows
Today's Best Tech Deals
Picked by PCWorld's Editors