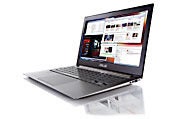 The Asus Zenbook UX31E earned 4 out of 5 stars in our review and is ranked at no. 8 on our Top Ultraportable Laptops chart. It's a gorgeous laptop with a sleek, brushed-aluminum case--and it has good performance for an ultraportable. When it launched last year it listed for $1099, and prices haven't started to drop yet. Right now, though, the Microsoft Store has the Zenbook on sale for $949 (with free shipping).
For hot tech bargains in your inbox every week, subscribe to the PCWorld Bargain Bulletin newsletter.
This story, "Asus Zenbook UX31E Ultraportable, $949" was originally published by PCWorld Exclusive.