Stay on Top of Your Social Networks
11. Use Yoono to bring your social networks together. (Browsers: Firefox, Chrome) Yoono is a social network ag­­gregator that lets you easily view your feeds and post to Facebook, Flickr, LinkedIn, Twitter, and a few other chat and social networking services, so you can confine all your distractions to one tab. While you can use the Yoono website from any modern browser, you can also use a Yoono extension for Firefox and for Chrome that provides the same functionality from a humble button in your browser window. Now you can procrastinate even more efficiently!
12. Block all sharing buttons. (Browsers: Firefox, Chrome) On the other hand, if you lead the pack in considering social networking a nuisance, you might like Antisocial (Chrome) and ShareMeNot (Firefox). (For download locations, see the next item.) Both extensions interfere with the sharing buttons that saturate the Web these days—Facebook's "Like" or Google's "+1", for example. Antisocial keeps these buttons from loading, while ShareMeNot prevents them from automatically reporting back to their parent service with tracking information on the sites you're visiting.
13. Search for your social networks of choice. Every browser has site-specific extensions for people who regularly use popular social networking or news ag­­gregation sites. Search the Chrome Ex­­tensions listings for Facebook, and you'll find ex­­tensions that ditch the News Feed, let you download entire photo albums, and even notify you when people un­­friend you. Find listings of vetted extensions for Internet Explorer at the Internet Explorer Gallery, for Firefox at Mozilla's Add-ons for Firefox page, and for Safari at Apple's Safari Extensions Gallery.
Troubleshoot Browser Issues
14. Tweak (or toss) your PDF plug-in. PDFs can throw a wrench into your browser's works. Not only is keeping Acrobat Reader updated a pain, but slower PCs will often choke for 30 seconds or so when you click a link to a PDF. Try using Foxit Reader instead of Adobe Acrobat Reader; it's a bit leaner and meaner than Acrobat (just be careful not to install any of the toolbars it tries to foist on you). Once Foxit is installed, go to Tools, Preferences, File Associations and uncheck Display PDF in Browser. The next time you click a link to a PDF, your browser should download it and open it in Foxit, which should keep your browser's other tabs accessible.
15. Keep multiple browsers handy, especially for Flash. Flash can be finicky, especially when dealing with
processor-pounding applications like streaming video. If your Flash applications consistently crash with certain websites or services, try ac­­cessing the same site in a different browser and see if that helps. On my home PC, for example, Hulu crashes my graphics card driver repeatedly in Chrome, but works rock-solid in Firefox.
16. Know your diagnostic modes. Most browser extensions and add-ons are fairly lightweight, but if you binge on them, they might not all play nicely together. Luckily, most browsers have a few diagnostic tricks up their sleeves.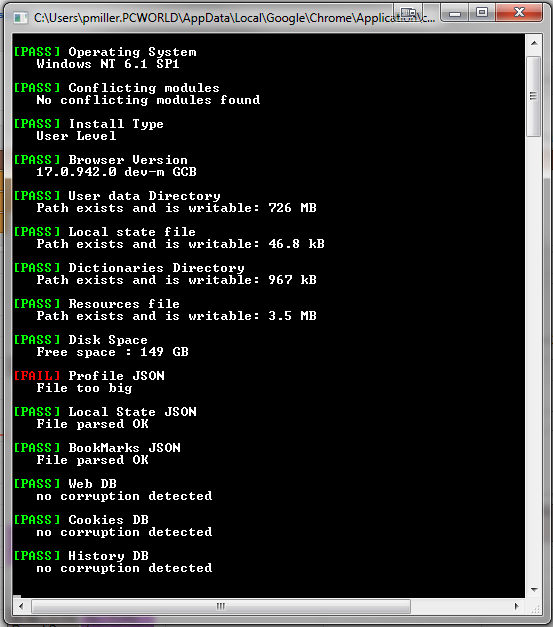 First, know how to put your browser in its safe mode, where it won't load any outside extensions: Open up the Run prompt from the Start menu (Start, All Programs, Accessories, Run); then, for Chrome, type chrome.exe --incognito; for Internet Explorer, type iexplore -extoff; in Firefox, click the Help menu, and choose Restart with Add-Ons Disabled. Once in its safe mode, see whether your browser still crashes. If it's stable, selectively reenable extensions until you've isolated the culprit.
Besides the safe-mode approach, Chrome also offers a built-in diagnostic check. To access it, just open the Run prompt and type chrome.exe --diagnostics.
Finally, Safari doesn't have any fancy tricks for loading into a safe mode; simply go to Edit, Preferences, Ex­­ten­­sions, and set the switch that appears at the top to Off.
17. Speed up your Net connection by changing your domain name server. Your Internet service provider's Domain Name System server translates the URLs you type (www.pcworld.com, for ex­­ample) into numeric IP addresses so you can get from point A to point B without a hitch. But your ISP's DNS server may not be the speediest in your area. Down­­load DNS Benchmark (aka DNSBench) to see which server is fastest for you; then follow the detailed instructions in "Speed Up Your Internet Connection by Changing Your Domain Name System Server."
18. Keep your toolkit handy. (Browsers: Chrome) Troubleshooting browser problems can be tricky because of the many elements to keep track of. Depending on the issues you're having, you must diagnose the browser itself, the PC running the browser, the local network, the Internet connection, and even the website you're attempting to access. Grab IP Address and Domain Information for Chrome, and you'll have one-click ac­­cess to several different reports on any given IP or domain name, including its location, hosting information, whether it's on spam lists, and more.
Add the Network and Internet Tools extensions, and you'll have another menu that lets you easily use Whois, Traceroute, Ping, DNS Lookup, and other common network troubleshooting tools. Finally, pick up User-Agent Switcher for Chrome, and you can mask your browser to appear to the websites that you're visiting as any browser you like—perfect for sites that insist on specific browsers or versions.
Boost Browser Productivity
19. Start reading on your PC's browser, finish on your smartphone's. Want an easy way to start reading a Web page on your PC and finish reading it on your smartphone? Depending on your preferred browser, OS, and Web services, you have a few ways to do this. Read It Later is a good browser-agnostic Web service that can save sites for later perusal. If you use Google Chrome and an Android browser, you might prefer the Chrome to Phone extension, which lets you push maps, Web pages, phone numbers, and raw text from Chrome to the appropriate An­­droid app. Evernote fans will opt for Evernote Web Clipper, an extension for Chrome, Internet Explorer, and Firefox that saves a Web page to your Evernote notebooks for easy future reference.
20. Take your Gmail to the next level. Plenty of folks still shy away from Gmail's Web interface. But step into the features offered by Gmail Labs (in the Gmail client, click on the gear icon in the upper right, then on Settings or Themes, and then Labs), and you might find the tweaks you need to switch.
My personal favorites are Multiple Inboxes, which allows you to view your Drafts, Inbox, Starred, and whatever other labels you like from the main Gmail page; Undo Send, which lets you retract a message within a few seconds after sending it; and Preview Pane, which adds an Outlook-esque email preview window so you don't have to click a message to read it. You can also turn on keyboard shortcuts in Gmail by clicking the gear icon, choosing Settings, and then checking the Keyboard shortcuts on radio button. Master the list of shortcuts, and you'll be whizzing through menus mouse-free in no time.
21. Use TinEye to find an image's origin. No matter how strong your Google-fu is, it's hard to find out where an image on the Web originally came from—and that much harder to give proper credit. Dump your image into TinEye.com, however, and the site will tell you where it came from, whether it's been Photoshopped, and where higher-resolution versions can be found. The first 50 searches a day are free, and an extension for each major browser is available if you find yourself using TinEye a lot.
Remember these tips and grab these extensions, and you'll never want to leave your Web browser again!