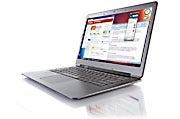 When Acer's Aspire S3-951 ultrabook launched last November, it got a three-star review--its mediocre speakers and below-average battery life irked our reviewer. However, at that time the Aspire S3-951 was selling for $899. Right now the Microsoft Store is selling the ultrabook for $799 and is throwing in a $200 coupon toward a future purchase--effectively bringing the price down to only $599, plus free shipping. For that bargain, maybe you can live with a 5-hour battery life and just-okay audio?
For hot tech bargains in your inbox every week, subscribe to the PCWorld Bargain Bulletin newsletter.
This story, "Acer Aspire S3-951 Ultrabook, $799 Including $200 Coupon" was originally published by PCWorld Exclusive.