Windows 8 Browser Performance
Before I dive into the scores, let me first run down the Windows 8 system I used:
Intel Core i7-3820 running at 3.6GHz
16GB DDR3-1333 RAM
Gigabyte X79-UD7 motherboard
Intel 250GB solid-state drive
AMD Radeon HD 6970 reference graphics board with Windows 8 drivers installed
Windows 8 Consumer Preview
Let's take a look at the performance chart I generated using the benchmarks mentioned on the previous page.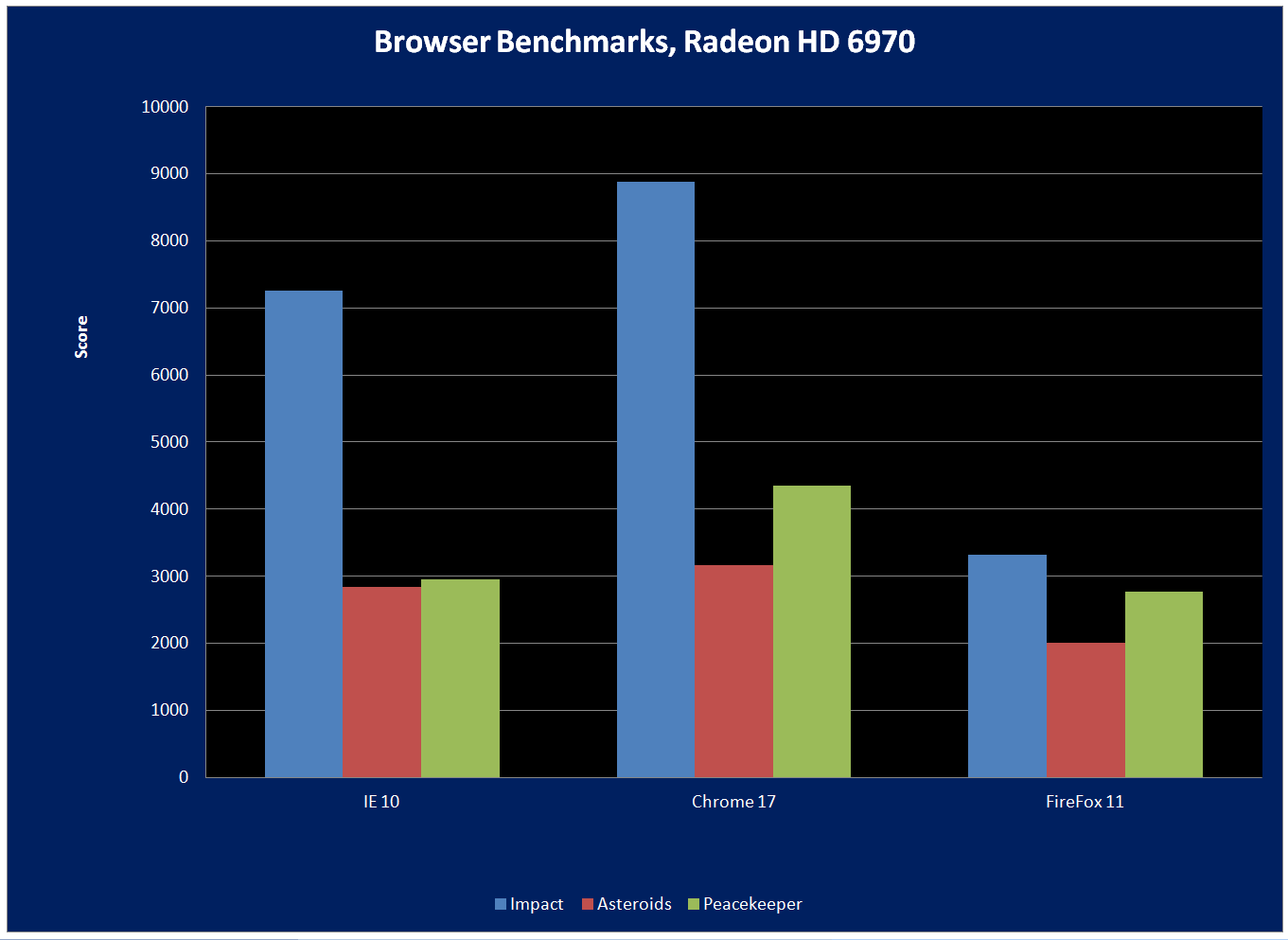 As of version 17, Chrome seems faster than the version of IE 10 shipped with the Windows 8 Consumer Preview, using these particular benchmarks. The differences are significant, but not huge. On the other hand, Firefox 11 trails pretty badly in all cases.
Hardware Change
Okay, so now we have an idea of how three different browsers perform in the Windows 8 Consumer Preview. What happens if we vary the hardware? In this case, I removed the Radeon HD 6970 and dropped in an Nvidia GTX 570 graphics card; the two boards are in roughly the same price category. Since modern Web browsers now take advantage of the GPU, I expected to see some differences with different graphics hardware.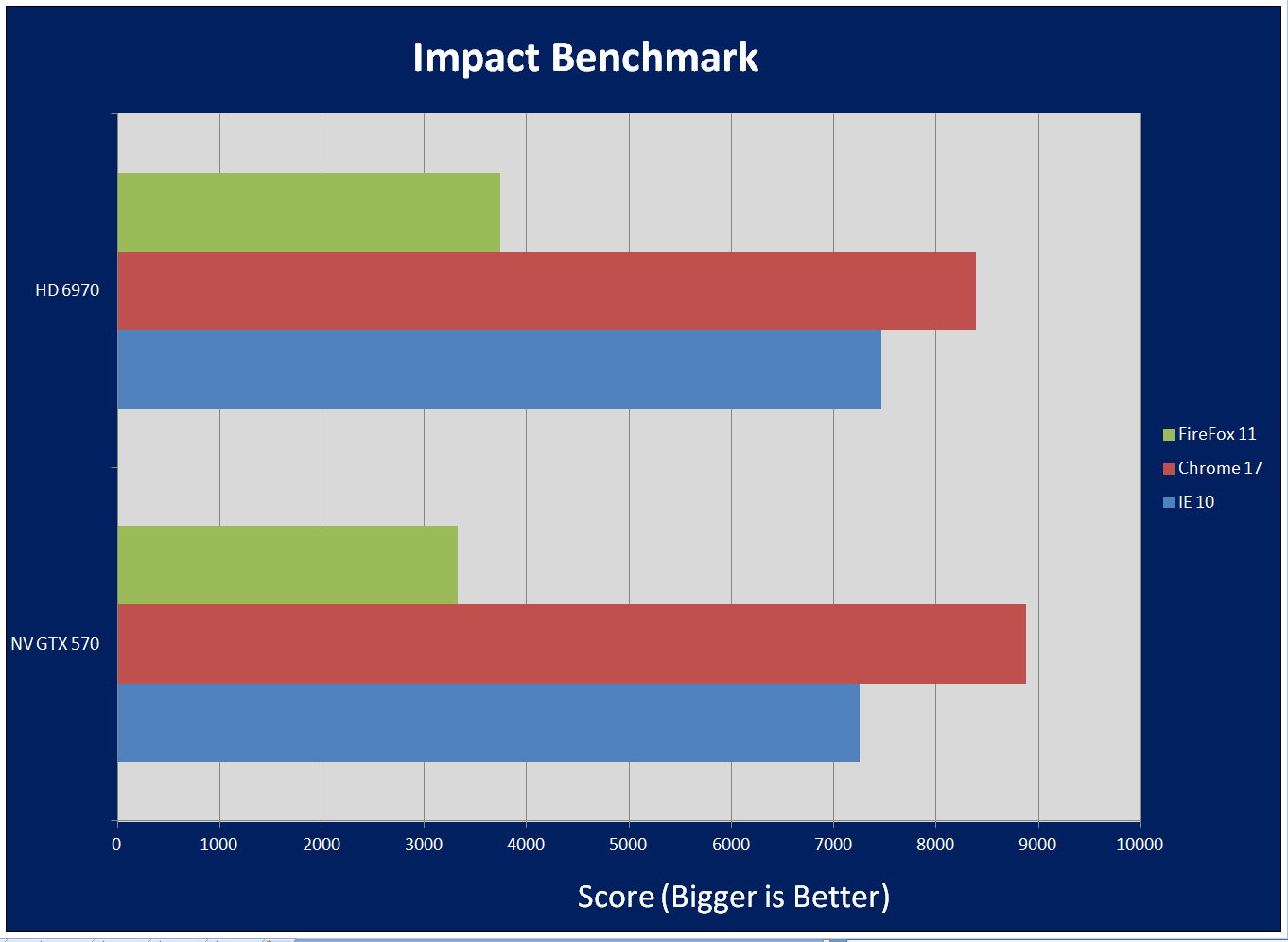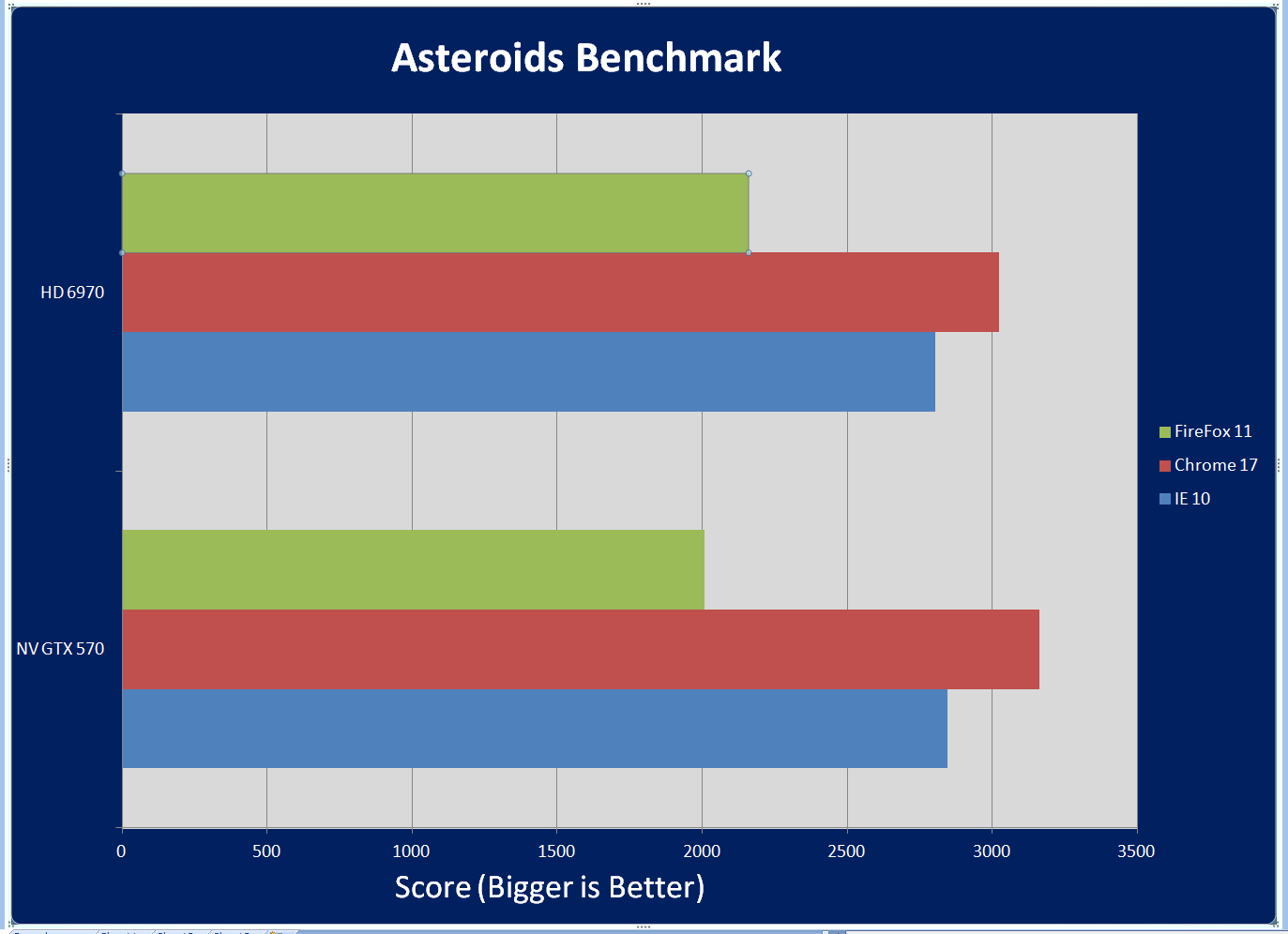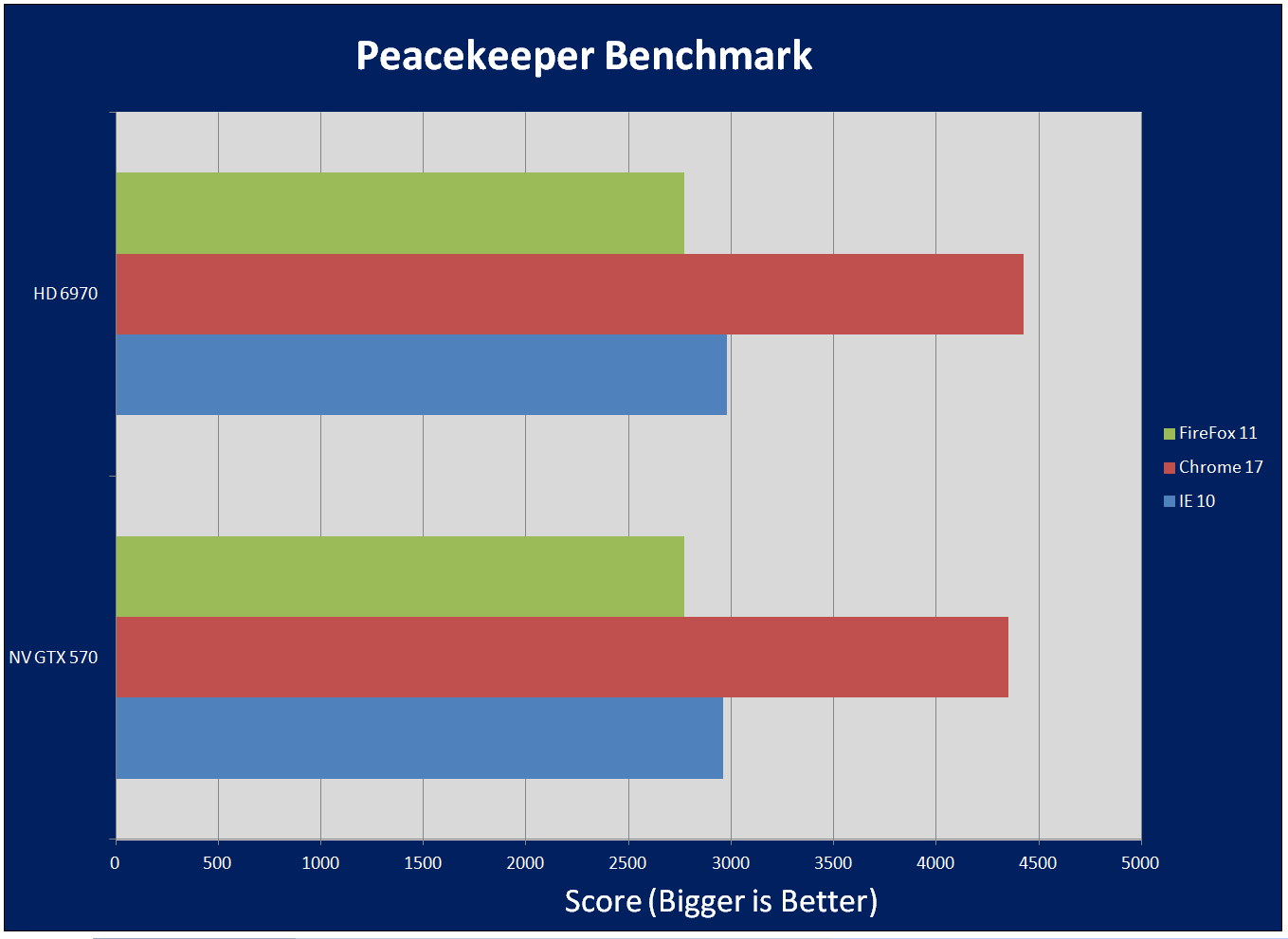 As you can see, the hardware does have an effect on how well HTML 5 benchmarks will run in a browser. According to this set of tests, the Nvidia GTX 570 looks to be just a little faster than the Radeon HD 6970 in many browser applications, particularly in Chrome. The differences are smaller than those I noted earlier, but they can still help you understand which browser is best for running HTML 5 applications on your particular system.
Typical Windows 7 Laptop
I also assessed browser performance in Windows 7, and the results were considerably different. I ran the same tests mentioned above on an HP Envy 14 Spectre, a fairly typical modern laptop. While the chassis looks impressive, the internal components are standard fare, including an Intel Core i5 CPU (1.6GHz base clock, with a 2.3GHz max turbo frequency), 4GB of DDR3 RAM, and an integrated Intel HD Graphics 3000 chipset. Here's what HTML 5 performance looked like across three different browsers.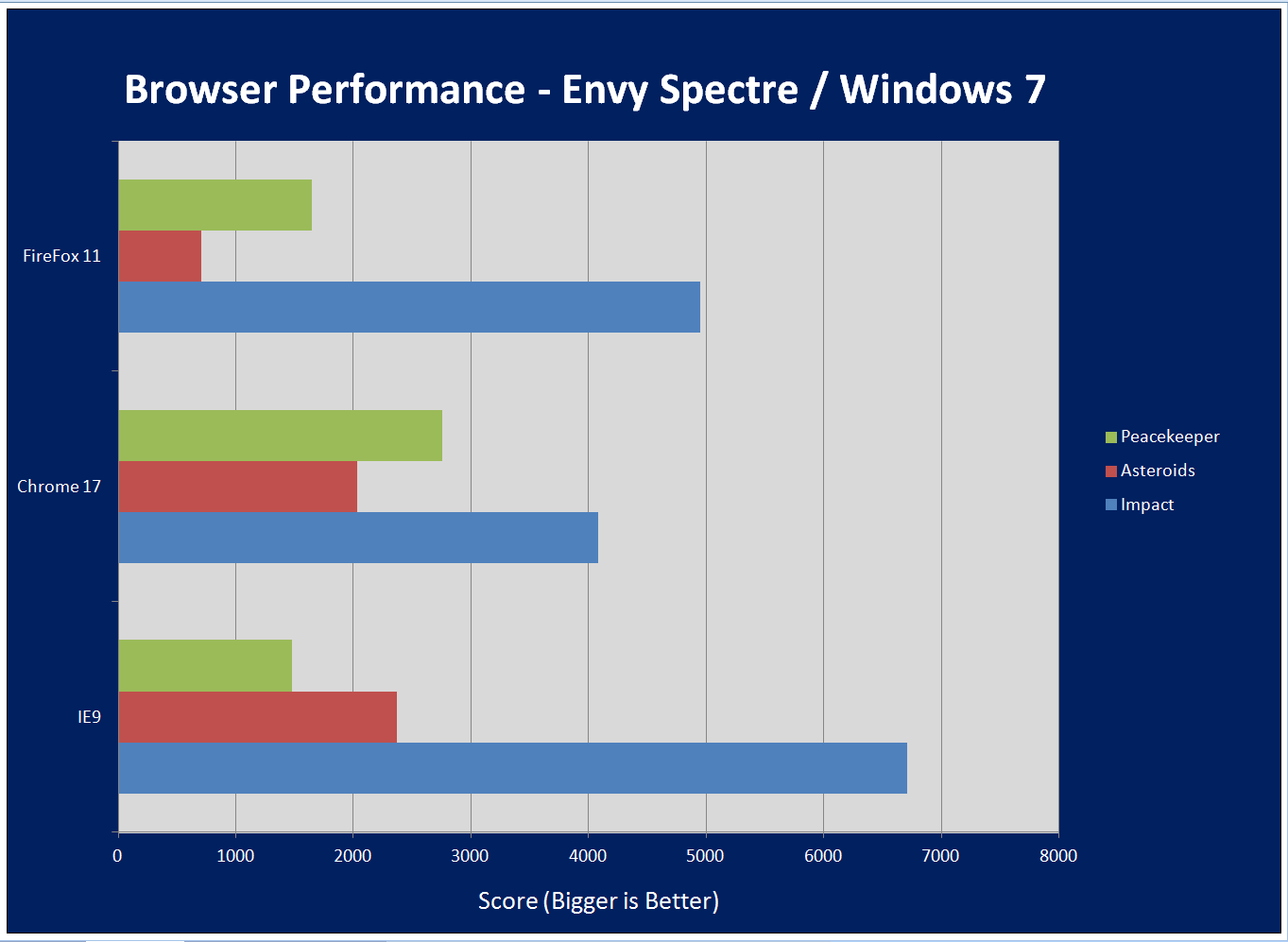 As you can see, differences in platform certainly can affect your browser's performance results. In my tests, Microsoft Internet Explorer 9 performed poorly while executing the Peacekeeper test in Windows 7, but managed to hang in there on the dedicated gaming benchmarks. Firefox running in Windows 7 made a big comeback in the Impact performance tests, but still lagged on the others. Perhaps the biggest surprise is that Google's Chrome didn't perform nearly as well on the HTML 5 tests (comparatively speaking) in Windows 7 as it did in Windows 8.
Your Turn
As with any platform tests, your results will differ from mine. Performance across assorted browsers or hardware platforms will vary depending on the operating system, the underlying hardware, plug-ins, and other variables, some of which will have a substantial impact. Also, browsers are evolving at a blistering pace, so today's winner might be tomorrow's also-ran.
So take these particular results with a grain of salt, and keep in mind that I ran a small subset of tests on one type of hardware. You might give these benchmarks a whirl on your favorite browser, and then tweak your hardware and software accordingly. Now that you know how to conduct proper benchmark tests, it's easy to see for yourself how much of a difference new hardware (such as a graphics card) or software (like Windows 8) can make.