Making Sure You Have the Files You Need
Having the right files at your fingertips is an essential part of extreme mobility. I recommend using two or more of the following methods to be sure you're not left high and dry.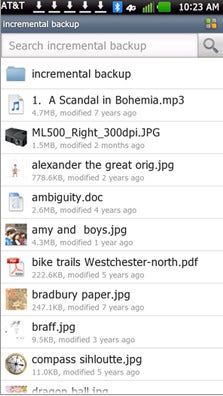 Automatic online backup with mobile access
To make sure I can always get to my files, I use the MozyHome service to make online backups from my work computer every night while I sleep. The service costs $6 a month for 50GB or $10 a month for 125GB. Mozy's free mobile app (available for both Android and iOS) lets me grab any of my files that are stored on its servers.
After logging on to Mozy's server, I can pick and choose files from a list of thumbnails; anything I want can be viewed, downloaded or emailed to a colleague. It has saved my bacon several times. For example, when I needed an image file for a story I was working on, it was right where I left it on the Mozy servers.
Other online backup systems, such as Carbonite, offer similar services, and if you use an iPhone, Apple's iCloud service can automatically store all your files online and sync them among all your devices that run iOS 5 or Mac OS X Lion.
Files sent in advance
An alternative option for those who don't use an automated online backup service is to gather all the files you think you'll need before you hit the road and send them to an online storage service for later pickup with your phone. YouSendIt, for instance, compresses your files and makes them accessible online for download via a mobile app for iOS or Android. Unfortunately, the free service can upload only one file at a time. Paid plans can handle more files; they start at around $4 per month.
Box's online storage service goes beyond the onesie-twosie approach, letting you store groups of files for pickup with an Android, iOS or BlackBerry device. You can also share files and folders with other users. The free plan has a 5GB storage limit and 25MB file-size limit; paid plans with larger limits start at $10 a month.
And then there's Dropbox, which lets you store and share files online for access from any Windows, Mac, Linux, iOS, Android or BlackBerry device with the Dropbox app loaded on it. The service, which offers up to 2GB storage for free (paid plans start at $10 per month) can also sync files and folders among your devices as you specify. Marking a file as a favorite in the mobile app saves it to your phone for offline viewing and alerts you if there's a newer version of the file saved. This means you'll have not only the right file, but the latest version of that file as well -- provided you remembered to save it to your Dropbox in the first place.