Typing
I have a confession to make: I am functionally illiterate with the typical smartphone's onscreen keyboard, barely able to type my own name. Even for those who are proficient at onscreen typing, though, trying to get actual work done using a tiny onscreen keyboard is an exercise in frustration.
Using a lightweight Bluetooth keyboard that's designed for mobility is a big help here. While there are dozens of mobile Bluetooth keyboards available, the best have keys big enough for adult human fingers, fold up to about the size of a paperback book and weigh roughly half a pound.
I've found out the hard way that not all Bluetooth keyboards work with all smartphones. That's because some current devices support the Serial Port Profile (SPP) Bluetooth profile, while others support the Human Interface Device (HID) profile. The LG Nitro HD phone I used, for instance, will connect with keyboards that use SPP but not those that use HID.
A good option is to get a Bluetooth keyboard that supports both the HID and SPP protocols, such as the $100 Freedom Pro Keyboard from Freedom Input USA. There's a small switch on the keyboard's left side to choose between HID and SPP.

The Freedom Pro keyboard can connect with smartphones running on the Android (up to Version 3.0), iOS, BlackBerry, Windows Mobile and Symbian operating systems, but it requires platform-specific drivers. Setting up the keyboard to work with my Android phone took me about three minutes.
The keyboard weighs 9 oz. and provides 75 keys, as close to a full selection of keys as you're likely to find on a portable keyboard. Some of the keys get shortchanged on size, and because the keyboard folds in the middle, its space bar is split into two smallish keys, which I find annoying. Still, these are typical tradeoffs for a mobile keyboard.
The Freedom Pro keyboard includes a pop-out easel stand that securely holds the phone horizontally or vertically. I comfortably typed long emails, proposals, invoices and more -- all without ever using the phone's on-screen keyboard.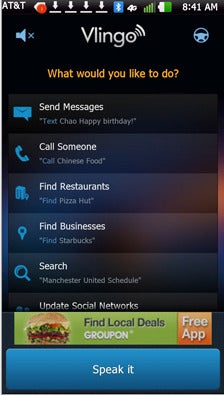 The talking cure?
Another way to get around the limitations of a phone's onscreen keyboard is to take advantage of a voice recognition app. Why type an email or Facebook update when you can simply speak it? Such apps also let you use voice commands to make calls, open apps and perform other basic tasks, saving you a few taps along the way.
While Android has basic voice actions baked in, I turned to the Vlingo Virtual Assistant, available for Android, iOS, BlackBerry, Symbian and Windows Mobile devices, for more advanced help. Vlingo's Android app is a freebie that's ad-supported; it costs $2 for an ad-free version of the software.
The app is similar to Apple's Siri for iPhone 4S in that you speak to it and it takes action based on what it thinks you said, but Vlingo lacks Siri's advanced natural language comprehension. Vlingo has only a limited vocabulary of tasks such as "email," "search," "get directions" and "update [social network]."
To alert the Android version of Vlingo to listen up, you tap a bar at the bottom of the screen. It worked well for simple tasks like opening the Web browser and searching for a copy shop but was frustrating for sending texts and emails, making the same mistakes over and over again.
I had mixed results when asking Vlingo questions. For example, when I asked, "How many feet are in a mile?" it brought up a Google search results page with links to several online sources that answer the question. Unfortunately, it didn't do as well when I asked, "When does baseball's spring training start?" Its response? "No answer found."
If you're looking for more Siri-like functionality, a few Android apps including Speaktoit Assistant, Eva and Jeannie are worth checking out, but they aren't quite ready for prime time. (See "Siri for Android -- sort of.")
Giving presentations
A common task for business travelers is making presentations. You'll usually find a projector in the conference room at your destination, but how do you get your presentation from your phone to the projector? I've found a couple of ways that work very well.
Via HDMI
Most projectors that are less than two years old, and some older ones as well, have an HDMI port. (Call ahead and find out for sure.) If so, you might be able to plug your phone directly into the projector.
Some high-end smartphones, such as Motorola's Droid 3, have an HDMI port for sending images to a projector or external display. Unfortunately, my Nitro HD doesn't have this, but it does support Mobile High-definition Link (MHL). This interface can send images, video and audio from the phone's micro-USB port through an adapter and separate HDMI cable to the HDMI port on a projector or TV.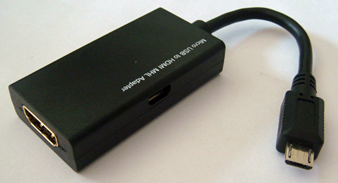 You can find the connectors in electronics stores and online for prices ranging from about $10 to $35. I used a no-name MHL adapter and cable that cost $10.50.
There's no software to load, and for now, you need to power the MHL cable using an AC adapter. (The MHL standard includes a provision for the adapter to draw power from the projector or TV it's attached to, but as yet very few devices support this function.) The good news is that the MHL cable can use the phone's power adapter, and it simultaneously charges the phone it's plugged into.
After plugging one end of the MHL cable into the phone and the other into the projector's HDMI cable, the connection is automatic, and the images show up on the big screen at 1280-x-720-pixel resolution. Regardless of how you orient the phone's screen, the big-screen image stays right-side up, but you do have to keep the phone from going to sleep.
Using the MHL cable and a Mitsubishi projector, I gave a presentation using the OfficeSuite Pro app without a hitch.
Of course, MHL is still an emerging standard, and only a couple dozen smartphones support it today, but that number is expected to increase over time.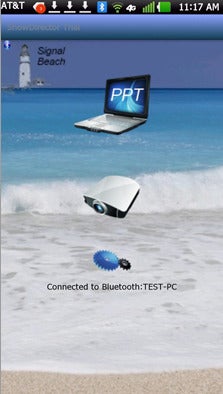 Another strategy is to bring the presentation on a USB flash drive or email it to someone at the office where you're headed, then load it on a laptop there. Once it's all loaded on a computer that's connected to the projector, you can control it from your smartphone with a presentation remote-control app.
I used Signal Beach Software's ShowDirector PowerPoint Remote for Android, which works with Microsoft PowerPoint running on a Windows PC. There's a free trial that limits you to showing 10 slides, but the full app costs only $5.
After loading the ShowDirector server software on the computer connected to the projector, I fired up the Android app to wirelessly connect the Nitro HD phone to the PC. I used Bluetooth to link them, but the software can also use a Wi-Fi connection.
The program's interface has buttons for moving forward and back through the slides, as well as rearranging their order. I could also adjust the volume as I roamed around the room. In other words, I was in control of the show.
What about other mobile platforms? Windows Phone smartphones come with PowerPoint Mobile included, and iPhones can use Keynote($10) to show a presentation. When it comes to BlackBerry devices, though, you'll need a separate box called BlackBerry Presenter that costs $200 and plugs into a projector or a TV.