Printing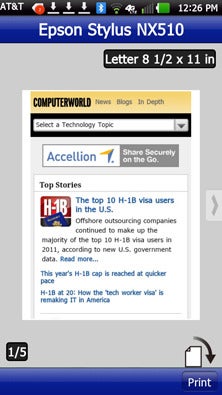 There's no avoiding it: Sometimes you just need paper copies. After being frustrated by using several general-purpose printing apps for Android phones and tablets, I've found the only thing that works reliably is to use the apps that the individual printer companies have provided for their hardware. They're free and work well for everything from printing a boarding pass or Web page to creating emergency business cards.
At the moment, I have apps loaded on the Nitro HD for Brother, Canon, Epson and Lexmark printers. All three printer manufacturers offer similar apps for the iPhone.
Chances are that either your hotel's concierge or its business center will have a printer that works with one of them. If all else fails, I have been able to print at a local Kinko's or other print shop.
Each app generally works in much the same way. It starts by scanning the area for a wireless printer. After I select a printer, the software does the rest. All I have to do is wait.
Some of the apps, like those from Epson and Brother, also let you scan documents if the printer has a scanner, making it an imaging two-way street.
Staying Entertained
The MHL cable I used for making a presentation also came in handy later on. I connected it to the HDTV in my hotel room, then used the big screen to nose around on the Web and watch a streaming movie in full HD via the Netflix Android app.
I also used my phone to listen to Internet radio using the free rad.io app and played a few games, such as IdeeNote's Fly Over Maps. You'll find similar apps if you use an iPhone, BlackBerry or Windows-based device -- entertainment is one area for which there's no lack of apps on any platform, and many of them are free.
While the Nitro HD and other smartphones have built-in speakers that are loud enough to use as speakerphones or to listen to music with, the sound quality is somewhere between awful and horrendous. I've taken to packing Logitech's $100 Mini Boombox, a small speaker set that improves the audio quality of any Bluetooth-enabled phone.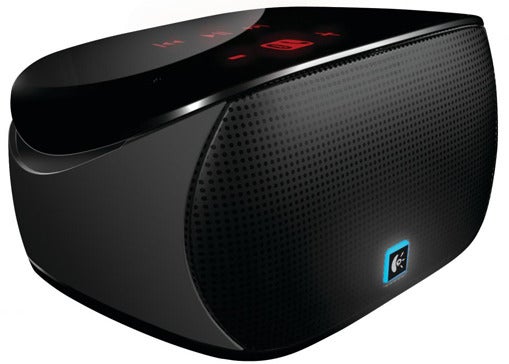 At 2.2 x 4.5 x 2.5 in. and weighing 7.6 oz., the Mini Boombox dwarfs the Nitro HD phone, but it easily fits into a bag when it's time to go. It has a pair of 1-in. speakers inside and Bluetooth that supports the Advanced Audio Distribution Profile (A2DP) standard.
The Mini Boombox can stay connected with the phone via a Bluetooth link from as far as 35 feet away, so you can listen to music while charging the phone at an outlet across the room. It also has a 3.5mm mini jack audio input as a backup.
Other than an on/off switch in the back, the Mini Boombox has no traditional physical controls, but there's a lighted control panel on top that has pressure-sensitive areas for adjusting the volume, setting up the Bluetooth connection, changing the track and pausing the music. The Mini Boombox doesn't come with a remote control, but you can raise or lower the volume from the phone.
It took about a minute to pair and connect the speaker set with my phone, and after that it delivered rich sound with solid bass. More to the point, the Mini Boombox got a lot louder than the phone could, filling the hotel room with sound.
The Mini Boombox has a built-in battery that powered it for 7 hours and 20 minutes in my tests, but it lacks a battery gauge. For those who talk on the phone a lot, it's also a speakerphone that doesn't make you sound like you're talking in a cave.