Keeping an Eye on Things Back Home
When I travel, I bring a bit of my home with me via a home-based webcam. I have a D-Link DCS-932L camera set up to monitor Slowy, my 10-year-old Golden Greek tortoise.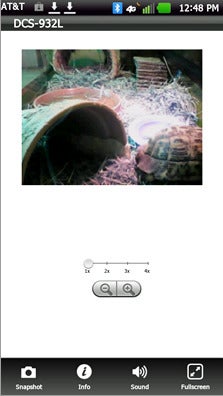 The $150 webcam lets me watch and listen to what Slowy is up to (not very much, generally) and make sure he has fresh water and lettuce. It could just as easily act as a surveillance camera to monitor my home.
Because the camera streams video directly to the Wi-Fi router, it doesn't need to be connected to a computer. Setting it up was straightforward: I unpacked it, plugged it in, connected it to the router with an Ethernet cable and pressed the Wi-Fi Protected Setup buttons on both the camera and the router to get them to connect. Once the wireless connection was made, I disconnected the Ethernet cable, moved the camera to its final location and let it connect to the router over Wi-Fi. It took about 15 minutes total.
On the receiving end, I use D-Link's free MyDLink Lite app (available for both Android and iOS) to watch the video stream on the NitroHD phone; there's also an app called MyDLink+ that costs 99 cents and lets you watch up to four streams at once if you have several cameras set up.
Once the app has found the camera, it takes about 7 seconds for the stream to start. Although the camera is capable of streaming VGA video, the app can show only HVGA resolution. Still, the view is good and I am able to zoom in to see Slowy eating, sleeping and sitting in his water dish.
While there's a low-light mode for nighttime viewing, it shows video in black and white, making Slowy look like he's in an old movie.
Making a Stand for Mobility
About 20 minutes of hunching over a smartphone's screen laid flat on a desk or airline tray is enough to convince most people that it's worth packing a small stand to hold the phone upright. A seat neighbor on a flight recently told me how to make a super-portable phone stand out of nothing more than a pair of binder clips. You'll need two sets of small pliers (needle-nose work great). Here's how to do it:
Step 1: Start by flipping the arms of one binder clip back away from the side that opens. Take one set of pliers in each hand; use one to hold the clip securely while bending one of its arms into a curve at the end. (With the arm flipped back, you'll be bending the end of the arm out away from the clip rather than toward it.)
This curved arm will wrap around the phone and hold it up. The object is to create a "J" shape, but it takes a little finesse to do it evenly, so don't expect to get it perfectly on the first try.
Step 2: Next, open the clip with one hand while slipping the second (closed) clip inside it, as shown at right. Both clips are now facing in the same direction, but the inside clip has both arms straight out, while the outside clip's arms are flipped back. Move the outside clip's unbent arm forward so that it lines up with the inside clip's arms.
Step 3: Set the clips down so that the broad back of the outside clip becomes the stand's base. The three unbent arms stand up straight, forming the backrest for the phone, while the bent arm curls down and out in front. Put the phone on the stand. It should sit securely; if it doesn't, try re-bending the clip arm until you get it right.
The beauty of the binder clip stand? In a pinch, it can hold a bunch of papers together.
Bottom line
Traveling with just a smartphone isn't for everybody, but with the right tools and preparation, those who don't need to use complex applications such as project management software can make it work.
Having traveled in the world of extreme mobility, I love the feeling of liberation that comes with leaving the notebook behind. I don't think I could ever go back.
Related:"On-the-go Power: Mobile Chargers Keep Your Devices Alive"
Brian Nadel is a frequent contributor toComputerworldand the former editor in chief ofMobile Computing & Communicationsmagazine.
This story, "Tools and Tips for Smartphone-only Travel: Extreme Mobility " was originally published by Computerworld.