SLIDESHOW
Tools for Smartphone-Only Travel
Pulling off laptop-free business travel requires new hardware, a handful of apps and some extra planning. These tools can help.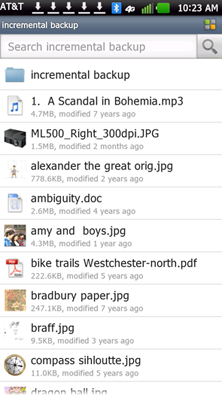 Mozy's Android App
Having the right files at your fingertips is an essential part of extreme mobility. An online backup service like MozyHome can be a huge help. Mozy provides a mobile app that lets you use your smartphone to access files backed up from your computer.
Note: This slideshow accompanies our story Extreme mobility: Tools and tips for smartphone-only travel. Click through to that story for more tips and details about the tools you see here.
Splashtop Remote Desktop
Need a document on your computer that you haven't backed up elsewhere? With Splashtop Remote you can use your phone to control apps running on a host computer, such as the weather station software on my work PC -- provided you set it all up before you leave for your trip.
OfficeSuite Pro
There is no Microsoft Office suite for Android, but OfficeSuite Pro from Mobile Systems is the next best thing. This app lets you create, view and edit Word, Excel and PowerPoint files wherever you are.
Freedom Pro Keyboard
In order to get any real work done, you'll need a real keyboard for typing. The Freedom Pro keyboard from Freedom Input USA folds up for travel and works with smartphones that support either HID or SPP Bluetooth.
Vlingo Voice Recognition App
MHL Cable
If the projector you'll be using at your destination has an HDMI port, here's a neat trick: Some newer smartphones support Mobile High-definition Link (MHL). This interface can send images, video and audio from the phone's micro-USB port through an adapter and separate HDMI cable to the HDMI port on a projector or TV. The no-name MHL adapter cable shown here cost $10.50.
ShowDirector Presentation App
If you want to drive a presentation on a laptop at your destination, you can control it from your smartphone with a presentation remote-control app like Signal Beach Software's ShowDirector PowerPoint Remote for Android.
Epson iPrint App
There's no avoiding it: Sometimes you just need paper copies. General-purpose printing apps often don't work reliably, so a better bet is to use the apps that the individual printer companies have provided for their hardware, such as Epson's iPrint app.
Logitech Mini Boombox
The sound quality of smartphone speakers generally ranges from awful to horrendous, but the Logitech Mini Boombox can help. This small and light speaker connects to your phone via Bluetooth and provides rich sound and solid bass.
mydlink Lite Streaming Video App
D-Link's DCS-932L webcam streams video to the mydlink Lite mobile app, letting you keep an eye on things back home -- in this case, a ten-year-old Golden Greek Tortoise named Slowy (in lower-right corner).
Next Up: Check out these related slideshows
Today's Best Tech Deals
Picked by PCWorld's Editors